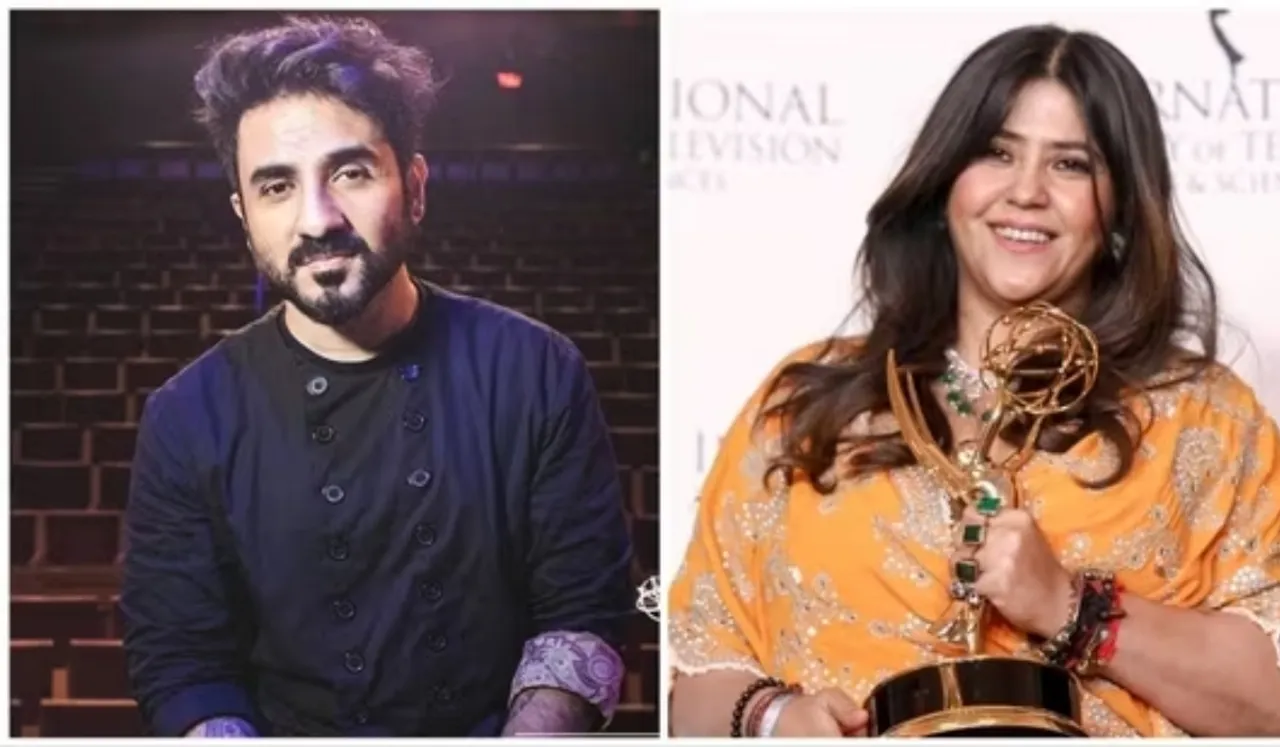 At the 2023 International Emmy Awards, India clinched two accolades. Vir Das, for his Netflix comedy special Vir Das: Landing, and Derry Girls Season 3 jointly secured an Emmy. Ektaa Kapoor was honoured with the International Emmy Directorate Award. However, Shefali Shah and Jim Sarbh, nominated for Best Actor, missed out on the win. The event showcased 56 contenders from 20 countries competing across 14 categories.
Producer Ekta Kapoor received the esteemed International Emmy Directorate Award. As she accepted the award, Kapoor reflected on her producer journey, reminiscing about the early days when she, alongside her mother, Shobha Kapoor, initiated their company, Balaji Telefilms, right in her father Jeetendra's garage.
Kapoor shared about starting her company with her mother when she was just 18. In the early phase of her career, spanning around 7-8 years, they were recognised as "lady producers" within a predominantly male-dominated industry. She humorously remarked on the irony, pointing out that the world's population is solely brought into being by women, evoking chuckles from the audience. She then expressed gratitude to her brother Tusshar Kapoor and father Jeetendra, acknowledging their role in babysitting her son Ravi. 
She said, "I'd like to thank the men in my life. My father and my brother, who are currently babysitting my son. You make my home wholesome if not conventional. I'd like to thank our two boys, my son and my nephew – Laksshya and Ravi, our surrogate babies who taught me the toughest paths can sometimes lead you to magic. I'm a single mother."  She added, "The irony is the world's population is solely produced by women."
Describing the win as 'shocking, surprising, and scary,' Kapoor expressed her emotions during the winning moment. In an interaction with India Today, after accepting the award and holding the Emmy, she dedicated the honour to India, stating, "This is for you, India. We are bringing home your Emmy."
She posted this news on her social media, writing, "India I'm bringing home YOUR Emmy @iemmys"
Check out the post here
At the 2023 International Emmy Awards, Vir Das, alongside Derry Girls season 3, secured the International Emmy for Comedy. This accolade marked his second nomination at the International Emmys. His triumph came through his Netflix comedy special, Vir Das: Landing. The official International Emmy Awards Twitter handle announced Das's victory.
We have a Tie! The International Emmy for Comedy goes to "Vir Das: Landing" produced by Weirdass Comedy / Rotten Science / Netflix#iemmyWIN pic.twitter.com/XxJnWObM1y

— International Emmy Awards (@iemmys) November 21, 2023
Shefali Shah was not conferred the International Emmy for Best Actress for her remarkable performance in Delhi Crime. The honour was awarded to Mexican actor Karla Souza for her portrayal in Dive. The category also included nominees Connie Nielsen in the Danish production The Dreamer: Becoming Karen Blixen and Billie Piper from the UK series I Hate Suzie Too.
Although Shah missed out on the Emmy this time,  Delhi Crime Season 1 clinched the International Emmy for Best Drama Series in 2020, marking India's first-ever win at the International Emmys.
Jim Sarbh was a nominee in the Best Performance by an Actor category at the International Emmy Awards for his portrayal of Homi J Bhabha in the esteemed series Rocket Boys. However, the award was secured by Martin Freeman, resulting in Sarbh's loss in this category.
---
Suggested Reading: 2024 Grammy Nominations: Women Rule; Taylor Swift Makes History