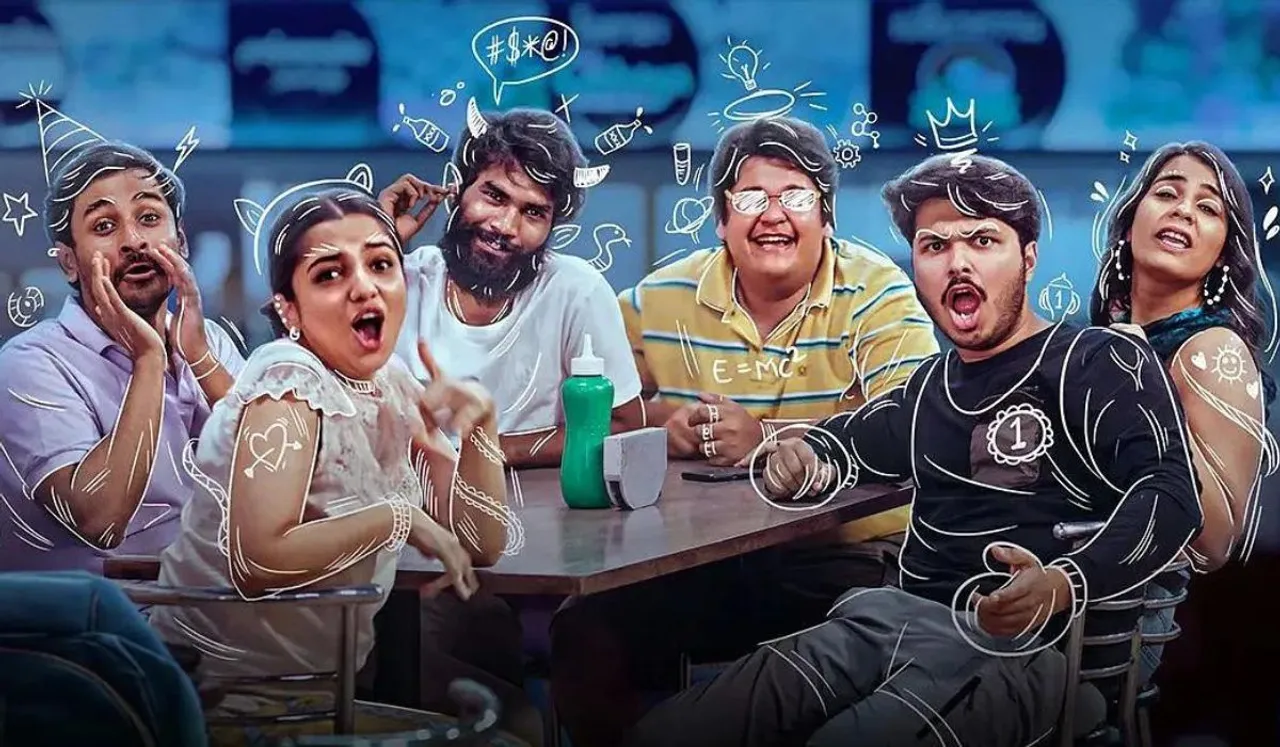 Hostel Daze Season 3 brings back mixed emotions, all the experiences of a hostelite who survives the third year. The humour is top-notch, and the writer-directors-actors deliver comedy with perfect timing. Although this season has lot many changes, all the episodes can be seen as a standalone.
In one of the episodes, a part of hostel life is explored, like a short film, however, there are a few stories of certain characters which go on in the background, For instance - Akhansha (Ahsaas Channa) and Ankit's (Utsav Sarkar) relationship. The series also survives the absence of Adarsh Gourav, replaced by Utsav Sarkar as Ankit. Season 3 is more on the profound note, it is not all fun, there are subtle notes of the end days of college, seriousness towards life, and more.
Hostel Daze Season 3 Review
Each &t=1s">episode has something to say, obviously, everyone has a different college life, and something or the other is relatable. Loaning money, opting for leadership roles, or winning/losing competitions, there are slices of hostel days. It is nostalgic. Season 3 is not just limited to alcohol or character introduction. Actors give their best to deliver the plot of the story. Nikhil Vijay (Jhantoo), Ayushi Gupta (Nobomita), Shubham Gaur (Jaat), Ahsaas Channa, Luv Vispute (Chirag), and Utsav Sarkar do their best. Luv Vispute has been dynamic throughout the show, his gags are bang-on. He is more like a hook to the group holding everyone together.
Utsav Sarkar subtly fits in, it doesn't seem weird to accept him as part of the gang, also writers have smartly placed and eased the acceptance with the dialogues hinting towards replacement. There is no parallel story to his character, it is just Akansha's boyfriend. Ankit could have been able to offer more but, never mind. You get to see Jhantoo's other side also. Through his character, the director makes it visible that friends don't make you feel lost or alone, despite the mess in their own personal life, they stand for each other. The narrators are a treat to watch, they have their own charm. Also, Raju Shrivastav has a small cameo to do, this could be the last time to watch him on screen.
Story-wise it aces all the elements of the third-year student and mid-life crisis. But the series is missing the point of integrating stories of women into their narratives. Akansha and Nobomita had stories but in the end, they lost to make a mark. Akansha is just the girlfriend of Ankit, nothing more to her story. Although their love story runs in the background, it is just cliches and has less to give.
Whereas Nobomita's conflict made a lot of sense as it hints at cyberbullying, and boys not understanding the boundaries of friendship. Cyberbullying could have been highlighted more but it was just a pinch, which may turn out to be unnecessary. The women characters end up being the fillers thing. They really don't stand out much.
The camera work was praise-worthy and the most amazing scene was when Ankit tries hard not to pay. The camera captured the anxiety, hesitation, and desperation perfectly. Aesthetically Chirag playing all detective is one of the catchy scenes. The plot and delivery are remarkable, but somewhere script is lost, and leaves some questions unanswered. However, it is a good dose of laughter and not all disappointing.
---
Suggested Reading: Hostel Daze Season 3 Cast On Depicting "Mid-life Crisis" Students Go through In College