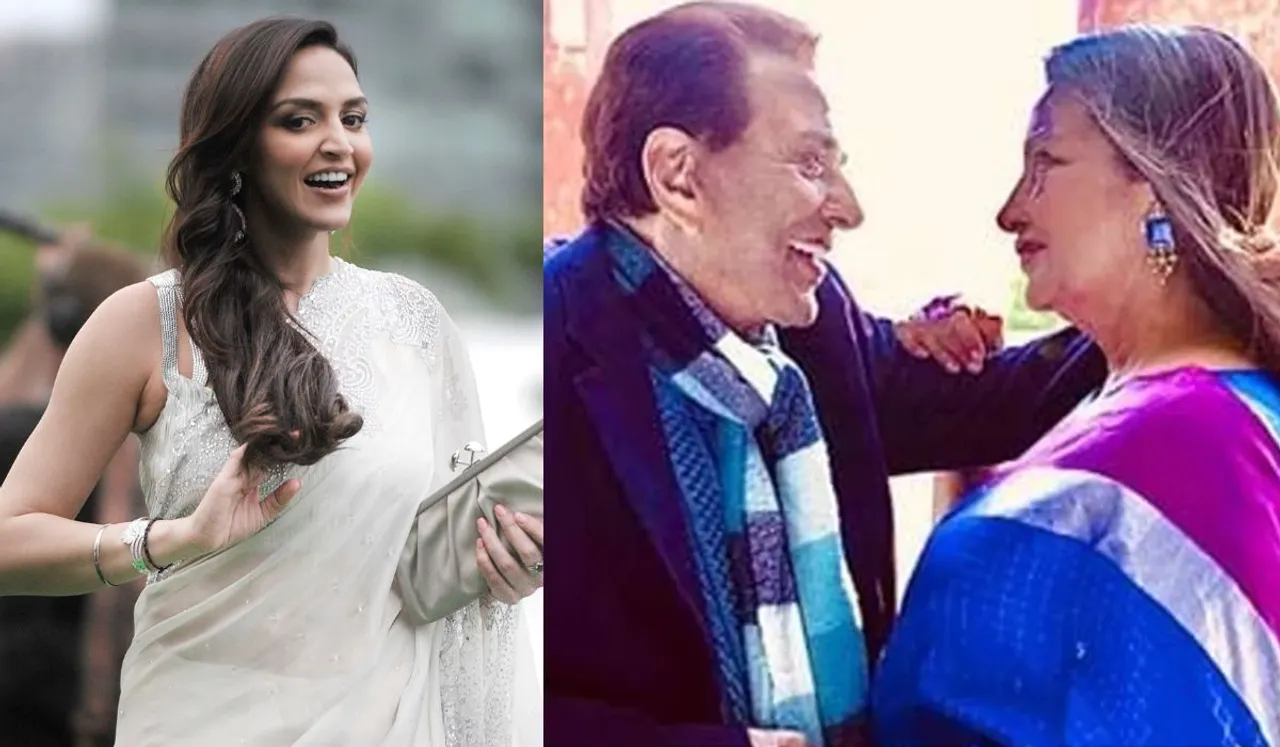 The film Rocky Aur Rani Kii Prem Kahaani premiered in theatres last month, garnering attention for a particular scene featuring a kiss between veteran actors Dharmendra and Shabana Azmi. Dharmendra's daughter and fellow actor, Esha Deol, recently shared her thoughts on her father's on-screen kiss during an interview.
She expressed, "There is a barrier or age for love or kissing—who said so? He is the coolest! He is so handsome. Papa, by nature, is very romantic; he will do his shayari and everything. He has always been that way. Shabana Ji is fantastic, and I have a huge soft spot for Jaya Aunty. Karan Johar is amazing; it was shot beautifully, and they are all professional actors. it was impressive; the scene was captured beautifully, featuring skilled actors."
Earlier, veteran actor Hema Malini has stated that she would be open to performing a kissing scene in a movie if it aligned with the context of the film. Her comments follow her husband's, actor Dharmendra's, recent portrayal of a kissing scene in the movie Rocky Aur Rani Kii Prem Kahaani, which occurred around a month ago.
During a conversation with India.com, Hema Malini was asked whether she had watched Rocky Aur Rani Kii Prem Kahaani. In response, the seasoned actor mentioned, "I haven't watched the film yet". When posed with the question of whether she would consider a role that involved a kissing scene similar to the one her husband performed in the movie, Malini expressed, "Of course, why wouldn't I? I would absolutely take it up. If the scene is relevant to the storyline, and harmonises with the film's context, then perhaps I could."
The politician earlier also expressed her willingness to return to the film industry, but with a clear emphasis on not taking up negative roles like Jaya Bachchan's character in Karan Johar's recent film Rocky Aur Rani Kii Prem Kahaani.
Aiming for roles that align with her age and maintain an appropriate level of glamour, Hema Malini stated that she is open to a good role that suits her age and exudes elegance while maintaining a certain level of glamour. She said, "Somebody should come and sign me up with a good role. It should be appropriate for my age. It can be glamorous but befitting my age."
Hema Malini firmly stated her aversion to negative roles, explaining, she firmly opposes portraying negative characters, asserting that she doesn't possess a negative outlook in real life. Her convictions prevent her from accepting such roles, as she only envisions herself in positive, impactful roles that carry a message.
Malini, who was last seen in the 2020 film Shimla Mirchi alongside Rajkummar Rao and Rakul Preet Singh, looks forward to opportunities that resonate with her principles and contribute positively to the cinematic landscape.
Hema Malini On Dharmendra's On-Screen Kiss With Shabana Azmi
Coincidentally, during this period, Malini's spouse, the esteemed actor Dharmendra, has also been making headlines due to his noteworthy portrayal in Rocky Aur Rani Kii Prem Kahaani. Notably, his on-screen kiss with Shabana Azmi in the film has generated significant buzz. Addressing this matter in the same interview, Hema Malini responded with a lighthearted tone, stating that she believes that the audience has warmly embraced the film and expressed her joy for Dharam ji's success. She humorously added, "I am so happy for Dharam ji because he loves to be in front of the camera all the time. He loves it."
Dharmendra himself recently shared his perspective on the on-screen kiss during a press conference held in Mumbai. He candidly remarked, "Unfortunately, I couldn't attend the premiere, but I've received a lot of messages from people. Maine bola, 'Yaar, yeh toh mere daaye haath ka kaam hai." As laughter ensued among those present, Dharmendra playfully added, "If it needs to be done with my left hand, I can do that effortlessly as well."
In 1980, Dharmendra, a prominent figure in the film industry, married Hema Malini, a leading film star of that era. Together, they are parents to two daughters, Esha and Ahana. Prior to his cinematic journey, Dharmendra's first marriage was to Prakash Kaur in 1954, when he was 19 years old. The couple had four children together: Sunny, Bobby, Vijeeta, and Ajeeta. Notably, Sunny Deol and Bobby Deol have also pursued acting careers, while Esha Deol has followed in her parents' footsteps as well. 
Hema Malini boasts an impressive filmography that includes blockbuster hits like Sholay, Seeta Aur Geeta, Dilagi, Raja Jaani, Do Dishayen, The Burning Train, Jugnu, Dil Kaa Heera, and Dream Girl, among numerous others. 
---
Suggested Reading: Ranveer Shares Deepika's Reactions While Watching Rocky Rani
---