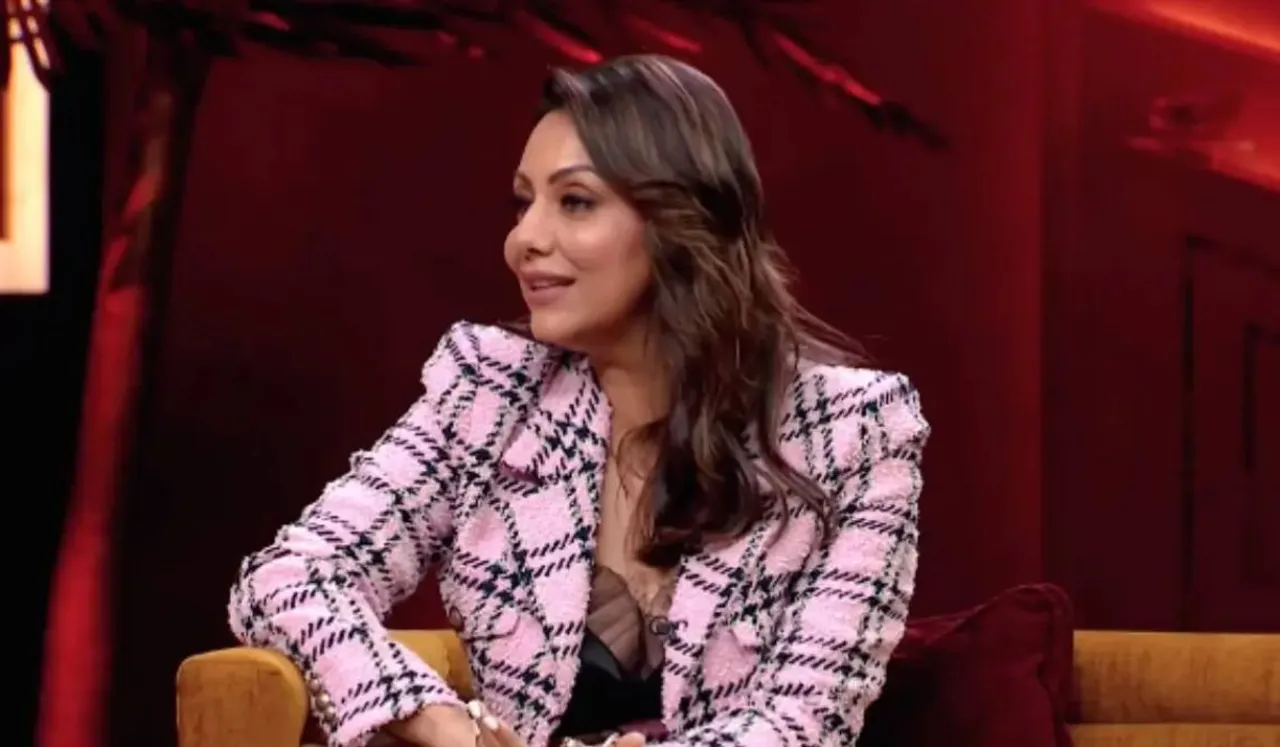 The latest episode proved to be a riot with Gauri Khan, Maheep Kapoor and Bhavana Panday spilling their mommy secrets and engaging in fun banter with the host, Karan Johar. Interior designer and producer Gauri Khan made an appearance alongside The Fabulous Lives of Bollywood Wives stars Maheep Khan and Bhavana Pandey, who were at their quirkiest best on the show.
The talk show had Gauri Khan return as a guest after an almost 18-year gap since the show began, where she made some startling revelations about her life as a working professional, a wife and a mother. Khan engaged in a candid conversation on the show and opened up abt her life with her husband, Shah Rukh Khan and children, Aryan Khan, Suhana Khan and AbRam. From speaking about the turbulent times in their lives to overcoming them with the help of loved ones, Khan owned her vulnerable self.
---
Suggested reading: Vidya Balan's Cryptic Post Has Fans Wondering On Her Appearance On Koffee With Karan
---
Gauri Khan On Koffee With Karan
On Son Aryan Khan's Case
Gauri Khan spoke about her ordeal for the first time since her son's arrest happened. She shared at length what her family went through together during and after her son's arrest. "Yes, as a family, what we've been through, I think nothing can be worse than what we've just been through as a mother and parents. But today where we stand as a family, I can say that we are in a great space where we feel loved by everyone. And all our friends, and so many people whom we did not know. So many messages and so much love and I just feel blessed. And I would say I'm grateful to all the people who have helped us through this," she shared.
Dating advice to her children  
When Johar asked Khan what kind of dating advice would she give her children, she said: "For Aryan, date as many girls as you want, till you decide to get married. And then full stop." For Suhana, she continued, "never date two guys at the same time."
Spilling beans on SRK's habits
Khan, who called up her husband Shah Rukh Khan in the call-up a celebrity segment, also shared an annoying habit of the superstar she gets irritated with. Mentioning how SRK always makes it a point to see the guests off to their respective cars after a party, she reveals how it gets annoying because other guests start looking for him and he is nowhere to be found. "He is always seeing off the guest to their car. Sometimes I feel like he spends more time outside than inside the hour during parties. Then people start looking for him. It makes me feel like we are having the party outside on the road rather than inside the house," she revealed.
On Aryan being her fashion police 
In the famous rapid-fire round, Khan interestingly revealed how her son, Aryan Khan, is like fashion police to her. She said her son gives her some interesting fashion tips and advised her once to wear more T-shirts than full-sleeved shirts. When Johar asked her what must Aryan Khan think of his fashion sense, Khan replied, "Why don't you call him?"
On her life as a professional and how being SRK's wife affects that
The designer who runs her label, Gauri Khan Designs, revealed that being King Khan's wife sometimes is a disadvantage for her. She said: "When considering a new project, some people consider me a designer. But there are also times when it does not work out that way because at times, sometimes people do not want to get attached to the baggage of working with SRK's wife. It works against me 50 per cent of the time."