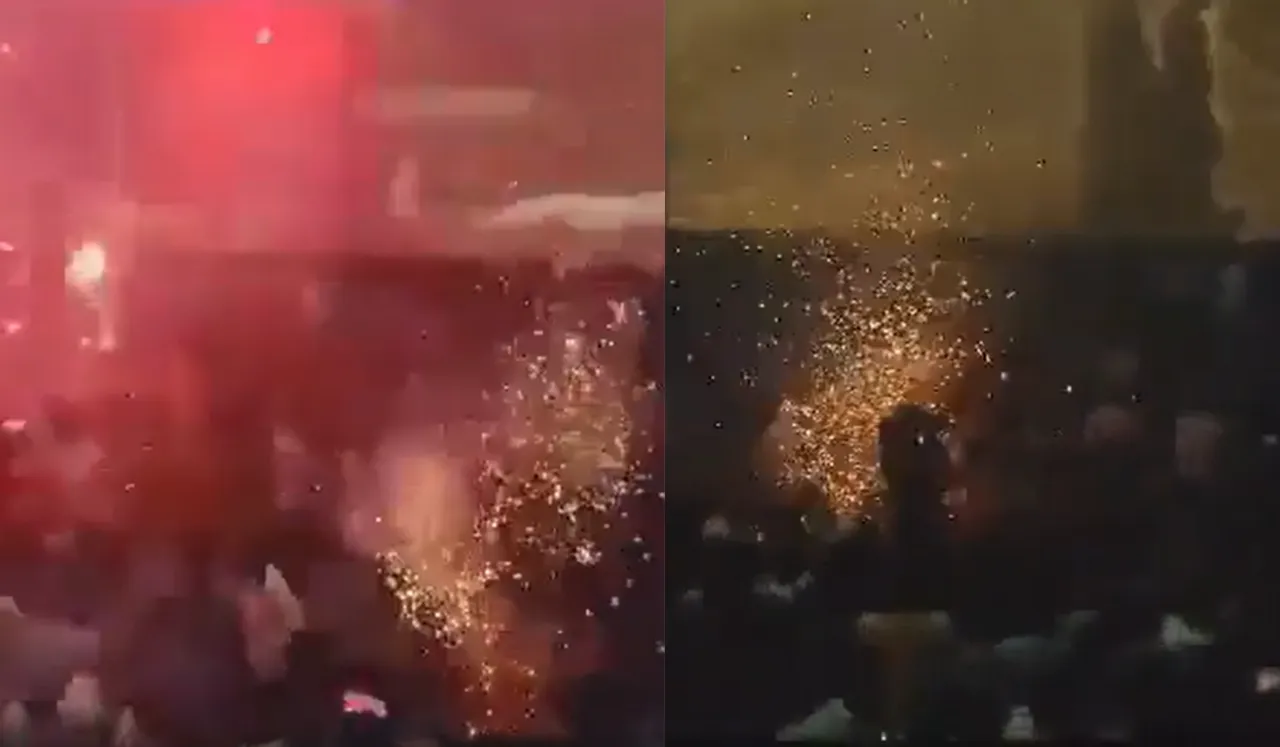 Tiger 3 is one of the year's biggest releases starring Salman Khan, Katrina Kaif and Emran Hashmi in the spy action thriller. However, the highly-anticipated film's experience was marred by a few fans in Nashik's theatre as they burst crackers inside the theatre upon Khan's entry. 
The incident is from Malegaon Theatre in Nashik and the video of the incident was shared on X (Formerly Twitter) causing rage among netizens. The video was shot by some members of the audience in the balcony area who watched a dangerous stampede unfold in the hall as moviegoers rushed to find a safe space with the crackers causing an alarm.
Fans Burst Firecrackers Inside Theatre
As Salman Khan and Katrina Kaif returned to big screens together as Tiger and Zoya in one of the biggest releases of the year, Tiger 3, the film's fans went overboard and compromised safety by bursting crackers in the theatre premise.  
Moviegoers in Nashik's Malegaon theatre watching the action on screen found themselves dodging a series of dangerous firecrackers upon entry of Salman Khan at around 9:30 pm on November 12.
The video of dangerous firecrackers launched inside the packed theatre was shared on X by filmmaker Ram Gopal Varma and has now gone viral on the internet causing outrage amongst netizens demanding strict action against those who risked hundreds of lives.
The Video
Varma shared the 56-second on X with the caption, "And we think we are not MAD".
A user reacted to the video as he highlighted in the comments section of the video how the government has asked citizens to not burst firecrackers outside, but they're shamelessly doing that inside the theatres. Another exclaimed how this is not safe demanding actions against culprits. 
Salman Khan also reacted to the video as he took it to his Instagram requesting his fans to not carry firecrackers inside theatres as it can result in hazardous fire incidents.
And we think we are not MAD 😳 pic.twitter.com/hkDFgDHU2Y
— Ram Gopal Varma (@RGVzoomin) November 13, 2023
Not The First Time
This isn't the first time an incident involving the bursting of firecrackers has taken place inside the theatres. During the 2021 Salman Khan film Antim: The Final Truth too, fans had burst crackers during the screening.
Why Fans Go Too Far
As there are many bizarre incidents of fandoms going too far, there is a thin line between enthusiastic appreciation and irrational obsession causing discomfort to others. Extreme fandom can morph into a realm of nonsensical behaviour that crosses the boundaries of healthy engagement and reaches a disturbing degree. 
There are plenty of incidents when fans have gone too far from throwing things at performing artists on stage during concerts causing injuries. Some fans have also stalked and forcefully barged into celebrities' private spaces, raising concerns about bullying and harassment that is often passed as admiration. Radical fandoms turning into harassment is something that is not addressed enough. 
And we think we are not MAD 😳 pic.twitter.com/hkDFgDHU2Y

— Ram Gopal Varma (@RGVzoomin) November 13, 2023
---
Suggested Reading: Tiger 3 Twitter Review: Netizens Praise Katrina Kaif's Action Sequence