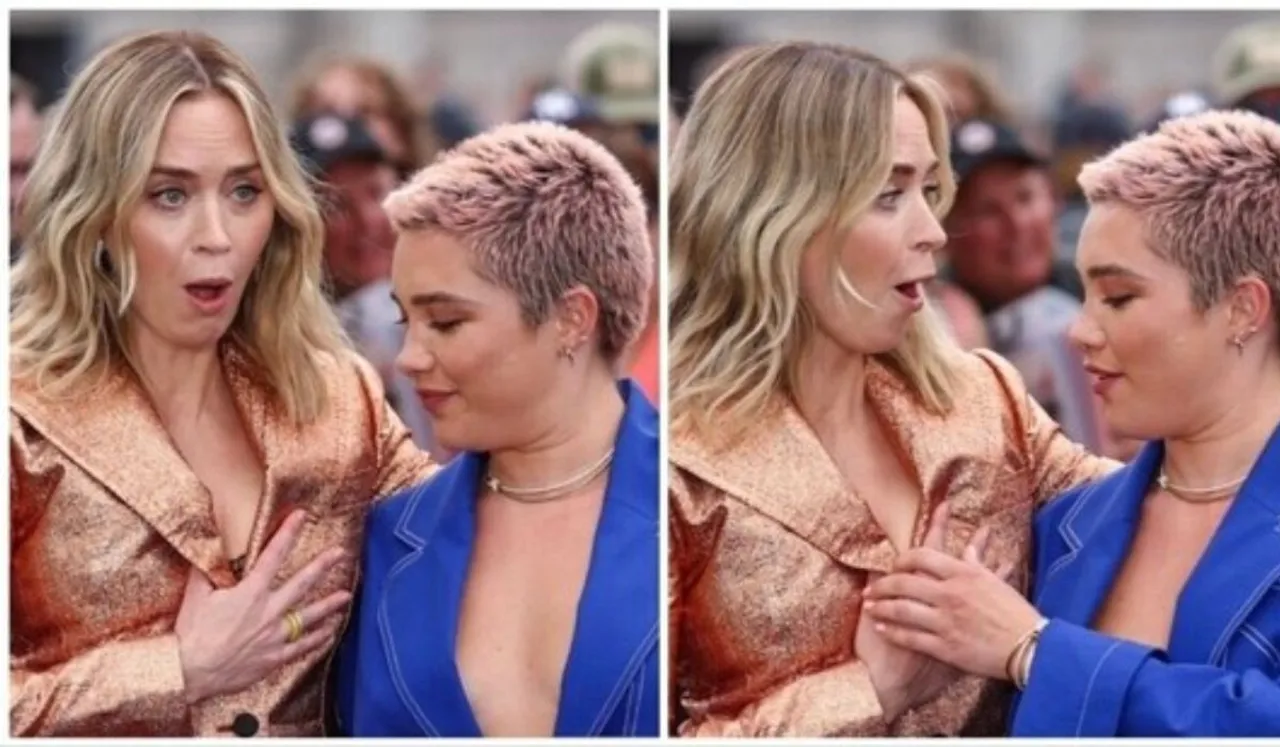 Florence Pugh's prompt reaction to a potential wardrobe malfunction for Emily Blunt at the Oppenheimer premiere garnered significant attention on Twitter, with many users commending Florence for her actions.
During the premiere of their film Oppenheimer in London, Florence Pugh, dressed in a blue dress, and Emily Blunt, donning a metallic pantsuit, showcased their friendship. The incident where Pugh narrowly prevented a wardrobe malfunction for Blunt garnered significant attention and appreciation from fans.
Twitter in Awe as Florence Pugh Prevents Emily Blunt's Wardrobe Malfunction
During the red carpet premiere of Oppenheimer, as Florence Pugh and Emily Blunt posed together, a wardrobe malfunction occurred when the button on Emily's blazer burst open, revealing her bra. Reacting swiftly, Florence stepped in to shield her co-star from the cameras, and both actors shared a lighthearted moment as they attempted to fix the button.
A Twitter user uploaded a video of the incident, captioning it "Florence Pugh saves Emily Blunt from a nip slip," which garnered praise from many who admired the seamless recovery by the actors.
this is the gayest thing i've ever seen pic.twitter.com/PVO7dMTOg6

— han the cunty cockroach (@mcuvillaneve) July 13, 2023
Twitter users responded enthusiastically to the video. Some considered it a cute and heartwarming moment, while others jokingly revived the idea of chivalry.
Many users also expressed their admiration for Florence's quick reaction. Some Twitter users expressed their wish to see the two actors star in a romantic comedy, noting their chemistry and cuteness together. 
 Oppenheimer Premiere
The UK premiere of the film Oppenheimer, directed by Christopher Nolan and featuring a star-studded cast including Cillian Murphy, Robert Downey Jr., Matt Damon, Emily Blunt, and Florence Pugh, took an unexpected turn. In a display of solidarity with the Screen Actors Guild-American Federation of Television and Radio Artists (SAG-AFTRA), which initiated a strike against studios and streaming platforms on July 14, the Oppenheimer cast chose to walk out of the premiere in London.
The premiere was rescheduled an hour earlier to accommodate the cast's red-carpet appearance prior to the strike announcement. Oppenheimer delves into the life of the renowned American theoretical physicist J. Robert Oppenheimer.
---
Suggested Reading: Hollywood On Shutdown? Actors Join Writers' Strike, Halt Promotions

---