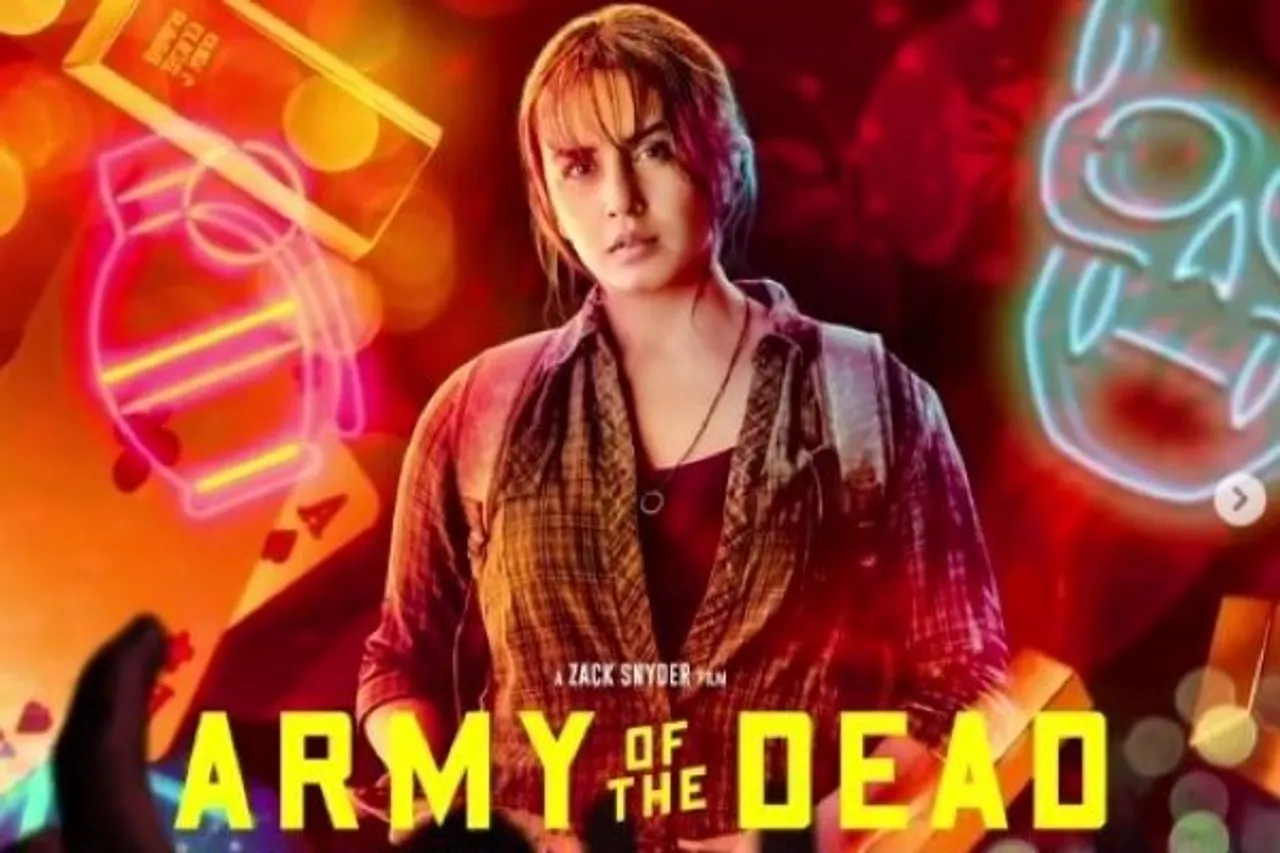 Filmmaker Zack Synder and Indian actor Huma Qureshi revealed the first poster look of Qureshi from the upcoming movie Army of the dead. Other looks of major characters from the zombie thriller have also been revealed today.
Qureshi plays the role of "a Determined Mother to an Estranged Daughter". The Badlapur actor made her Hollywood Debut with Army of the Dead which will be releasing on May 21, 2021, on Netflix and May 14 in select theatres.
Huma Qureshi In Army of the Dead
The poster shows Qureshi in her character as Geeta, holding a knife in her hand with an intense look on her face. She posted her character look on her Instagram with the caption "Another reason to stay home."
Kate and Geeta
The Estranged Daughter and the Determined Mother. #ArmyOfTheDead pic.twitter.com/U1aacdp4ui

— Zack Snyder (@ZackSnyder) April 29, 2021
Vanderohe and Dieter
The Philosopher and the Safecracker. #ArmyOfTheDead pic.twitter.com/8GYZzHz50G

— Zack Snyder (@ZackSnyder) April 29, 2021
Previously, when the trailer of Army of the Dead came out on April 13, Qureshi tweeted, "Super proud to be a small part of this genius man's vision @ZackSnyder always a fan and friend forever ."
The film also stars Dave Bautista, Ella Purnell, Omari Hardwick, Ana de la Reguera, Theo Rossi, Matthias Schweighöfer, Nora Arnezeder, Hiroyuki Sanada, Tig Notaro, Raúl Castillo, Samantha Win, Michael Cassidy, Richard Cetrone and Garret Dillahunt.
While sharing the poster of the movie, Huma also shared a note for her fans in light of the current situation of the country due to COVID-19. She wrote, "My heart bleeds as my country and my fellow Indians fight personal loss, hurt, pain and devastation every day because of the Covid-19 pandemic. I stand alongside them in sharing every bit of it with them."
"With a heavy heart, however, in keeping with my duties as a professional, I share my work for all of you to view. "Army of the Dead", the Zack Synder film I shot through 2019."
Another Reason to Stay at Homa @netflix @NetflixIndia #ArmyOfTheDead #geeta #humaqureshi pic.twitter.com/fdjPZlggzB

— Huma S Qureshi (@humasqureshi) April 29, 2021
She concluded her note by wishing "health and peace" to those who have "encountered the wrath of this pandemic".