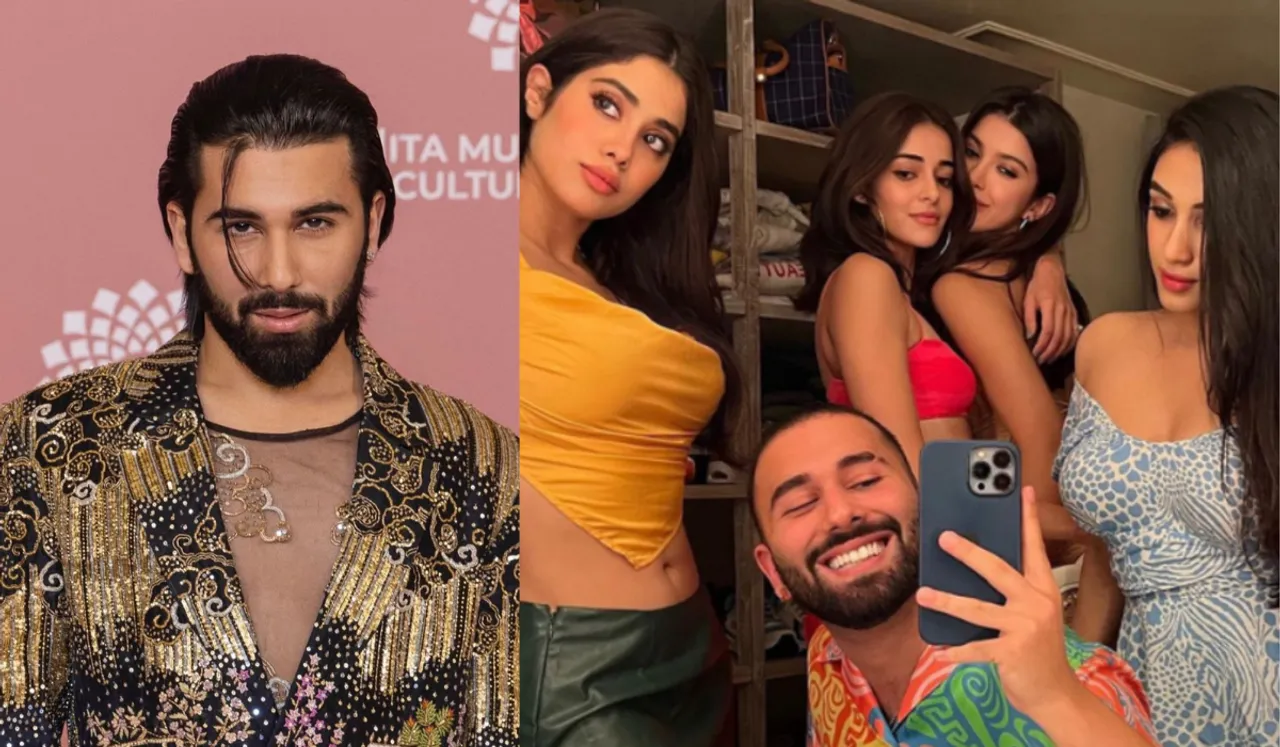 Social media users widely regard Orhan Awatramani, also known as Orry, as one of the luckiest individuals of this generation. He enjoys a luxurious lifestyle, mingles with celebrity kids, and travels to fancy destinations around the world. Orry's social media profiles are brimming with such images, and his popularity has grown significantly, even catching the attention of the paparazzi. In the recent episode of Koffee with Karan Season 8, Sara Ali Khan and Ananya Panday spilled the beans about Orhan Awatramani. 
When asked to reveal who Orry is, Sara Ali Khan mentioned that Orry is well-known, describing him as a funny person with great energy. Ananya Panday added that Orry is good with captions and dresses well. However, when Karan Johar pressed for details about Orry's profession, the answers became a bit vague. Panday mentioned that Orry works for himself, and Khan shared that she saw a video of him talking about self-improvement, gym sessions, and Pilates. Karan Johar seemed unconvinced and continued to inquire about Orry's actual job, but the answers remained elusive.
Much like Johar, in every other Instagram post, users frequently pose two questions: "Who is Orry?" and "What is Orry's occupation?" Recently, Orry was spotted at the Jio Plaza Opening Ceremony, an event attended by big names like Salman Khan, Ranveer Singh, and Deepika Padukone, as well as numerous stars from the worlds of film and cricket. Interestingly, Orry seems to be a common friend to everyone in attendance.
What Is Orry's Current Work?
However, Awatramani, although keeping his current profession undisclosed, in a recent interview openly shared his diverse work experiences, including waiting tables, gardening, and working as a graphic designer.
In an interview with MensXP, Orry mentioned that he has taken on various roles in his life, acknowledging that he may not have excelled at every job but has gained a wealth of experience. From working at business conferences at the age of 19 to being a gardener and a graphic designer, Orry emphasised his versatility, describing himself as a man with a diverse skill set. He added that his current work includes, "Now I spend my day commenting on people's pictures, replying to stories."
Who is Orhan Awatramani?
Orhan Awatramani was born on August 2, 1999, and he is currently 24 years old. He hails from a well-off family in Mumbai. His father's name is Jorj Awatramani, and his mother's name is Shahnaz Awatramani. He also has a brother named Kabir Awatramani, who serves as the head of PR at Sollis Health in New York. 
In 2016, he was photographed sitting with Sara Ali Khan on her graduation day, implying that he had attended Columbia University in New York as well. Some insights into Orry's profession can be found on his LinkedIn profile, where it's revealed that he holds a position as a Special Project Manager at Reliance Industries Limited.
In various interviews, Orry has portrayed himself as a multi-talented individual, highlighting his skills as a singer, influencer, fashion designer, songwriter, footballer, and more. He is a strong advocate for self-love, and during an interview with Cosmopolitan India, when questioned about his profession, he responded, "No. I am working on myself. I am going to the gym, and I am doing a lot of self-reflection. Sometimes I am doing yoga, and I get massages. You know! I am working."
Recently, Orry has been sharing pictures on his Instagram featuring Nita Ambani, indicating a strong bond with the Ambani family. He also asserts that he shares a close friendship with Radhika Merchant and Isha Ambani.
When it comes to his romantic life, he has been linked with several Bollywood actors, such as Janhvi Kapoor, Sara Ali Khan, Nysa Devgan (Ajay Devgan's daughter), and others, although it appears they are just good friends. 
---
Suggested Reading: Dunki's First Glimpse: SRK On A Mission To Help His Friends Move To London