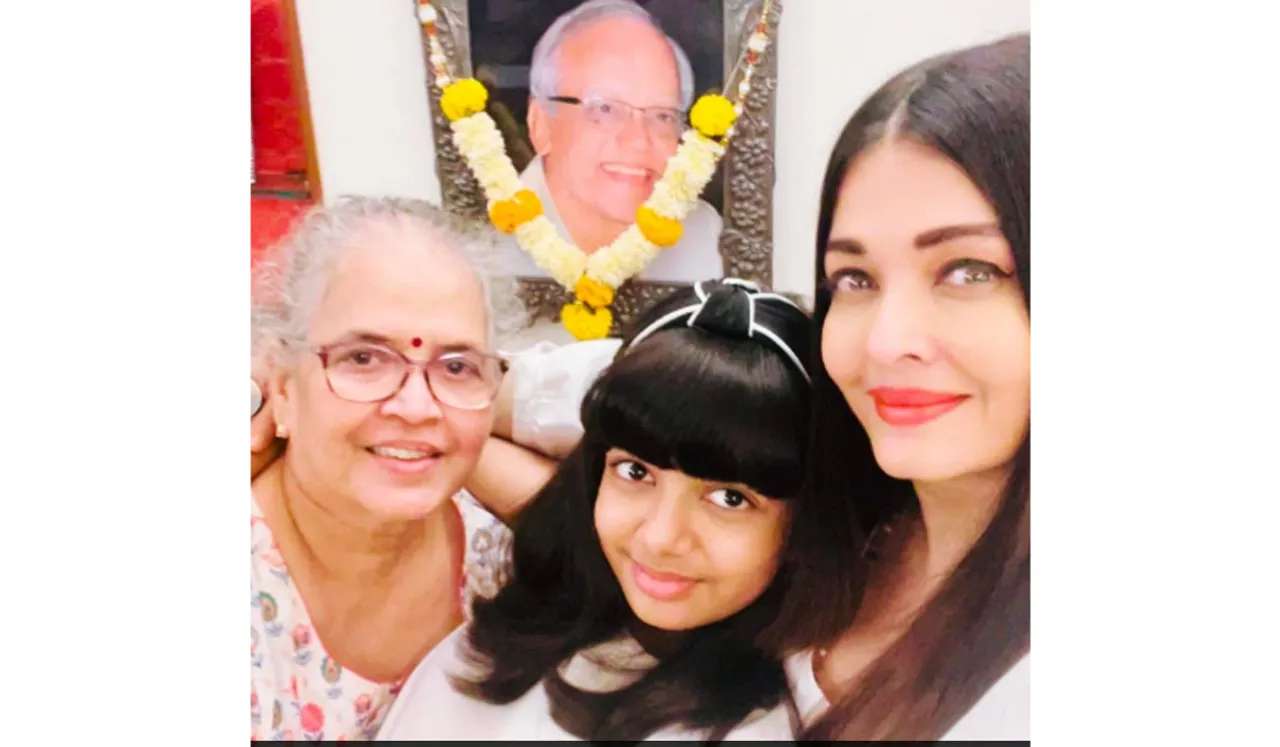 Aishwarya Rai Bachchan marked her father Krishnaraj Rai's birthday anniversary with a heartfelt social media tribute. The actor posted a series of pictures capturing cherished moments with Krishnaraj Rai and her daughter, Aaradhya. Among them was a picture where the actor, accompanied by her mother, Vrinda Rai, and Aaradhya, stood beside a photograph honouring Krishnaraj Rai.
She wrote, "✨🙏❤️Love you eternally, dearest darling Daddy-Ajjaaa❤️🥰💖😍💝🤗💕😘🧿🙏🌟🌈✨Most loving, kind, caring, strong, generous and righteous… no one like you… ever❣️❤️🥰🌟🧿✨Happy Birthday💖🌟Prayers in remembrance🙏🌸🌹💐🍀We miss you so much❣️💝✨"
Check out the pictures here.
Bachchan frequently dedicates her social media platform to honouring her loved ones. For instance, on Aaradhya's recent birthday, the actor celebrated the occasion by sharing a nostalgic throwback image.
'I Breathe For You'
To celebrate her daughter turning 12, Aishwarya Rai penned a heartfelt message dedicated to Aaradhya on her Instagram. Alongside this, she shared an adorable childhood selfie where she is seen dressed in black, alongside a young Aaradhya, capturing a sweet moment seemingly taken at their home.
Sharing the photo, the actor wrote in the caption, "I LOVE YOU infinitely, unconditionally, forever and beyond my darling Angel Aaradhya. You are the absolute love of my life… I breathe for you… my soul… HAPPY HAPPY HAPPIEST 12th BIRTHDAY. God Bless you always ALLWAYS. Thank you for being YOU… precious love… I love you the mostestestestestestestestestestestestest. You are the bestestestestestestestestestestestest."
Aaradhya was born to Aishwarya and Abhishek in 2011 on November 17, four years after their marriage. The couple who starred together in Umraon Jaan and Guru got married on April 20, 2007.
Abhishek Bachchan Also Takes To Instagram
Similarly, the father of the birthday girl, Abhishek Bachchan marked the day by posting a throwback photo with Aaradhya on his Instagram. The image showcased a baby Aaradhya affectionately gazing at her father during an event.
Notably, on Aaradhya's special day, celebrities like Abhishek's sister, Shweta Bachchan, along with Athiya Shetty, Kunal Kapoor, Sonu Sood, Suniel Shetty, and Sikandar Kher, among others, showered the post with red heart emojis in the comments section.
Reportedly, Aaradhya shares a close bond with her mother, often accompanying her to various social gatherings, events, and even airports. She joined her at the Paris Fashion Week. She was by her side as she celebrated her 50th birthday at a recent media event, where Aishwarya's mother, Brindya Rai, was also present. A heartwarming video from the event captured Aaradhya embracing her mother after the cake-cutting ceremony.
During this event, Aaradhya also caught the spotlight by expressing admiration for her mother's philanthropic work in front of the cameras. Her endearing gesture added a memorable touch to the occasion.
---
Suggested Reading: Watch: Aaradhya Bachachn's Heartfelt Speech For Her 'Darling' Mom