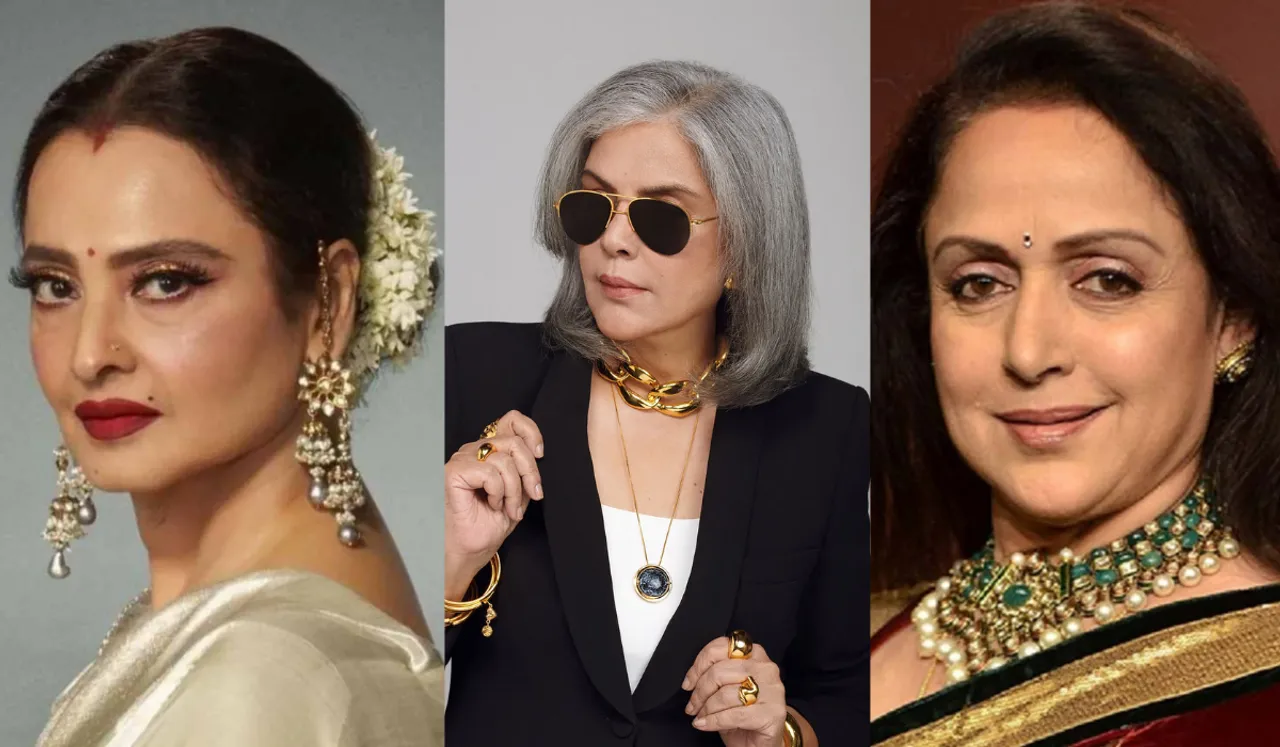 ---
Having admired the grace and charm of contemporary stars like Deepika Padukone and Aishwarya Rai as you grew up, suddenly finding yourself in the presence of the enchanting and legendary goddesses of elegance from the 1970s feels like stepping into a wonderfully glamorous time capsule, doesn't it?
These legendary actors from the 1960s and 1970s have not only showcased their remarkable acting skills but have also gained a massive following with their grace. Whenever they appear on our screens, be it on TV, in movies, or on our phones, they effortlessly win over our generation, turning us into their fans too.
Whether it's the evergreen Rekha, who continues to exude charm with her timeless style, or Zeenat Aman, an actress known for her bold persona and unconventional views that still make headlines, whether we mention Jaya Bachchan, who made a much-anticipated return to the screen and captivated audiences with her presence, or Hema Malini, now a parliament member, aiming for a comeback and actively seeking meaningful scripts and roles, And let's not forget Vyjayanthimala, whose video showcasing her Bharat Natyam performance on her 90th birthday went viral, leaving fans amazed.
How These 70s Icons Continue to Mesmerise
Rekha
She graced the cover of Vogue Arabia's July/August 2023 issue, elegantly dressed in Manish Malhotra's creations. In an interview with the magazine, Padukone shared her admiration for Rekha, saying her presence is truly enchanting and how, with just a single glance, she can effortlessly captivate an entire audience. We completely agree with Padukone; whether it's her social media posts or her stunning appearances on the red carpet, Rekha continues to mesmerise people, making them fall in love with her all over again.
Sharmila Tagore
Sharmila Tagore's presence, encompassing her grace, beauty, and fashion sense, has had a profound influence on both her admirers and the entertainment world. Her return to the screen in the OTT drama Gulmohar was a delightful experience for her fans, and they eagerly anticipate seeing more of her in future projects. We hope to witness her in more films and shows in the coming days.
Vyjayanthimala
Vyjayanthimala, one of the pioneering female superstars of Indian cinema, cast a spell on the silver screen for over two decades. Her iconic presence during the 1950s and 1960s era of Bollywood set a trend of its own. A remarkable video surfaced on the internet recently, capturing the actor's breathtaking Bharatanatyam performance on her 90th birthday in Chennai. Fans of Vyjayanthimala were left in awe of her incredible dance skills, marvelling at how the veteran artist flawlessly executed the dance at the age of 90.
Legendary Bollywood actress Vyajanthimala dancing on her 90th birth anniversary 🤩
byu/LangdaTotapuri inBollyBlindsNGossip
Zeenat Aman
Zeenat Aman, the acclaimed actor renowned for her fearless attitude and groundbreaking roles that challenged conventions, made her Instagram debut in February this year. Since gracing the platform, she has been consistently sharing insightful musings on an array of subjects. From parenting to safeguarding celebrities' personal lives, from discussing hair colouring to various engaging topics, she's been actively interacting with her fans and followers. It's a royal treat for all of us.
Furthermore, she's gearing up for a grand return to the silver screen with a forthcoming drama produced by Manish Malhotra. However, while you await her highly anticipated comeback, you can catch her latest project, set to premiere soon.
Hema Malini
Hema Malini, celebrated for her multifaceted talents encompassing acting, dance, beauty, and style during the vibrant 1970s and early 1980s, was one of the highest-paid actors of her time. Her incredible charm and charisma earned her the title of 'Dream Girl'. However, her career trajectory took an interesting turn as she transitioned into politics, serving as a Member of Parliament in the Rajya Sabha since 2004. Despite her political commitments, she hasn't lost her passion for acting. In a recent interview, she expressed her desire to return to the silver screen, actively seeking compelling screenplays and roles. We eagerly await her comeback and the magic she'll bring back to the movies.
Isn't it delightful how these '70s stars continue to bring joy to our hearts?
Views expressed by the author are their own
---
Suggested Reading: Manish Malhotra CONFIRMS Directing Meena Kumari Biopic