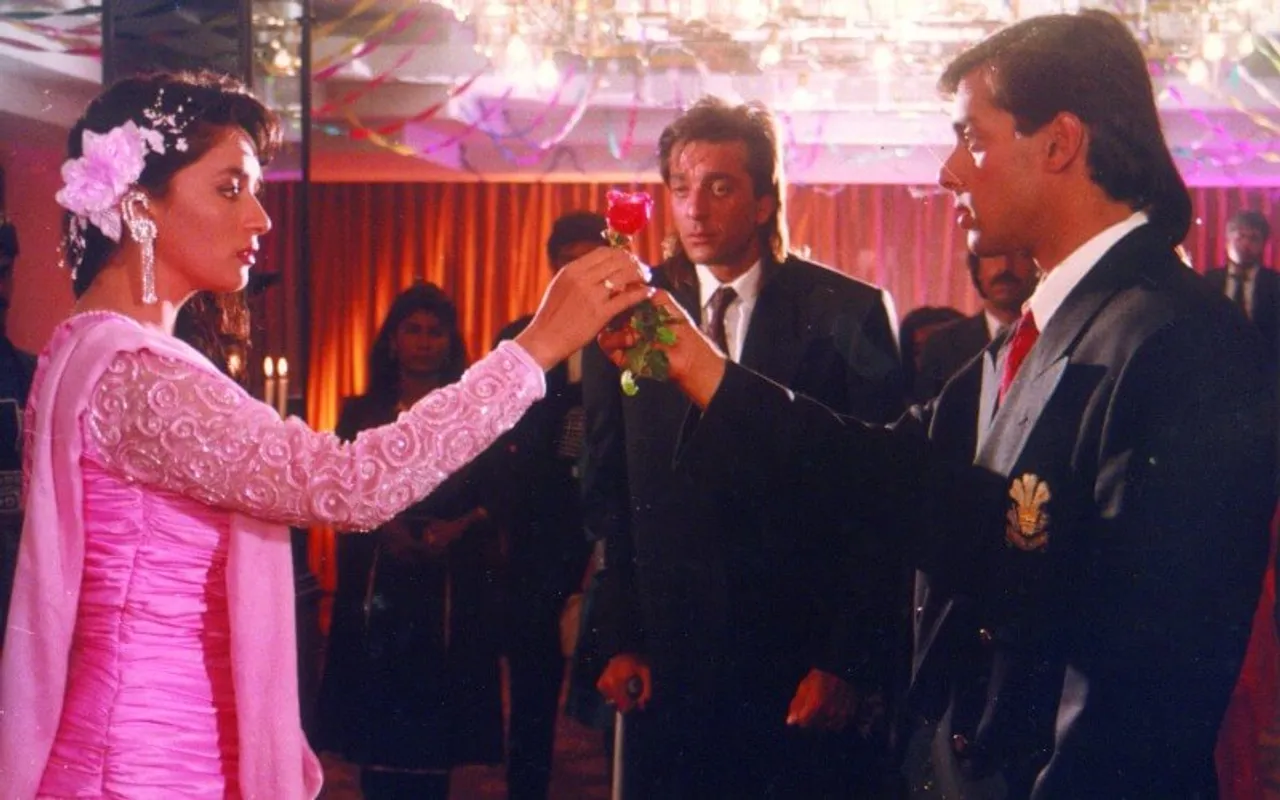 30 Years Of Saajan: Re-watching films from the 90s, when you are no longer a starry-eyed kid who couldn't look beyond the 'heroine's dresses' and melodious songs is a trip of its own. It's part cringe and part revelation of your growth, bound by amusement at what all filmmakers managed to get away with back in the day. One of my favourite childhood films from the 90s is 
Saajan
- largely due to its sonorous soundtrack. I have re-watched this film more times than I would like to confess now, but as a grown-up, I feel its female lead Pooja deserved a better ending- perhaps leaving for a solo trip to Goa, rather than choosing between its bad and worse male leads.
At the risk of being trolled, I would say that Saajan had one of the most empowering climax scenes that 90s films could afford, where a woman gets to put two men, who treat her as an object to their place and speak up for herself, but that wasn't simply enough. We'll get back to this bit later. Despite being promoted as a "love triangle" the film was more about bromance and the lengths to which two friends are willing to go for the sake of their friendship. In such films from older decades, women were treated as objects, to be sacrificed by one man so that another man could find happiness, no one bothered to even ask what the woman wanted. Has much changed in Bollywood today? If this film was to be remade in 2021, would the makers dare to opt for a different ending that empowered its female lead?
What is 
Saajan
 about?
Directed by Lawrence D'Souza and written by Reema Rakesh Nath, Saajan is the story of Aman (Sanjay Dutt), a specially-abled orphaned child, who is adopted by the parents of his best friend Akash Varma. The wealthy parents do not discriminate between the two, providing them equal opportunity and love in life. While Aman is reserved, prefers poetry over parties, writing under the pen name "Sagar", Akash (played by Salman Khan) is a womaniser who falls in love at the drop of a hat.
Away on an assignment in Ooty, Aman falls for Pooja (Madhuri Dixit) a book store owner, who is a big fan of Sagar. She is the kind of girl who will pick fights and befriend random strangers based on her fandom. As fate, or Hindi film universe, would have it, Akash too ends up developing feelings for Pooja. He admits to his friend that this time he is experiencing "saccha pyaar", which leaves his poet friend conflicted.
Saajan not only romanticises the virtue of sacrifice but also ends up objectifying an independent, talented young woman to make demi-gods out of its entitled heroes.
Due to his disability and sense of obligation towards Akash and his family, Aman decides to help Akash win Pooja over by helping him pose as Sagar. The woman falls for the decoy, only for Akash to realise that his BFF loves Pooja too. Now, instead of confronting Akash, or revealing the truth to Pooja, what does Akash do? Our Hindi film hero decides to break her heart by lying to her and posing as a womaniser.
All hell breaks loose after Akash and Aman confront each other, fighting over who gets to sacrifice their love for Pooja, and it is here we get perhaps the most relevant scenes of the film. Pooja walks in on the conversation and disses both the men for treating her love like a toy to be tossed around. She storms out of the room after telling both of them that she has her feelings and identity and that she never gave anyone the agency to write her love story for her. This is where the film should have ended. With Pooja leaving the two friends, taking a solo trip to Goa or Himalayas to clear her head, coming back to focus on her business and eventually finding a man who didn't objectify her in the name of love and sacrifice.
But since this is 90s Bollywood, Pooja didn't get that option. She has to choose between the two men, no matter how badly both of them treated her.
What if 
Saajan
 is remade today?
Saajan had several problematic sequences - A disabled person being mocked by a woman for rejecting her advances, Aman creepily drawing sketches of Pooja without her consent, Akash inappropriately touching women to win a bet with his friend and then also using a former girlfriend to fool Pooja. Above all, the romanticisation of conning a woman, using another person's identity to win her over was the most problematic aspect of the film. But it needs to be applauded for at least for giving Pooja a voice to express her agency over her love life and commanding respect from the men in her life.
I wish Pooja gets a spin-off film of her own, in which she is seen running a huge book store by herself, having dumped both Akash and Aman and moved on to have found an equal relationship. The kind who wouldn't lie to her about his identity and would know better than to take her love for granted.
Picture Credit: Cinestaan
Views expressed are the author's own.
---
Suggested Reading For You:
Devdas And Our Soft Corner For Self Destructive Lovers
20 Years Of Gadar: Ek Prem Katha And Lagaan- How The Two Films Portrayed Women
---