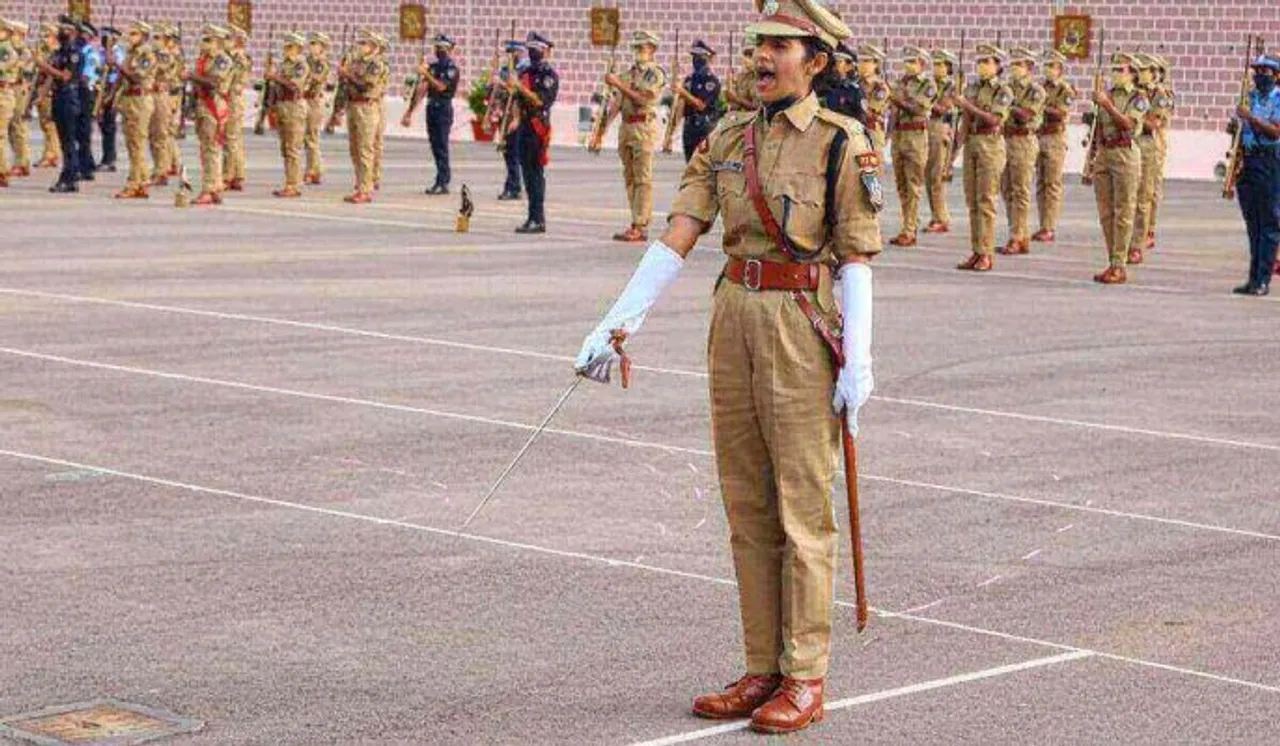 IPS Ranjeeta Sharma is a young trainee who becomes the fifth woman in the history of Sardar Vallabhbhai Patel National Police Academy, Hyderabad, to command the prestigious Dikshant Passing Out Parade.
For the second year in a row, a woman Indian Police Service ( IPS) probationer commanded the Dikshant Parade at Sardar Vallabhbhai Patel National Police Academy (SVPNPA) on Friday.
Dikshant Parade marks the summit of eleven months of training of the IPS Officer trainees in the Academy. Leading the parade is considered to be the most prestigious honour for any IPS probationer. And this honour was presented to IPS Ranjeeta Sharma this year.
Recently, Prime Minister, Narendra Modi interacted with the IPS probationers where Ranjeeta Sharma shared about her inspirational journey with people all over the world, motivating thousands of aspirants.
Union Minister of State for Home Affairs, Nityanand Rai addressed the newly commissioned officers and also congratulated Sharma and other trophy champions for their achievements during the training.
The parade included 144 IPS probationers of the latest batch, including 23 women, who began their basic training on 16 December 2019 along with  34 foreign officials.
The foreign officers comprised of twelve from Royal Bhutan Police, ten from Nepal, eight from the Maldives and five from Mauritius.
Who is Ranjeeta Sharma?
Born in  Faridabad, Haryana Ranjeeta Sharma is a post-graduate from the Indian Institute of Mass Communication, New Delhi. She worked in the PR sector for more than nine years before she found her calling. She quit her job to join the prestigious civil services and the rest is history.
Sharma aced in her training and bagged several awards some of which are the IPS Association's Sword of Honour for the Best Outdoor Probationer.
She was also the first women trainee officer to win this accolade in the history of NPA. Not only this but she also bagged the honour of the Prime Minister's Baton and Home Ministry's Revolver for the Best All-round IPS Probationer of the 72nd batch of IPS. She was allotted the Rajasthan cadre.
According to the 34-year-old, her experience and the training had helped her to find her own self and the person she truly is.
She says,"We have already been pushed beyond our 'capabilities'. There are no boundaries here."
---
Trending Video Right Now