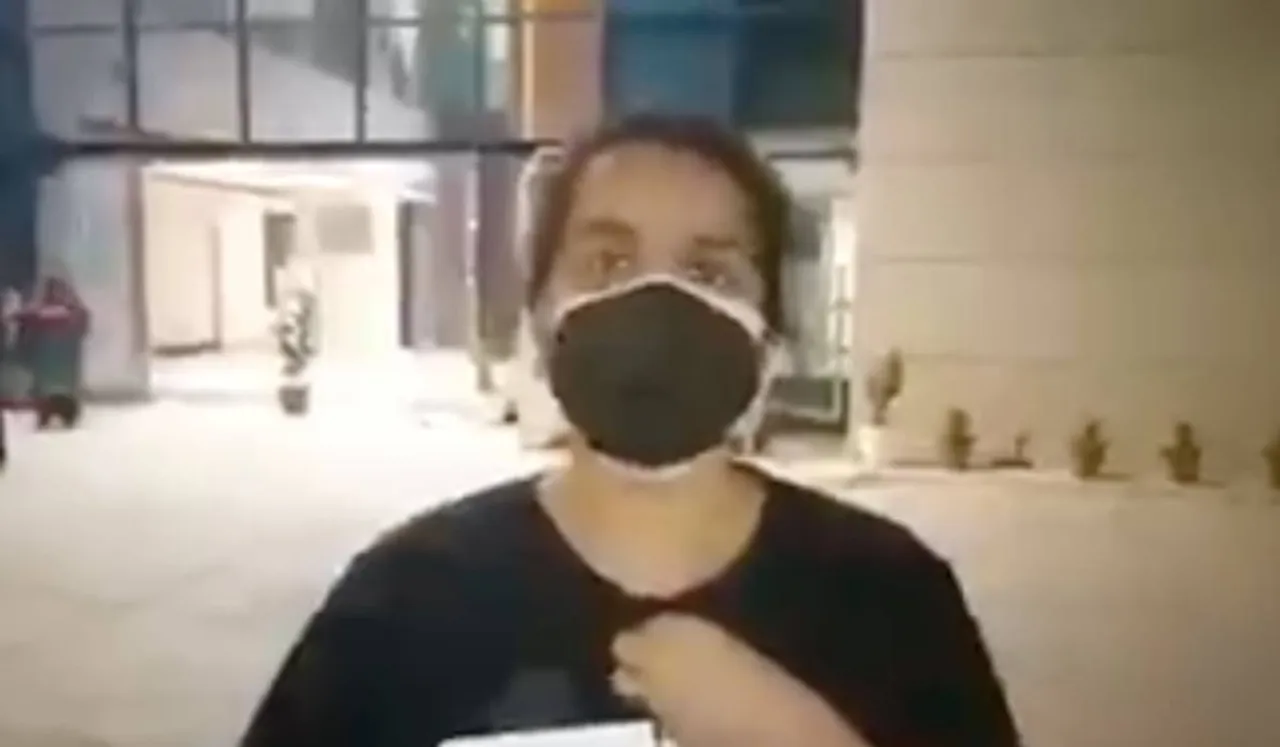 UP woman challenges Yogi: As the COVID-19 situation in the country continues to spiral, several hospitals in Uttar Pradesh have consistently been reporting a shortage in oxygen supply and potential risk to the lives of admitted patients. This, despite state Chief Minister Yogi Adityanath's declaration last week that oxygen supply was undisturbed at all UP hospitals and that action would be taken against "anti-social elements" spreading "propaganda" online.
Throwing an open challenge to Yogi, a woman, in a video going viral on social media, has alleged oxygen shortage at a hospital, reportedly in Lucknow, where she claims her father passed away after his O2 levels dipped severely.
"I have given Rs 4,70,000 and these officials don't know which tests have been done for my father and which haven't," she says in the

योगी जी, लखनऊ की ये बेटी आपको चुनौती दे रही है, करिए इसे गिरफ्तार l

दर्द से कराह रहा आम आदमी उत्तरप्रदेश में सड़क पर आने को आमादा है l

शहीद पथ स्थित Tender Palm Hospital: ऑक्सीजन की कमी जी जूझ रहा है,100 मरीजों की जान ख़तरे में हैं l pic.twitter.com/D4vYkZJvi8

— Surya Pratap Singh IAS Rtd. (@suryapsingh_IAS) April 29, 2021 shared by retired IAS officer Surya Pratap Singh on Twitter.
"At this hospital, oxygen supply has exhausted twice today. My father's oxygen level was at 6. They are using hand-pump oxygen here at a rate of Rs 40,000 per day," she adds, anguished. "Yogi Adityanath said people who complain against oxygen shortage will be charged... I'm standing here. Do it."
Watch the video below: 
योगी जी, लखनऊ की ये बेटी आपको चुनौती दे रही है, करिए इसे गिरफ्तार l

दर्द से कराह रहा आम आदमी उत्तरप्रदेश में सड़क पर आने को आमादा है l

शहीद पथ स्थित Tender Palm Hospital: ऑक्सीजन की कमी जी जूझ रहा है,100 मरीजों की जान ख़तरे में हैं l pic.twitter.com/D4vYkZJvi8

— Surya Pratap Singh IAS Rtd. (@suryapsingh_IAS) April 29, 2021
SheThePeople was not able to independently verify the veracity of the video in question.
UP woman challenges Yogi after he warns action against oxygen "propaganda" 
As per The Hindu, Yogi Adityanath addressed a conference of select journalists, relaying to them the claim that there was no oxygen shortage at any COVID-19 hospitals in the state. He reportedly directed authorities to book people making these complaints online under the National Security Act (NSA) and seize their properties.
The Supreme Court today pulled up states and police for issuing threats to citizens reporting lack of facilities, saying that coercive action against on-ground complaints would be held in "contempt."
Justice DY Chandrachud, hearing the case, observed, "If citizens communicate their grievance on social media and internet, then it cannot be said that it's wrong information." 

As UP records over 35000 daily cases, as per official numbers on April 30, many hospitals and doctors have put out public appeals to cover the gap in oxygen supply. As per The Telegraph, Tender Palm Hospital in Lucknow, where the video of the woman is reported to be from, lost eight patients between Tuesday and Wednesday owing to a lack of oxygen.