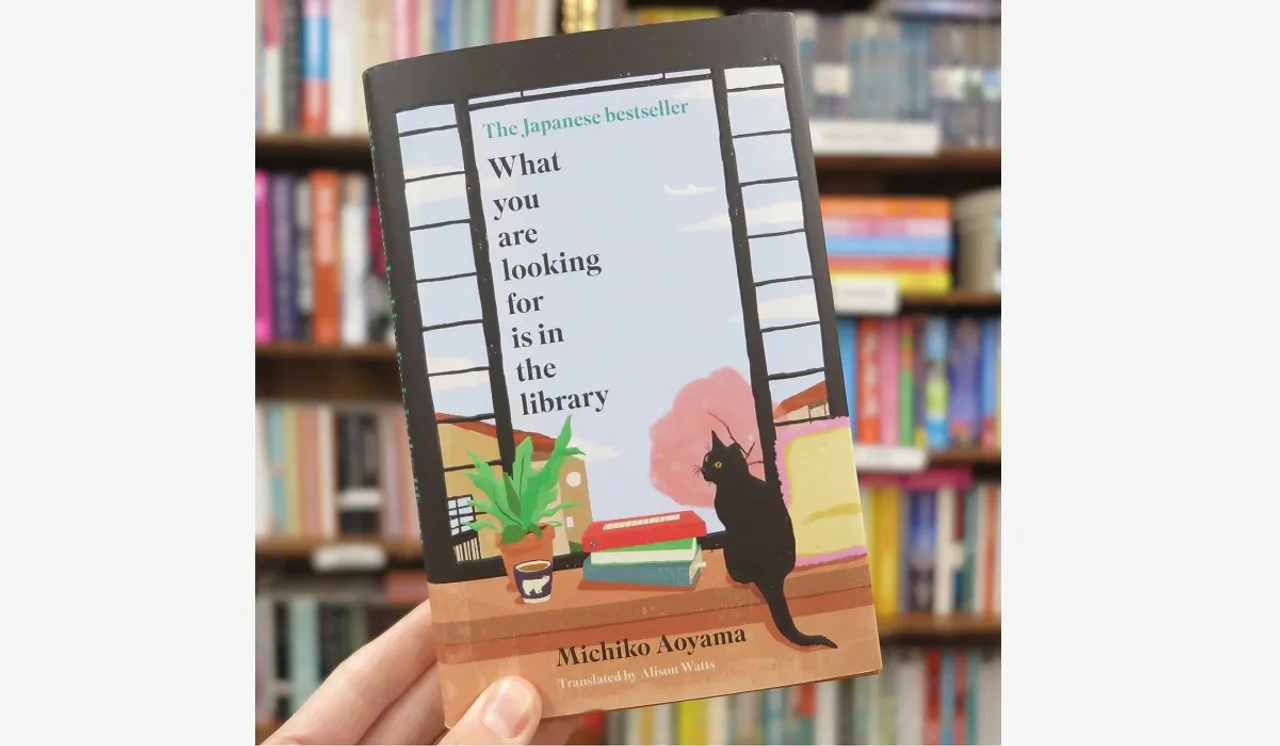 Among my most recurring early memories is that of my mother taking a membership in my name at the local library and us returning home with a couple of books and comics every other day.
Over the years my taste in reading evolved and, in my teens, my family membership at the Mumbai British Council Library became my most cherished acquisition. Walking through the aisles, cocking my head to read the titles on the spine, the heartwarming scent of books, the chancing upon an unusual title that piqued my interest, the hungry browsing, and then walking out with a tall pile was nothing short of being on a treasure hunt. There were times when a recommended book changed something inside me or enriched me in ways that I could never have envisioned. Often, the book unexpectedly answered questions that lingered in my mind for years. 
Notes On Reading What You Are Looking for is in the Library

The moment I opened the Japanese novel, 'What You Are Looking for Is in the Library', written by Michiko Aoyama and translated by Alison Watts, I felt a sense of déjà vu. Though the title promises a feel-good experience, and I confess I began reading it with some apprehension, I was glad that it's not a cloying narrative with pat endings. It goes way deeper.
The novel has five interlinked stories about ordinary people dealing with seemingly ordinary issues, who live in some area of Tokyo. They are all lost, at a crossroads, and struggling in some way to gather themselves. They oscillate between despair and hope and have an endless internal monologue that propels them towards their dreams but at the same time pulls them back due to an often-surfacing diffidence.
At some point, they all find themselves at 'Hatori Community House' which has all kinds of classes and events, and a library. There is the restless retail assistant eager to pick up new skills, the mother faced with a demotion at work after maternity leave, the conscientious accountant who yearns to open an antique store, the gifted young manga artist in search of motivation and the recently retired salaryman on a quest for newfound purpose. 

The librarian, Sayuri Komachi, a woman in her late forties, is "like, really huge. But huge as in big, not fat. She takes up the entire space between the L-shaped counter and the partition." To all five, she seems intimidating as she sits inside like "a polar bear curled up in a cave for winter", wearing a hairpin with flower tassels, stabbing a needle at wool kept in a dark-orange cookie box, ostensibly felting.
But, when the enigmatic librarian begins to speak, she puts them at ease, and they feel drawn to her graciousness. She asks them what they are looking for, and on knowing the same, stabs away at the computer and draws up a list of books that fulfil their needs. At the end of the list though is a book that seems of no interest to the character but that compels them to read it, propels them to action, connects them to their dreams and unfolds new dimensions. 

Each chapter begins with an illustration of the character whose narrative follows. There are coincidences, charming strokes of luck, and meetings of some of the characters in the most unassuming ways. There is love and kindness. The author has etched each character (three men, two women), with tenderness, with all their flaws and vulnerabilities.
Though she is not the protagonist, the presence of Sayuri in her customers' lives is pervasive, and she is the catalyst without whose wisdom the narrative cannot progress. The slow working out of things over five large, around fifty-page chapters, in a flawless flow that is not glib, the interdependence of people, the isolation each character faces, the deep connections they form, and the intricacies of mature relationships, leave you with a feeling of knowing the characters intimately. They could be living next door or sharing a cubicle with you at work.   

While each character finds a way out of their dilemma, there is no wave-of-the-wand magic, but grounded, action-oriented progress, and yes, a happy ending. Written in spare, diaristic prose with interlocking vignettes, this warm and cosy book leads us to explore that one question that we often ask ourselves: What are you looking for? 
Views expressed by the author are their own 
---
Suggested Reading: Pema Chödrön's Book Explains Why It is Possible to Live Beautifully