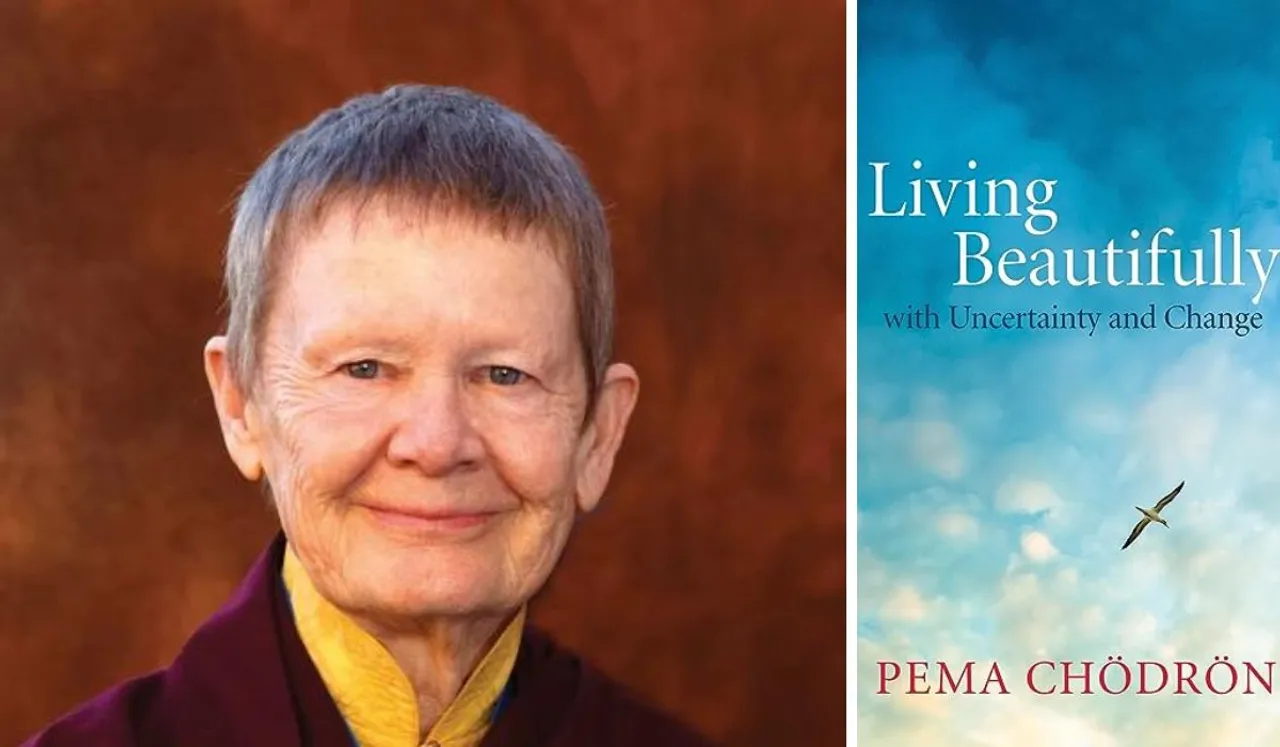 It's been a long sabbatical. Oftentimes, life throws curveballs at you and you feel overwhelmed. During such times, I listen to my body's signals, step back, and slow down. I am aware that if we wait things out, they pass. Perhaps not in the way we expect them to but to the extent that offers us some optimism to move on.
After going through a period of not reading or writing, and just being, I began to choose books that were not a two-minute pick-me-up, but those that offered deep wisdom. As it is, I found myself veering towards non-fiction for reasons I'm still examining. 

One author I have always turned to during tough times is Pema Chödrön, an American Buddhist nun in the lineage of Chögyam Trungpa.
The titles of all her books have an irresistible allure, as if they have been written with each one of us in mind—'When Things Fall Apart', 'The Places That Scare You', 'Start Where You Are', 'Welcoming the Unwelcome'. Who hasn't gone through a point in life when things looked bleak or irredeemable? Who does not know the dark places that one is scared to enter, and who isn't baffled by where to begin, when one is at a crossroads or plain confused? Each one of Pema's books takes you close to the realities of human existence and guides you to naturally and effectively reach out to others in care and support. 
Notes On Reading Pema Chödrön: It is Possible to Live Beautifully

Events around us make the ground beneath us shake. It is this very groundlessness that Pema Chödrön talks about in her empowering book, 'Living Beautifully with Uncertainty and Change'. Once we accept the fact that firm ground is an illusion, and we are perpetually in a state of flux and uncertainty, we can change our perspective about the turbulent times we live in. Easier said than done? But Pema presents us with "three commitments that anyone of any religion—or no religion—can make as a way of relating to the impermanent, ever-shifting nature of our life experience, as a way of using our everyday experience to wake up, perk up, lighten up, and be more loving and conscious of other beings." 

In times when so much hate is being spread to divide people, when states have become war zones, when people are operating out of fear and congealed hate, when women are being paraded naked, we come face to face with "the moral ambiguity of being human." Pema asks, "What if we said, 'Yes, this is the way it is; this is what it means to be human?'" This does not mean that we endorse it. It only means that we accept "the chaotic, unstable, challenging nature of our situation as a path to awakening."
By doing our best to not cause harm to others with our actions or words or thoughts, by making a commitment to take care of one another, and by embracing the world as it is, we begin to ease our own suffering and that of the world. It is actually that simple if we choose to keep our hearts and minds open and to nurture our compassion. 
Pema guides us to work with what constitutes our home ground—uncertainty, unpredictability, impermanence and change, good times and hard times, sorrow and joy, loss and gain—rather than struggling against it. 
She empowers us with practices, and the Three Commitments, and shares anecdotes, stories and her own experiences to lead us to a major shift in consciousness. She reminds us that this is where we are and there is no place to hide. There is no whitewashing of the unease that we live in, only acceptance. 

What's more, we don't have to do it alone. "We're all in this together, all so interconnected that we can't awaken without one another," Pema writes. She reminds us that since we all share the same planet, "it's crazy to continue acting in ways that will destroy it".

This book offers no instant formulas for happiness, but it shows us ways to perceive things differently and assures us that on this journey, it is possible to be kind and caring, to appreciate one another, and to explore our unlimited potential for goodness. What more do we need at this hour? 

Views expressed by the author are their own
---
Suggested Reading: In Namita Gokhale's Mystics and Sceptics, Exploring Sojourns Across The Himalaya