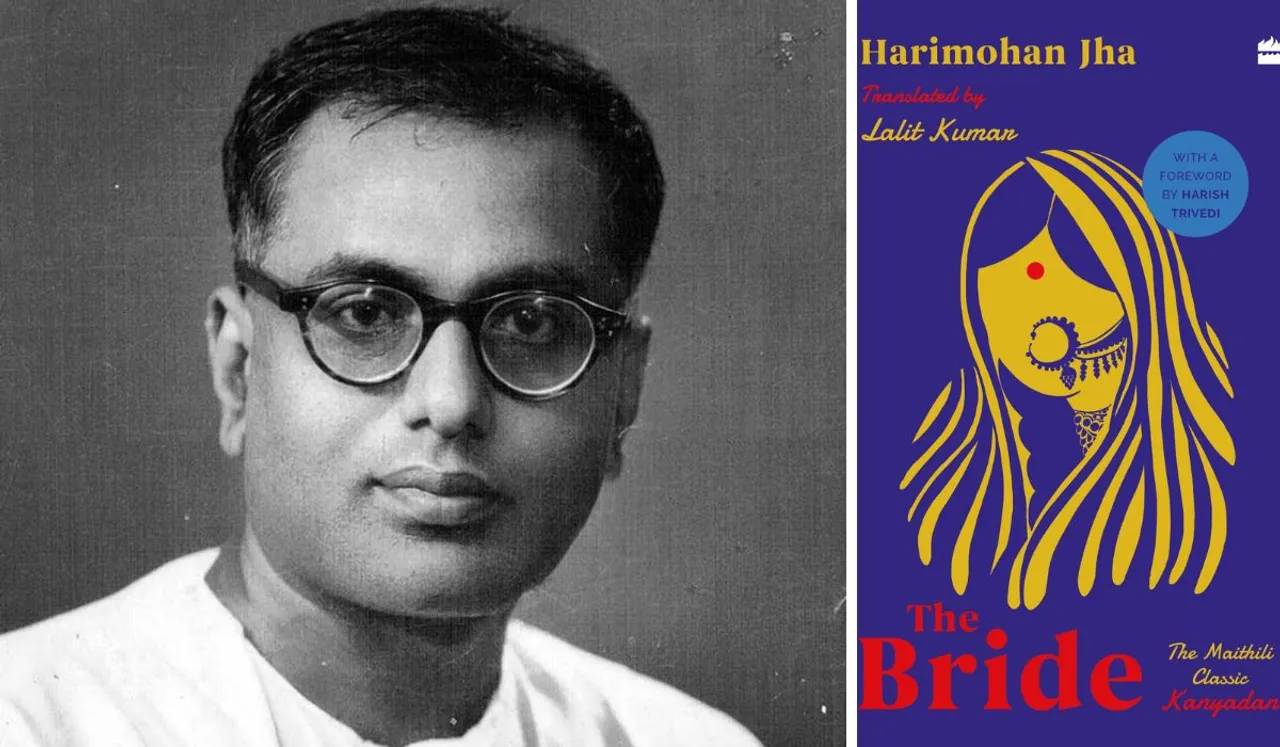 When it was first published in 1930, Harimohan Jha's Kanyadan blazed through the Maithili reading world and became the inspiration for numerous Indian novels and films. Translated into English (by Lalit Kumar) for the first time, this delectable story about Indian matchmaking will charm readers with its cast of imperfect but unforgettable characters.
Thirteen-year-old Buchia is quick-witted and pleasant-looking, but in the competitive marriage mart of Bihar, her family needs to be resourceful and wily to find the right groom to uphold their pride. When a match is made with C.C. Mishra, English educated and recently graduated from Banaras Hindu University, everyone believes that a happy ending is near. But unbeknown to them, the groom dreams of a partner who writes poetry and plays tennis; is more-or-less a carbon copy of the film star Devika Rani. So, when he discovers that his new wife cannot even recognise the letters of the alphabet, their future begins to look less rosy..
Here is an excerpt from The Bride
Sabhagachhi had sprung to life with people bustling everywhere. The whole place had the look of a fairground. The old and experienced men of the region believed that once the number of Brahmins assembled there swelled to one lakh, the pakad tree would wither. And the tree did wither. As far as one's eyes could see there was nothing but paags on the heads of Maithil Brahmins. Suddenly, it started drizzling, and they each unfurled black umbrellas over their white paags. It appeared as if a flock of swans had suddenly transformed into crows.
Dear reader, can you spot Ghutar in this crowd? There he stands—some distance away from the master matchmaker, Tunni Jha. With the mark of vermillion and sandalwood paste on his brow and a rosary of basil beads around the neck, Tunni looks the part of a renowned scholar who has cleared the prestigious dhaut-pariksha with distinction, conducted by no less a personage than the Maharaja of Darbhanga himself. But to tell you the truth, the moment you ask him a simple question, he will stand exposed. You might even find the poor thing looking away, trying to avoid your gaze. Well, let him. Why should we embarrass him?
Ghutar threaded his way through the crowd to meet the matchmaker. After exchanging pleasantries, he snorted a pinch of snuff and enquired humbly, 'Tunni Babu, tell me about the lineage and ancestral village of the boy.'
'Why do you worry about his origins? Of course, he belongs to a noble family,' Tunni explained, rolling his eyes and raising an eyebrow. 'But how does it matter? Do you think it's easy these days to get a Brahmin boy of such superior descent? If this marriage goes through, consider it the icing on the cake.'
'How much land does he own?' Ghutar further enquired.
'He owns no less than seven bighas of land. Also, one of his villagers has mortgaged a mango orchard spread over one and a quarter bighas to him. Last year, his farms yielded sixteen quintals of millet,' Tunni tried to assuage his anxieties.
'It's fine, then. What about his education?'
'Never mind, he can read the alphabet effortlessly. Isn't that something? Besides, he has memorized a large number of Sanskrit shlokas needed for offering prayers. Don't you realize our ancestors didn't even know how to draw a line? In comparison with them, he is highly learned.'
'Is his father alive?'
'Oh, does it really matter? We are there to take care of him. Isn't it enough that his mother is alive? You should be happy he has no siblings; that makes him the sole heir.'
'What all do they expect of the bride's family?' Ghutar asked sheepishly.
'They will pay you, let's say, one hundred and twenty-five rupees right away. Will that be enough? There is no harm done if you don't get sweets and clothes. You can ask a genealogist to examine the Panji of the boy and the girl on Monday to make sure they are not related by blood. After the formal settlement of marriage, you may take the boy along to your house. Next day, give him a pair of dhotis and a befitting send-off,' explained Tunni.
Shortly after finishing this conversation, Ghutar drew his nephew aside to discuss the matter. The maternal uncle seemed to have developed some liking for the boy but the nephew had made up his mind to reject him. 'Uncle, you are naive,' he registered his protest tenderly. 'Tunni is trying to trick us into this marriage, but trust me the boy is no match for Buchia. If we return with him, the women of our family will definitely curse us and Buchia will make a fuss throughout her life.'
Both of them walked up to Tunni again and said, 'Our family considers it improper to take money from the groom. We want a slightly more suitable boy. We can't spend a fortune, but we won't hesitate to part with, let's say, ten rupees.'
Tunni's jaw dropped in amazement and his mouth opened as wide as a crack in the parched earth during a severe drought.
'O exalted one, why didn't you tell me this beforehand?' he asked, salivating. 'Here at Sabhagachhi, we receive all sorts of marriage proposals. The first is called a khankhanoua wedding where the coins pour out from the hands of the groom's father, producing a khankhan sound. Simply put, the bride's family gets plenty of cash. The second is known as a tantanoua wedding where the groom's father feels tantan or ecstatic on receiving one thousand rupees from the bride's side. And the third is a thanthanoua wedding where both the parties are thanthan or paupers; they get nothing from each other. Well, you see, I assumed that you would go for the first. A large number of men come here wearing a dirty paag like yours and give girls in return for money. How could I have known that you are here to pay the groom! But now that I see you belong to a well-to-do family, rest assured I'll find you a suitable match. Count yourself fortunate because as it happens, one such proposal is up for grabs in Sabhagachhi today. If this alliance is fixed, consider the girl lucky.'
Excerpted with permission from 'The Bride' translated by Lalit Kumar; and published by Harper Collins India. You can also join SheThePeople's Book club on Facebook, LinkedIn and Instagram.
---
Suggested Reading: 11 Authors Talk About The Book That Has Stayed With Them In 2022