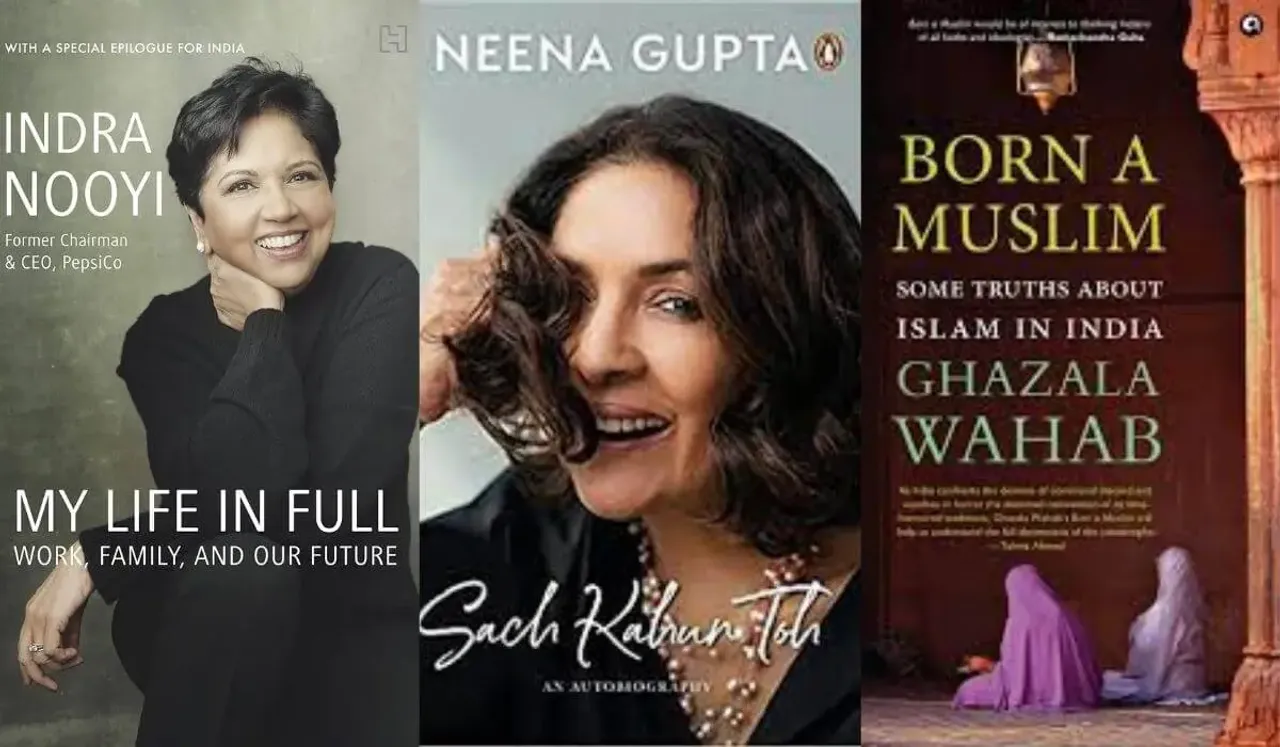 Searching for best female non fiction authors this holiday season? As the year comes to an end here is the list of 26 remarkable books by women authors which won our hearts.  What's on your reading list?
Born a Muslim: Some Truths about Islam in India by Ghazala Wahab
In this book, the author takes a clear-eyed look at every aspect of Islam in India today, examines the factors that have stalled the socio-economic and intellectual growth of Indian Muslims, shows what it is like to live as a Muslim in India, and offers suggestions on how their lot might be improved. Weaving together personal memoir, history, reportage, scholarship, and interviews, the author highlights how an apathetic government attitude and prejudice at all levels of society have contributed to Muslim vulnerability and insecurity. 'Born a Muslim' goes beyond stereotypes to present an extraordinarily compelling portrait of one of the largest and most diverse communities in India.
The Good Girls: An Ordinary Killing by Sonia Faleiro
One night in the summer of 2014, two teenagers, Padma and Lalli, disappeared from their home in the village of Katra Sadatganj in Uttar Pradesh. The next morning, India woke up to the devastating image of their dead bodies hanging from a tree in a mango orchard. In the ensuing months, the investigation into their deaths would implode everything that their small community held to be true. Slipping deftly behind political manoeuvring, caste systems and codes of honour in a village in northern India, The Good Girls returns to the scene of Padma and Lalli's short lives and tragic deaths, and dares to ask: what is the human cost of shame?
Rumours of Spring by Farah Bashir
This is the unforgettable account of Farah Bashir's adolescence spent in Srinagar in the 1990s. As Indian troops and militants battle across the cityscape and violence becomes the new normal, a young schoolgirl finds that ordinary tasks - studying for exams, walking to the bus stop, combing her hair, falling asleep - are riddled with anxiety and fear. With haunting simplicity, Bashir captures moments of vitality and resilience from her girlhood amidst the increasing trauma and turmoil of passing years. This deeply affecting coming-of-age memoir portrays how territorial conflict surreptitiously affects everyday lives in Kashmir.
My Life in Full: Work, Family, and Our Future by Indra Nooyi
For a dozen years as one of the world's most admired CEOs, Indra Nooyi redefined what it means to be an exceptional leader. In this rich memoir, Nooyi takes us through the events that shaped her, from her childhood and early education, to the Yale School of Management, and to her rise as a corporate consultant who soon ascended into the most senior executive ranks. Nooyi also lays bare the difficulties that came with managing her demanding job with a growing family, and what she learned along the way. Generous, authoritative, and grounded in lived experience, this is the story of an extraordinary leader's life.
Women Who Wear Only Themselves by Arundhathi Subramaniam
Sri Annapurani Amma left the safety of home and family to follow the summons of a long-dead saint. Soon after her tenth birthday, Balarishi Vishwashirasini was predicting futures—in no time she was transformed into a guru. Lata Mani, a respected academician in the US, was plunged into the path of tantra after a major accident left her with a brain injury. Today, she talks of how the spiritual life is deeply anchored in the wisdom of the body. Maa Karpoori found her calling when she joined a local yoga class. In this extraordinary book—a revelation and a celebration—poet and seeker Arundhathi Subramaniam gives us a sensitive, insightful glimpse into the lives of four self-contained, unapologetic female spiritual travellers.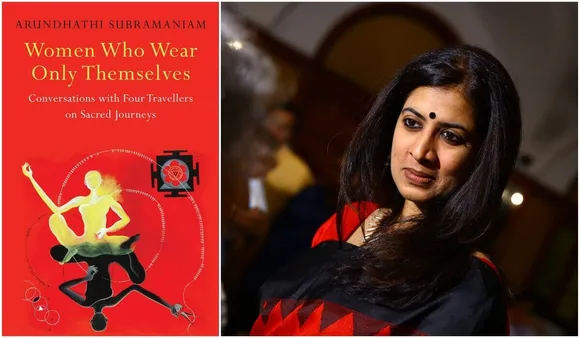 Arundhathi Subramaniam
No Straight Thing Was Ever Made: Essays on Mental Health by Urvashi Bahuguna
As a person with mood disorders that sprung up in her late teens, Urvashi Bahuguna had to navigate being the first person in her Indian family to admit to and seek help for a mental illness. The changes which came with this admission not only impacted who she became as a person but also her interpersonal relationships and the manner in which she connected with art, literature, popular culture. Through these deeply honest essays, Bahuguna tries to traverse the opportunities and roadblocks that come her way with the tools she has available to her, and bravely discusses the many facets of living with mental illness, like family, professional impact and romantic relationships, among others.
Asylum: The Battle for Mental Healthcare in India by Daman Singh
The reform of mental healthcare in India began in the early 20th century, during British rule. What prompted this move? Which new ideas took root then? How did political events affect the pace of progress? When did international opinion begin to matter? What did all of this mean for the treatment and care of the mentally ill? And why do four out of five mentally ill persons go untreated even today? Daman Singh looked for answers to these questions in archival records, official reports, parliamentary debates, court proceedings, academic journals, and news articles. The result is this intriguing account of a little-known battle spanning a century and more.
Lady Doctors: The Untold Stories of India's First Women in Medicine by Kavitha Rao
At a time when medicine is a highly sought-after career for Indian women, it is hard to imagine what it was like for the pioneers. The story of how firmly they were bound in fetters of family, caste and society, and how fiercely they fought to escape, needs to be told. This book unearths the extraordinary stories of six women from the 1860s to the 1930s, who defied the idea that they were unfit for medicine by virtue of their gender. From Anandibai Joshi to Rukhmabai Raut, from Kadambini Ganguly to Haimabati Sen—these women had a profound and lasting impact. And in their forgotten lives lie many lessons for modern women.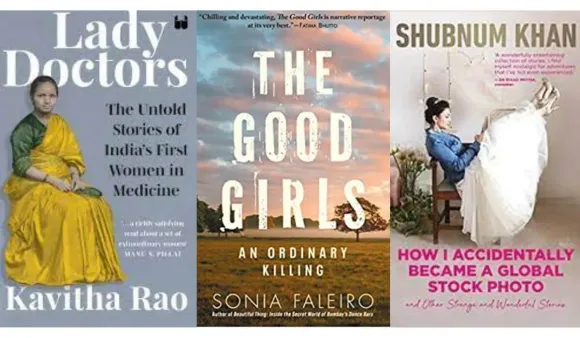 best female non fiction authors
Landscapes of Loss: The Story of an Indian Drought by Kavitha Iyer
Maharashtra, India's richest state by GDP, has its eyes set on becoming the country's first trillion-dollar economy by 2025. At the same time, Marathwada - a historically backward part of the state adjoining the distressed Vidarbha region - has seen a surge in farmer suicides. At the heart of the crisis is a cyclical drought that has persisted for almost a decade. Relief packages and loan waivers have not reversed the trend. This book tells the story of Marathwada through the accounts of its people: marginal farmers, Dalits, landless labourers, farm widows and children and lays bare the complex factors that have brought the region to this pass.
Watershed: How We Destroyed India's Water and How We Can Save It by Mridula Ramesh
India is facing its worst water crisis ever, and some believe that by 2030 it will fail to meet half its water demand. Water availability per person in India has been decreasing for decades, leaving parts of the country in a cruel Day Zero situation. As the climate heats up, it is likely that swathes of land will be submerged, water-related extremes will reshape industry and famine will revisit the country. In this fascinating, deeply researched book, Mridula Ramesh takes us through 4,000 years of history to track how India's water has reached this critical point, and lays out pragmatic, scalable solutions. The book is an urgent call to action to every Indian citizen to do what it takes to secure our shared future.
Mountain Tales: Love and Loss in the Municipality of Castaway Belongings by Saumya Roy
All of Mumbai's memories and castaway possessions come to die at the Deonar landfill that has been there for nearly 122 years. Among these teetering piles of discarded things, a small, forgotten community lives and works. Their stories are shaped by the influx of unwanted things from the world outside. As officials try to close it, the lives that the pickers have built on the Mountain seem more fragile than ever. With utmost empathy Roy explores the lives of the people residing in these dumping grounds, who have made a livelihood out of recycling waste, and highlights the impact of urbanisation, over-consumption, pollution and waste (mis)management on the poorest of the poor in our society.
Midnight's Borders: A People's History of Modern India by Suchitra Vijayan
India is a land of borders, its peripheries nestling against seven countries. Over seven years, across 9,000 miles, Suchitra Vijayan travelled these borderlands. The more she travelled, the clearer it became to her that local history and memory bear no resemblance to the political history of the nation that claims these lands and peoples. The stories in this book engage with how people live, struggle, fight and survive, and question our ideas of what freedom means, and what it means to be a citizen. Vijayan's clear-eyed, empathetic reportage provides a re-examination of the idea of territorial sovereignty.
Recollections of My Non-Existence by Rebecca Solnit
This memoir is less about soul-baring and more an account of Solnit's formation as a writer, from her arrival in San Francisco in 1981 as a student, and through the various shifts in her career as she discovers the themes that move her. The question of the erasure of women by men, of whose voices are audible has become a central theme of Solnit's writing in recent years and she has both the intellectual heft and the authority of frontline experience to tackle the most urgent issues of our time. This memoir is a valuable glimpse into the grit and courage that enabled her to keep telling sidelined stories when the forces opposing her seemed monolithic.
Let Me Tell You What I Mean by Joan Didion
This is a stunning collection of twelve incisive, bemused, and stunningly prescient from an iconic and influential writer that offer an illuminating glimpse into her mind and process. Mostly drawn from the earliest part of her astonishing five-decade career, Didion writes about a Gamblers Anonymous meeting, a visit to William Randolph Hearst's castle at San Simeon, a reunion of WWII veterans in Las Vegas, and about topics ranging from Nancy Reagan to Martha Stewart and Ernest Hemingway. The collection reveals what would become her subjects: the press, politics, California robber barons, women, the act of writing, and her own self-doubt.
These Precious Days by Ann Patchett
In this new collection, the with her trademark blend of wryness, intelligence and wisdom, Ann Patchett explores family, friendship, marriage, failure, success - and how all these forces have shaped her as a writer. Ranging from the personal - her portrait in triptych of the three men she called her fathers, to unexpectedly falling into a friendship with Tom Hanks, to how to answer when someone asks why you don't have children - to the sublime - exploring the perfection to be found on a single page of Eudora Welty.  Illuminating, penetrating, funny and generous, These Precious Days is intimate and elegant.
Beautiful Country: A Memoir of An Undocumented Childhood by Qian Julie Wang
When seven-year-old Qian arrives in New York City in 1994 full of curiosity, she is overwhelmed by crushing fear and scarcity. In China, Qian's parents were professors; in America, her family is "illegal". Shunned by her classmates and teachers for her limited English, Qian takes refuge in the library and masters the language through books. Soon her Ma Ma's secret illness is revealed and Ba Ba retreats inward. Inhabiting her childhood perspective with exquisite lyric clarity and unforgettable charm and strength, Qian Julie Wang has penned an essential American story about a family fracturing under the weight of invisibility, and a girl coming of age in the shadows, who never stops seeking the light.
---
Suggested Reading:
Round up 2021: 25 Most Loved Books By Women Authors, Fiction
---
Eat the Buddha: Life and Death in a Tibetan Town by Barbara Demick
Award-winning journalist Barbara Demick explores one of the most hidden corners of the world, a Tibetan town perched eleven thousand feet above sea level. In the 1930s, Mao Zedong's Red Army fled into the Tibetan plateau to escape their adversaries in the Chinese Civil War. By the time the soldiers reached Ngaba, they were so hungry that they ate religious statues made of flour and butter—to Tibetans, it was as if they were eating the Buddha. Illuminating a culture that has long been romanticised by Westerners as deeply spiritual and peaceful, Demick reveals what it is really like to be a Tibetan, trying to preserve one's culture, faith, and language against the depredations of a seemingly unstoppable, technologically all-seeing superpower.
How I Accidentally Became a Global Stock Photo and Other Strange and Wonderful Stories by Shubnum Khan
When Shubnum Khan signed up for a photo shoot as part of an art project in college, she hadn't imagined that the photographs would be plastered on billboards and advertisements all over the world. Two years on, her smiling face had sold condos in Mumbai and Florida, drawn subscribers to dating websites, and convinced desperate customers of the supposed wonders of skin-lightening creams. In this part memoir, part travelogue, Shubnum takes the reader on unpredictable journeys far from her family home in South Africa, all the while, reflecting on what it means to be a woman, especially a single Muslim woman, in the modern world.
What's a Lemon Squeezer Doing in My Vagina? A Memoir of Infertility by Rohini Rajagopal
When Rohini married Ranjith and moved to the 'big city', they had already planned the next five years of their life: job, home, and then child. After three years of marriage and amidst increasing pressure from family, they decided to seek medical help to conceive. But they weren't prepared for what came next—not only in terms of the invasive, nature of infertility treatment but also the financial and emotional strain it would put on their marriage, and the gnawing shame and feeling of inadequacy.  The book is a witty, moving and intensely personal retelling of Rohini's five-year-long battle with infertility. It offers a no-holds-barred view of her circuitous and highly bumpy road to motherhood.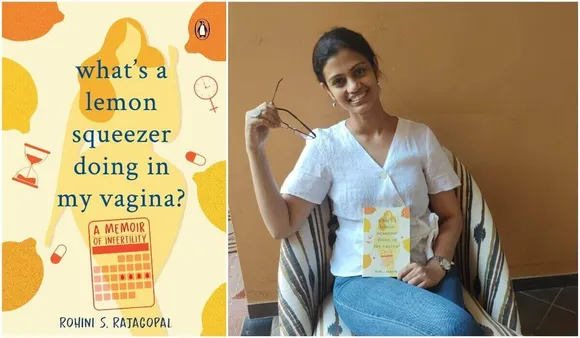 Picture Credit: Penguin Books
The Women I Could Be by Sangita Jogi (Translated from the Gujarati by Gita Wolf)
Sangita, with little formal schooling, was married into a labouring family when she was very young. She lives in Rajasthan, where her role as a young daughter-in-law is strict and restrained. And yet she snatches time to draw whenever she can, her confident lines dreaming up endless possibilities—where desire, play and exploration make up enchanted alternative worlds.  The pictures she draws are exuberant, lush, filled with joy and fun. Her text is spare, almost Spartan yet nuanced. Sangita's dreams are nothing if not subversive. They not only bring art out of the ivory tower, but they are also a mirror of what young Indian women like Sangita are thinking today.
Unfinished by Priyanka Chopra Jonas
Unfinished takes readers from Priyanka's childhood in India, where she was raised by her grandparents and her parents ­- two army doctors - before being sent away to boarding school at an early age; through her formative teenage years in the US, and suburban Boston, where she endured bouts of racism; to her return to India, where she unexpectedly won the national and global beauty pageants that launched her acting career. The result is a book that is warm, funny, sassy, inspiring, bold, and rebellious. Priyanka Chopra Jonas's story will inspire a generation around the world to gather their courage, embrace their ambition, and commit to the hard work of following their dreams.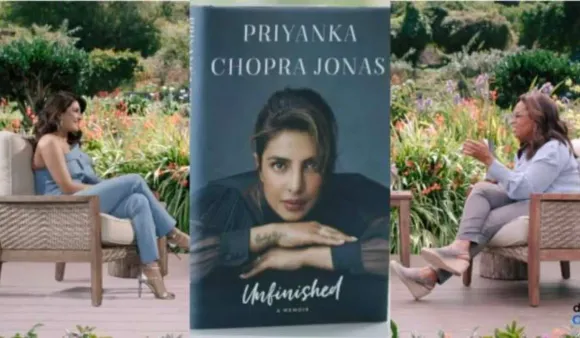 Sach Kahun Toh by Neena Gupta
In Sach Kahun Toh, actor Neena Gupta chronicles her extraordinary personal and professional journey - from her childhood days in Delhi's Karol Bagh, through her time at the National School of Drama, to moving to Bombay in the 1980s and dealing with the struggles to find work. It details the big milestones in her life, her unconventional pregnancy and single parenthood, and a successful second innings in Bollywood. A candid, self-deprecating portrait of the person behind the persona, it talks about her life's many choices, battling stereotypes, then and now, and how she may not be as unconventional as people think her to be.
Regrets, None by Dolly Thakore and Arghya Lahiri
Written with wit, humour and candour, Regrets, None is a rare memoir that is unafraid to bare it all. It follows veteran theatre personality Dolly Thakore's life and career—growing  up in Delhi and an assortment of Air Force stations, getting her start in theatre in college, her time in London, involvement with social issues, casting for Gandhi and filming it across India, working in radio, television and advertising while returning always to her first love, theatre Thakore brings alive another era and speaks candidly about love, sex, infidelity, motherhood, commitment, the ecstasy and the heartbreaks, emerging as a true-blooded embodiment of what it means to be a strong, empowered, vulnerable, courageous woman.
An Educated Woman in Prostitution A Memoir of Lust, Exploitation, Deceit (Calcutta, 1929) by Manada Devi(Author), Arunava Sinha (Translator)
 Manada's fascinating life story takes her from her wealthy cosseted upbringing to a life of debauchery and prostitution after she elopes with her married lover when in her mid-teens. She is capable, attractive and doesn't ask for pity as she struggles with illness, poverty and abandonment, but ensures that she carves a niche for herself in her profession. Manada matures and settles into a life of prostitution, entertains barristers, doctors and other men of high society. Weaving together multiple strands, looking beyond ideas of morality and accusations, we are presented a life of immense beauty and endurance, which is both grand in its scope and deeply intimate in its portrait.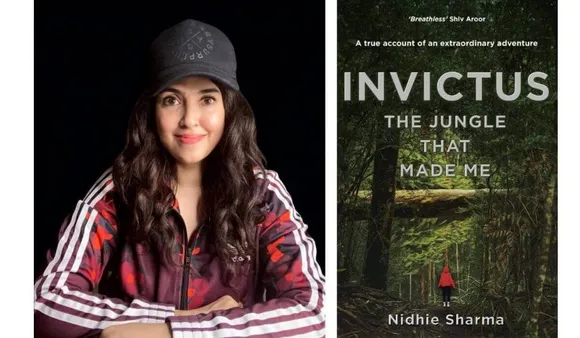 PC: Nidhie Sharma
Invictus: The Jungle that Made Me by Nidhie Sharma
Tawang, 10,000 feet above sea level and home to a remote Indian military base at the Indo-China border, is abuzz. Six army children – the oldest, thirteen, the youngest, six – have been missing since daybreak in the surrounding jungles. With inclement weather, thick cloud cover, swollen streams raging downwards and lurking predators, the six are facing their hardest test yet. As the daunting jungle slowly unravels its plans, the children must find a way out before sundown. Set against the harsh and inhospitable terrain of Arunachal Pradesh, Invictus is a compelling, breathless, unsettling first-person account of survival against all odds.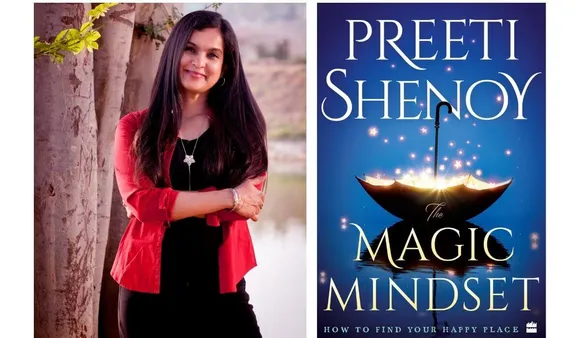 Preeti Shenoy
The Magic Mindset: How to Find Your Happy Place by Preeti Shenoy
While positivity is about looking at the bright side of things, the magic mindset embraces and accepts that it is not always possible to do so. In this book, the author   gives you a set of principles for every area of life, designed to help us shift our perspective from hopelessness to hope, from cynicism to belief - a belief that change is coming, and things are not as bad as they seem. The book is full of tips, suggestions, fun exercises and practical advice on career, family, health, relationships, finances, social media, and more. With inspiring stories and anecdotes from Preeti's own life, this bestseller helps us build a purposeful and joyful life.
Compiled by Archana Pai Kulkarni. The views expressed are the author's own.
You can also join SheThePeople's Book club on Facebook, LinkedIn and Instagram.