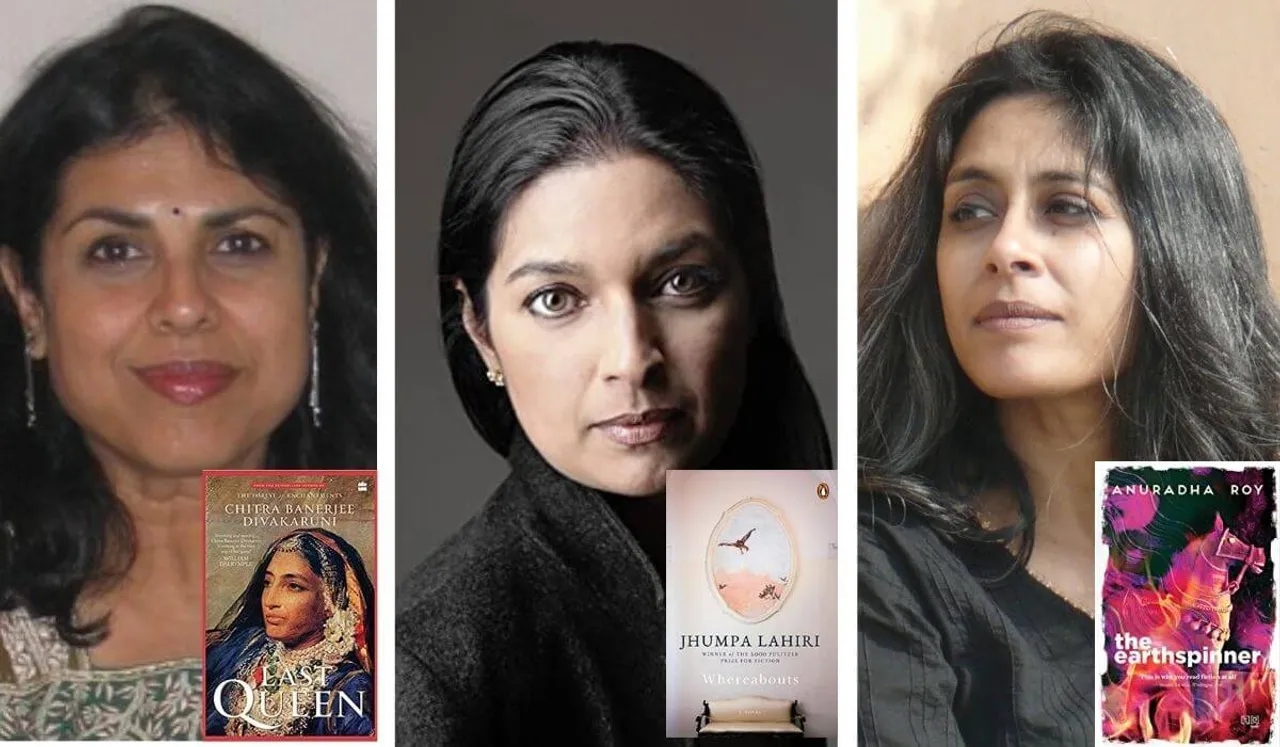 Searching for best female fiction authors this holiday season? As the year comes to an end here is the list of 25 remarkable books by women authors which won our hearts.  What's on your reading list?
The Last Queen by Chitra Banerjee Divakaruni
Daughter of the royal kennel keeper, the beautiful Jindan Kaur went on to become Maharaja Ranjit Singh's youngest and last queen. She became regent when her son Dalip, barely six years old, unexpectedly inherited the throne. Jindan stepped out of the zenana, cast aside the veil, and fought hard to keep the British from annexing Punjab. An exquisite love story of a king and a commoner, a cautionary tale about loyalty and betrayal, and a powerful parable of the indestructible bond between mother and child, this unforgettable novel brings alive one of the most fearless women of the nineteenth century.
The Earthspinner by Anuradha Roy
When he wakes up, Elango, a potter, knows he must create the terracotta horse he has seen in his dreams. Yet he cannot pin down from where it has galloped into his mind, or where it belongs. As the indefinable force driving Elango towards his forbidden love for Zohra unleashes other currents, a neighbourhood girl develops a complicated relationship with him, and a lost dog adopts him. Moving between India and England, this intricate, wrenching novel about the changed ways of loving and living in the modern world, breathes new life into ancient myths, giving allegorical shape to the war of fanaticism against reason and the imagination.
---
Suggested Reading:
Meet Julia Quinn: Author Of The Bridgerton Books Adapted As Netflix Series
---
Song of Draupadi by Ira Mukhoty
It is the exceptional, forgotten women of The Mahabharata, the beating heart of the epic, like the indomitable Satyavati, the otherworldly Ganga, the indestructible Kunti, and the tenacious Gandhari who appear in this book. But the passionate and fiery Draupadi, daughter and princess of Panchala, wife of the brave Pandavas and queen of Indraprastha, who dreams of fire and blood, rises above them all to grip the imagination of the reader. The novel is a symphony, in several keys, of her voice and those of the other women around her—arguing, pleading, reasoning, and often raised in righteous anger.
Whereabouts: A Novel by Jhumpa Lahiri
Exuberance and dread, attachment and estrangement are the themes that Lahiri stretches to the limit. The woman at the centre wavers between stasis and movement, between the need to belong and the refusal to form lasting ties. But, as one season gives way to the next, transformation awaits. One day at the sea, both overwhelmed and replenished by the sun's vital heat, her perspective will change. Originally written in Italian and translated by the author herself, this novel revolves around a solitary woman wandering an Italian city, and is a celebration of mundane life, attachment and estrangement.
A Death in Shonagachhi by Rijula Das
In the red-light district of Shonagachhi, Lalee dreams of trading a life of penury for one as a better-paid 'escort', just as her long-standing client, erotic novelist Trilokeshwar 'Tilu' Shau, realises he is hopelessly in love with her. When a young woman who lives next door to Lalee is murdered, a spiral of deceit and crime further disturbs their existence. Lalee and Tilu must each embark on a life-altering misadventure to escape a similarly savage fate. Set in Calcutta's most fabled neighbourhood, this gritty literary noir lays bare the ruthlessness that preys upon our society's outcasts.
Gods and Ends by Lindsay Pereira
Philomena Sequeira knows what she wants by the time she turns fourteen. Her father, however, wants something else. The tenants of the rundown Obrigado Mansion in Orlem, a Roman Catholic parish in suburban Bombay grapple with love, loss and sin, surrounded by abused wives and repressed widows, alcoholic husbands and dubious evangelists, angry teenagers and ambivalent priests. This engaging book takes up multiple threads of stories about invisible people in a city of millions, and the claustrophobia they rarely manage to escape from.
Sarasvati's Gift by Kavita Kane
Sarasvati, the feminine force, is worshipped as the goddess of learning. Also known as a lost river and seen as a singular goddess, she is never seen as part of a couple, such as Shiva-Parvati. Sarasvati's story - the goddess of art, music and knowledge – is told in the voices of nameless celestials, powerful gods and lesser mortals. The book explores her relationship with her Creator, Brahma, and their unusual marriage. We get a glimpse of an extraordinary woman and her remarkable story, obscured and buried under myths and legends.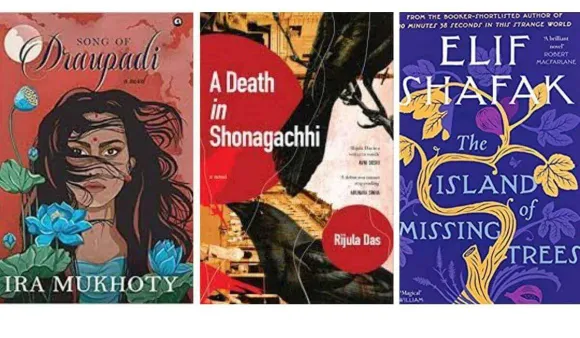 The Island of Missing Trees by Elif Shafak
Two teenagers, a Greek Cypriot and a Turkish Cypriot, meet at a tavern, the only place that Kostas and Defne can meet in secret hidden beneath the blackened beams, and are watched by a fig tree. When war breaks out, the teenagers vanish. Decades later, the two lovers return to the taverna to take a clipping from the fig tree. Years later, the fig tree in the garden is their daughter Ada's only knowledge of a home she has never visited, as she seeks to untangle years of secrets, and find her place in the world. The book is a rich, magical tale of belonging and identity, memory and trauma, nature and renewal.
A Mirror Made of Rain by Naheed Phiroze Patel
Noomi Wadia, a bright, young woman, struggles with the fraught relationship she has with her mother. As a troubled adult, she finds love but not happiness, and realises that she is trapped in the same cycle of self-destructiveness as her mother, and must battle her impulses. By turns funny and poignant, this terrific debut novel paints an ironic portrait of a world and characters that are complex and breathtakingly real, and explores with deep empathy the darkness that addiction and mental illness cast over a family.
The Illuminated by Anindita Ghose
After the sudden death of her husband, Shashi is alarmed to realise that she has lost her life's moorings. Her fiercely independent daughter Tara has been drawn into a passionate involvement with an older man, which threatens to consume her. Amidst a rising tide of religious fundamentalism that is determined to put women in their place, Shashi and Tara attempt to look at themselves, and at each other, in a new light. This debut novel is provocative in its thematic focus on questions of identity.
---
Suggested Reading:
Padma Sachdev: 5 Things About The Late Dogri Author And Padma Shri Awardee
---
The Grand Anicut by Veena Muthuraman
With the Pandyas conquered, Tamilakam is flourishing under Chola rule, and King Karikalan's most ambitious infrastructure project is finally becoming a reality. A dam, the Grand Anicut, is being constructed to divert the waters of the Kaveri. Amid all this, a Roman ship carrying the merchant prince Marcellus arrives, setting off events that threaten to set ablaze the tensions that divide the kingdom and alter the fate of Tamilakam. Rich in historical detail, this riveting tale is a fascinating journey into one of the greatest periods in Indian history.
The Anger of Saintly Men by Anubha Yadav
This is a story of three brothers, Sonu, Anu and Vicky, growing up in the 90s, who have just moved to their new, first and last home. Maine Pyar Kiya has just been released, and the young boys are having wet dreams. Told with compassion, the book delves deep into issues of masculinity, caste, class, homophobia and shame, patriarchy, and explores how little boys are made men in Indian households. It's a story of sexual awakening, heartbreak and growing up under the shadow of India's first wave of liberalisation.
Fifty Five Pillars, Red Walls by Usha Priyamvada (Author) Daisy Rockwell (Translator)
Usha Priyamvada's debut novel Pachpan Khambe, Laal Deewaarein is located within the boundaries of an all-women's college in Delhi, where Sushma Sharma—lecturer, warden, single, and sole provider for her large family, is resigned to loneliness, until a chance meeting with the charismatic Neel. Then, the shackles she has accepted suddenly seem unbearable. In evocative prose, this novel skilfully explores the physical, mental and social paradigms which locked so many women into narrow ideals. Daisy Rockwell's pitch-perfect translation brings this quietly intense, poignant and path-breaking Hindi novel into the blazing spotlight of classic Indian literature.
The Night Watchman by Louise Erdrich
It is 1953. Thomas Wazhushk is the night watchman at the first factory to open in rural North Dakota. A prominent Chippewa Council member, he is trying to understand and fight a new bill that threatens the rights and identity of Native Americans. Pixie - 'Patrice' - Paranteau works at the factory, earning barely enough to support her family, and needs every penny to find her missing sister Vera. In this novel, the author grapples with the worst and best impulses of human nature, illuminating the loves and lives of her characters with compassion and wit.
The Startup Wife by Tahmima Anam
Brilliant coder and possessor of a Pi tattoo, Asha Ray is poised to revolutionise artificial intelligence when she is reunited with her high school crush, Cyrus Jones, who inspires her to write a new algorithm. Before she knows it, they've exchanged vows, and gone to work at an exclusive tech incubator called Utopia, a platform that creates a sensation. Will Cyrus and Asha's marriage survive or will she become overshadowed by the man everyone is calling the new messiah? In this gripping novel, the author takes on faith and the future with a deft touch.
No One Is Talking About This by Patricia Lockwood
A woman known for her viral social media posts travels the world speaking to her adoring fans, her entire existence overwhelmed by the internet. Suddenly, two texts from her mother pierce the fray. As real life and its stakes collide with the increasing absurdity of the portal, the woman confronts a world that seems to contain both an abundance of proof that there is goodness, empathy and justice in the universe, and a deluge of evidence to the contrary. Irreverent and sincere, poignant and delightfully profane, this novel is a meditation on love, language and human connection.
 Infinite Country by Patricia Engel
Talia is being held at a correctional facility for adolescent girls in Colombia. She urgently needs to get back home to Bogotá, where her father and a plane ticket to the United States are waiting for her. Will Talia make it to Bogotá in time? Can she bring herself to trade the solid facts of her life in Colombia for the distant vision of her mother and siblings in America? This is the story of two countries and one mixed-status family—for whom every triumph is stitched with regret, and every dream pursued bears the weight of a dream deferred.
The Eminently Forgettable Life of Mrs Pankajam by Meera Rajagopalan
When Mrs Pankajam starts losing her memory, her doctor recommends she keep a diary to maintain a semblance of continuity in life events. At first, she is reluctant. But as she sets pen to paper, meticulously documenting the revelations that her daughters continue to subject her to, the discovery of her husband's eccentricities and her own guilty admissions to indulgences that may have caused his cardiac arrest, she finds her childhood persistently wrestling with the present as a marked reminder of a past she cannot run away from. A witty and touching tale about a declining mind trying to make sense of an ever-changing world.
Club You to Death by Anuja Chauhan
When a hunky personal trainer is found asphyxiated to death under an overloaded barbell at the posh Delhi Turf Club, on the eve of the club elections, it is first thought to be a freak accident. But soon, it becomes clear that one of the members of the DTC is a cold-blooded killer. As the capital bristles with conspiracy theories, Crime Branch veteran ACP Bhavani Singh, together with his able deputies, sets out to solve a crime that turns out to have roots as deep and spreading as those of New Delhi's famous Neem trees. This book is a bloody good romance set in the pulsating heart of Lutyen's Delhi.
The Secret Keeper of Jaipur by Alka Joshi
It is the spring of 1969. Lakshmi is working at the Shimla community clinic. Malik has finished his private school education. At twenty, he has just met a young tribal woman, Nimmi, when he begins an apprenticeship at the Jaipur Palace. The royals' latest project: a state-of-the-art cinema. When the cinema's balcony tragically collapses on opening night, Malik suspects something dark and sets out to uncover the truth. But it is only when Lakshmi, the real keeper of Jaipur's secrets, intervenes, that things can truly right themselves.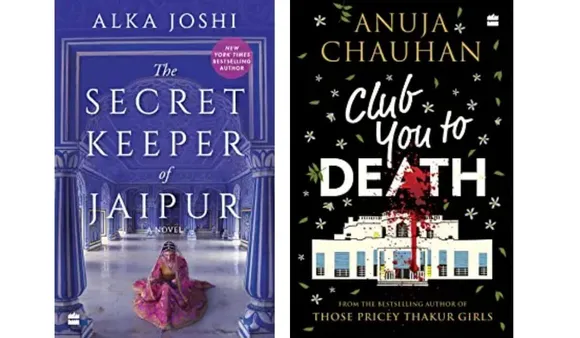 Girl A by Abigail Dean
Lex Gracie doesn't want to think about growing up in her parents' House of Horrors. Or about her identity as Girl A: the girl who escaped, the eldest sister who freed her older brother and four younger siblings. But when her mother dies in prison and leaves Lex and her siblings the family home, she can't run from her past any longer. But first she must come to terms with her siblings--and with the childhood they shared. What begins as a propulsive tale of escape and survival becomes a gripping psychological family story about the shifting alliances and betrayals of sibling relationships.
Of Women and Salt by Gabriela Garcia
1866, Cuba: María Isabel is the only woman working at a cigar factory, and as she begins to see marriage and motherhood as her only options for survival, the sounds of war are approaching. In present-day Miami, Jeanette is battling addiction. Daughter of Carmen, a Cuban immigrant, she is determined to learn more about her family history from her reticent mother and makes the snap decision to take in the daughter of a neighbour detained by immigration officers. This book is a haunting meditation on the choices of mothers and the tenacity of women who choose to tell their stories despite those who wish to silence them.
 Beautiful World, Where Are You by Sally Rooney
Alice, a novelist, meets Felix, who works in a warehouse, and asks him if he'd like to travel to Rome with her. In Dublin, her best friend Eileen is getting over a break-up and slips back into flirting with Simon, a man she has known since childhood. Alice, Felix, Eileen and Simon are still young - but life is catching up with them. They desire each other, they delude each other, they get together, they break apart. They worry about sex and friendship and the world they live in. Are they standing in the last lighted room before the darkness, bearing witness to something? Will they find a way to believe in a beautiful world?
How the One-Armed Sister Sweeps Her House by Cherie Jones
In Baxter's Beach, Barbados, Lala's grandmother Wilma tells the story of the one-armed sister. It's a cautionary tale. When she's grown, Lala lives on the beach with her husband, Adan, a petty criminal whose thwarted burglary sets off a chain of events with terrible consequences. A gunshot no one was meant to witness. A new mother whose baby is found lifeless on the beach. A woman incapacitated by grief. And two men who attempt a crime. This book is an intimate and visceral portrayal of interconnected lives, across race and class, in a rapidly changing resort town.
The Dangers of Smoking in Bed by Mariana Enríquez, translated from Spanish by Megan McDowell
Welcome to Buenos Aires, a city thrumming with murderous intentions and morbid desires, where missing children come back from the dead and unearthed bones carry terrible curses. These brilliant, unsettling tales of revenge, witchcraft, fetishes, disappearances and urban madness spill over with women and girls whose dark inclinations will lead them over the edge. 'Spine-tingling but stunning... these glittering, gothic stories are a force to be reckoned with.
The views expressed are the author's own.
You can also join SheThePeople's Book club on Facebook, LinkedIn and Instagram.