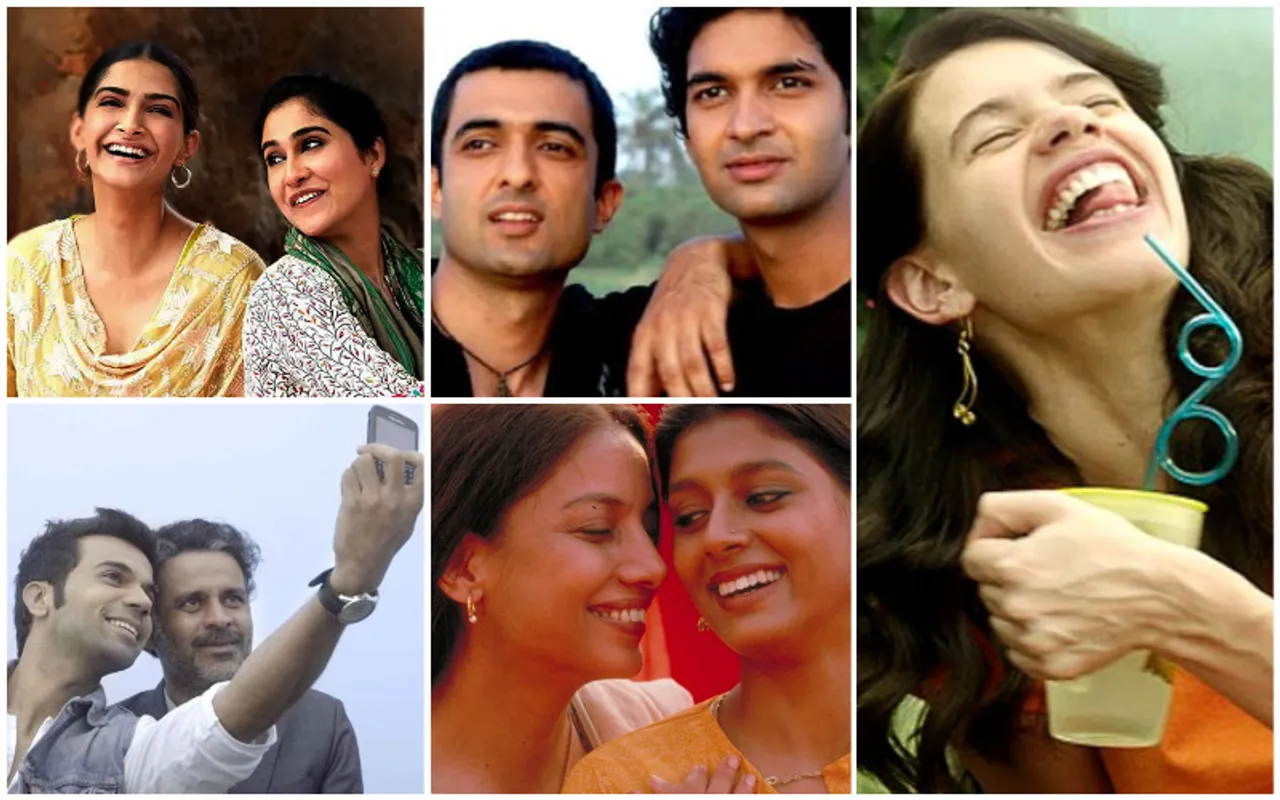 Bollywood is increasing taking up issues related to the LGBTQ community and bringing them to the silver screens. Although queer Bollywood still lacks the support of the mainstream audience, it is constantly striving to normalise and question the taboos around the Indian LGBTQ scene. Here are five Indian LGBTQ love stories that have struck us with their powerful and sensitive storytelling.
Key Takeaways:
Lead actress, Sonam Kapoor, depicts a queer small-town girl in Ek Ladki Ko Dekha Toh Aisa Laga.
Margarita with a Straw touches issues of physical disability and bisexuality.
Aligarh narrates a heart numbing reality of treatment of homosexuals.
My Brother Nikhil raises awareness about AIDS and the importance of family support for members of the LGBTQ community.
Fire introduced the portrayal of homosexuality in feature cinema and was met with protests at its release.
Ek Ladki Ko Dekha Toh Aisa Laga (2019)
A great ensemble cast (Sonam Kapoor, Anil Kapoor, Rajkumar Rao) comes together to depict a love story of a small-town girl. The movie touches the subtleties of homosexuality with a sense of normalcy. Furthermore, it explores the protagonist's timeline from internalising societal shame to coming out bravely in front of her family. Although the movie did not receive great box office numbers, it was highly celebrated among the LGBTQ community.
"Ek Ladki Ko Dekha Toh Aisa Laga is an entertaining and progressive look at love and acceptance", says Rachit Gupta (Times Of India)
Margarita with a Straw (2014)
Kalki Kochelin gives us an honest and raw portrayal of a young girl who falls for a Pakistani woman. A film by Shonali Bhosle, Margarita with a straw touches issues that are still a taboo. The movie went on and scored several accolades including the National film award. Also, Kalki beautifully portrays a bisexual character having cerebral palsy in a noteworthy performance.
Aligarh (2016)
Aligarh is written by Apurva Asrani and directed by Hansal Mehta. The story revolves around the life of professor Ramchandra Sihas of the Aligarh University whose sexuality is revealed after a sting operation. Furthermore, it depicts an ugly side of homophobia and successfully hits the audience where it hurts. Manoj Bajpayee received the Filmfare award for his portrayal of Ramchandra Sihas.
My Brother Nikhil (2005)
The movie is set in an age when Aids and homosexuality were unspoken of. It revolves around the life of a swimmer who is diagnosed with AIDS and is kicked off from his team and family. Hereafter, the protagonist was supported by his sister and partner, Nigel. In spite of the film not doing well at the Box office, it garnered a wave of support from the LGBTQ community. Also, the movie had Sanjay Suri, Purab Kohli and Juhi Chawla in the lead cast.
"My Brother Nikhil goes where few mainstream movies have gone before: AIDS and homosexuality; a loving relationship between two men"- Anupama Chopra for India Today.
 Fire (1996)
Starring Nandita Das and Shabana Azmi, Fire was way ahead of its time. It became the first Indian feature to explicitly portray a lesbian relationship. Fire is a movie about two women who form an intimate relationship after they are mistreated by their husbands. The movie's release was followed by several protests which only furthered dialogues on homosexuality and freedom of speech.
Also read: LGBTQ India community says corporations must change definition of diversity
Vipashyana Dubey is an intern with SheThePeople.TV