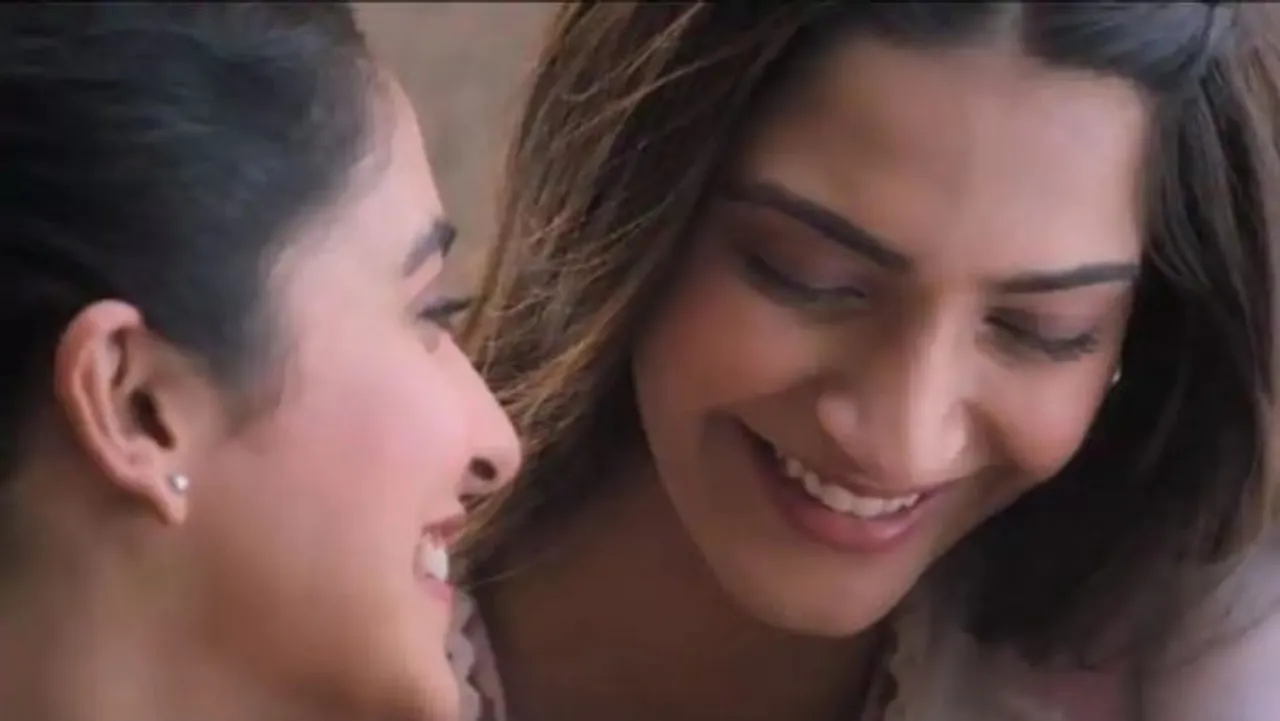 Is this happening for real? Are we about to have our very first out-and-out commercial same-sex romance film coming February? The trailer of Sonam Kapoor and Rajkummar Rao starrer 'Ek Ladki Ko Dekha Toh Aisa Laga' has left many holding their breath. It couldn't have been better timed, now that Section 377 is history and India is taking baby steps into becoming an inclusive and accepting society. While the LGBTQIA+ community is smiling in glee at this rare and bold, but pivotal representation in a commercial film, we are glad that an A-list female actor dared to take up a role which popular male actors haven't.
Want to know my secret? Watch the trailer of the most unexpected romance of the year - #EkLadkiKoDekhaTohAisaLaga https://t.co/mkNhGdOyoV. #LetLoveBe @AnilKapoor @iam_juhi @RajkummarRao @VVCFilms @foxstarhindi@RochakTweets @ShellyCDhar

— Sonam K Ahuja (@sonamakapoor) December 27, 2018
SOME TAKEAWAYS
The trailer of Ek Ladki Ko Dekha Toh Aisa Laga is generating a lot of buzz for its same-sex love premise. 
This would be the first commercial Hindi film where an A-list actor will play a homosexual character.
So far, filmmakers have only explored same-sex relationships in small-budget films, which catered to a limited audience.
This won't be the first Bollywood film to broach the subject of same-sex love on silver screen.
Yes, it is not the first Bollywood film to broach the topic, but it is the very first one to do it on a commercial-scale. For ages, quintessential masala films have only been using homosexuality and same-sex love as a trope to devise comic sequences in films. Even the most sophisticated of production houses are guilty of reducing homosexual relationships to slapstick comedy. Who can forget the cringe-worthy Kantaben sequence from Kal Ho Na Ho? Or the entire premise of Dostana?
It has been easier for filmmakers to explore same-sex relationships in small-budget films, which cater to a limited audience. Films like Fire, My Brother Nikhil, Bombay Talkies, Margarita With a Straw and Angry Indian Goddess are some of the prominent films which not only addressed homosexuality, but also normalised the gaze at same-sex romance. However, in commercial films, the homosexual characters are either caricatures, or are peripheral in the narrative. Only in handful films like Fashion or Honeymoon Travels Pvt. Ltd, did we find homosexual characters who weren't loud or offensive. How thus, can we expect filmmakers to portray same-sex love sincerely?
It has been easier for filmmakers to explore same-sex relationships in small-budget films.
Hence, all the excitement around this film, which also stars Anil Kapoor and Juhi Chawla, is understandable. But it makes us question, when will our leading men be ready to take this leap? When will we not have to import a Fawad Khan to star as a central character who is gay, in a commercial Hindi film? Perhaps it is more difficult for male actors to play homosexual characters or for filmmakers to take up a commercial project like this one with male leads. This may be because the idea of masculinity is way more rigid in our society.
It is harder for A-list male actors to break the stereotypical mould of the alpha male hero and take up beta roles. Let alone be part of a homosexual love story in a movie for the masses. But above everything else, these male stars will have to overcome their own inhibitions. It is not an easy task to overcome hesitation and risk your image to push the idea that love is for all. But there are many young actors who are hopefully capable of resisting the comfort of their masculine hero image.
Even in case of Ek Ladki Ko Dekha Toh Aisa Laga, one is sceptical as to how accepting moviegoers will be of its premise.
Discrimination against LGBTQIA+ sits very deep in our society. It will take more than decriminalisation of homosexuality to get rid of it. This film will be a tester for the industry as to how far they can push the envelope. We hope that Ek Ladki Ko Dekha Toh Aisa Laga isn't just a path-breaking film, but a memorable one too, which will encourage Bollywood to take more risks and challenge the audience's point of view.
Also Read : Five Female-Centric Shows Of 2018 That We Love
Yamini Pustake Bhalerao is a writer with the SheThePeople team, in the Opinions section.  The views expressed are the author's own.