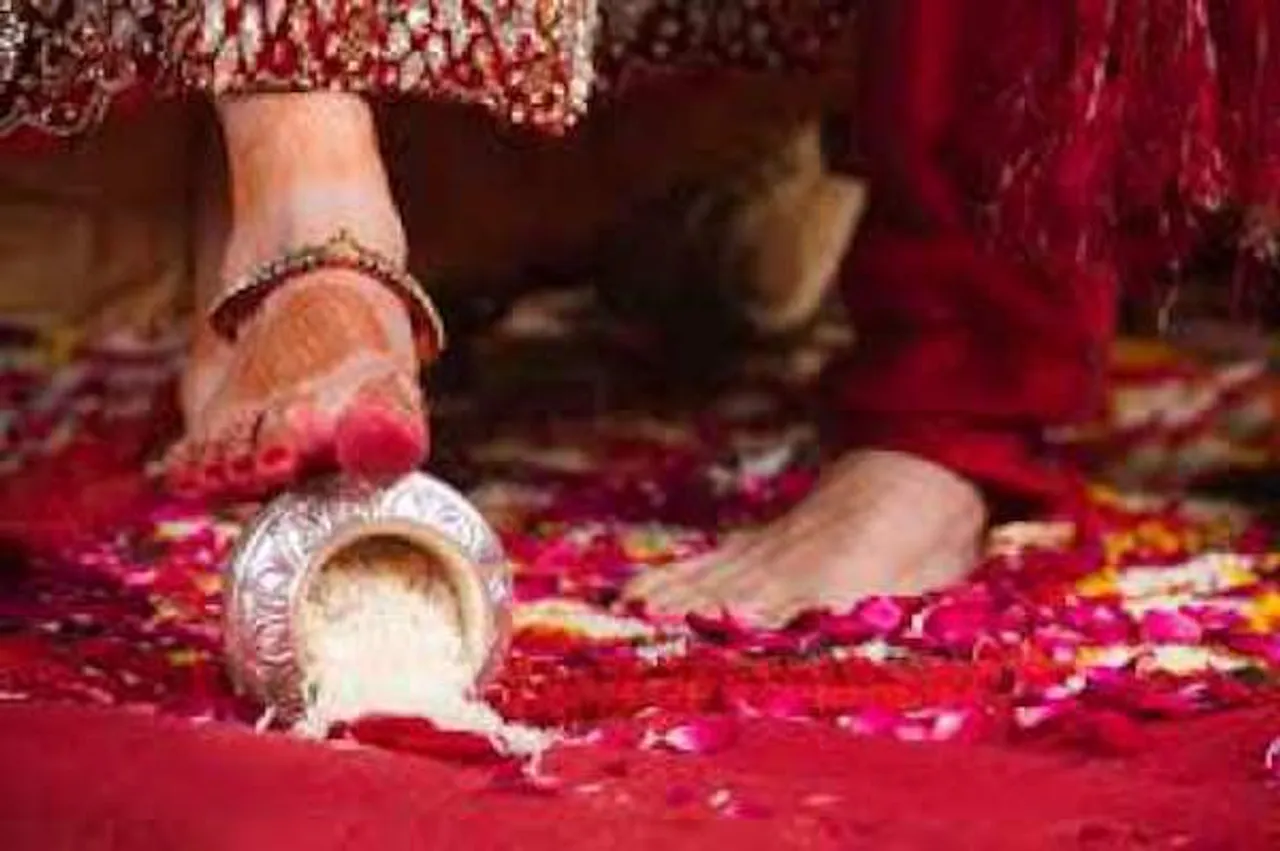 I don't recollect imagining myself as a pretty bride as a child. I do recollect declaring to anybody who brought up the conversation that I would never allow my parents to wash the feet of any groom of mine. I remember that I announced this statement most confidently, to the amusement of my audience and the occasionally veiled pride of my father. I also remember that I was quick to proclaim this, eager almost.
But then, I insisted upon something like this one day. Maybe it was my scorn at my brother laughing about men who let their wives run their life. It transformed an otherwise happy living room evening to a resentment packed night. I wished I had stayed quiet, that night. We all met rarely, and had evenings like that even more rarely. Or maybe it wasn't the days that I did, but the days that I didn't insist. It was every pooja in the in-between when I watched each priest bless my mother that her husband may live long. My father of course was blessed with a business that prospered until it claimed the sun.
All these leisure evenings have taught me well. They have taught me that they wouldn't have survived if I was to step in. They wouldn't have survived for me, and they wouldn't have survived for the people I love. My mother relives the rest of the year in the memory of the days we are together. Who am I to disrupt those, I ask myself.
But even if I were cruel enough to do it. What am I to pick?
I am the youngest in the family, and have watched my siblings get married up close. The Kanyadaan, that I conspired against as a child, is the climax of the Hindu wedding, when the bride is given away by her parents to the groom and his family. There is so much that leads up to it. The wedlock happens with the man promising to provide for the woman, while the woman promises to care and nurture for him. Her hand is physically transferred from that of her father's to her husband's. One particular pandit was kind enough to translate every Sanskrit shloka for the benefit of the bride as she recited along with him. How privileged is the bride who realizes the heroine the marriage is making of her. She is sacrificing her well-being and that of her entire family's for seven generations, in order to place another family over it.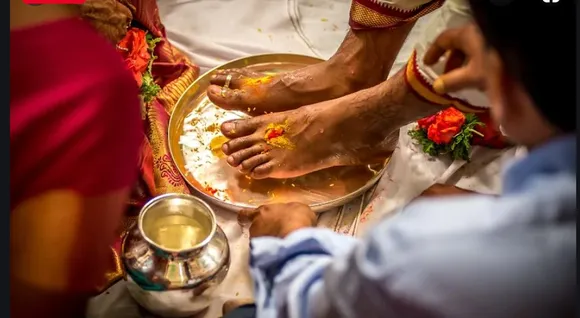 Indian marriage rituals, Picture: Shutterstock
I wonder if I should make a list of the most offending shlokas and customs and weed those out from my wedding. Yes, I am aware that I can forsake a Hindu scripted marriage altogether. But would I feel married without it, I reflect? My sister insisted upon being married in a red sari. Not because our religion mandated it, but because we have grown up admiring my mother as a bride. She looks like a vision in red in white and red in her wedding photos. My mother was married to these rituals, as was my grandmother, and more recently, my sister.
I remember her wedding distinctly. The shlokhas and their meaning didn't matter to me then. They were beautiful background music to my seated sister who was encircled by our family. Music that created a lull, and a sense of timelessness. My parents brimming faces, my sisters rapture filled expression, is what I recollect when I think of her getting married. I imagine a wedding devoid of the figure of the priest, and the sound of these mantras. I wonder if I can strip my family of the rituals they have grown up with and expect them to feel joy and pride, not confusion and turmoil at my wedding.
Sometimes I wonder if I should let it go. This question captured my imagination for a while and I pestered a few friends and cousins with what they thought about it. Some told me that moments have the values you attribute to them. That I could go through these customs without ascribing any value to them, that I could choose to focus instead on what the marriage meant to me. And it is true. The marriage does not have be sexist because it was born of customs that are. And married life will not be feminist merely because the rituals it is born out of are.
But then, I marry because I must perform. I say my lines to the right cues and bow to my great audience, society. My life has been diminished to their stage. I rankle at this thought. What am I to tell the child that declared otherwise to the world?
Sometimes, I wonder if it is not the privilege of women to have it right and happy. I am tired of the times I feel like my conscience should be traded for my happiness. It could be fleeting conversations in the living room, my love for so many members of the opposite sex or larger life decisions. They are each underlined with so many shades of sexism that I must swallow if I am to preserve the moment, and many times, the relationship.
But my silence, and the silence of so many women around me isn't a sacrifice. Rebellion is an aberration, that is pointed to and spoken about. Compliance however, isn't a sacrifice. It is the norm. So, it is okay. Marriage is a delightful memory that is preserved in photo albums. Every visitor's visit home is besieged with pictures of the beautiful bride and groom. The turmoil of the bride is unacknowledged and forgotten. It is a question the academicians will handle.
I have raged about questions like these often. My father once told me that the world is changing slowly. Women today are so much better than women yesterday. Women tomorrow will be even better off. And that we cannot have everything we want today. That is not the way of the world. It is true, but it is so wrong.
You cannot dismiss the sacrifices made by one set of parents for their children because millions of parents continue to do the same. You cannot tell somebody grieving at a death that a million others have died in the same second as their loved one. We will each die. We will each live. But you cannot use a generalization to dismiss what something is, here and now. Women cannot be expected to adjust to the way of the world, sad as it is because it is the way it is. But does that mean that I will insist upon a wedding sans these rituals? I do not know.
Views are the author's own
---
SheThePeople wants to know your story. Have you or someone you know overcome a specific gender restriction or stereotype? Tell us about it. What's the story? Why is it important to you? How did it make you feel? Tell us in 500 to 800 words. Email your story, with photos, to team@shethepeople.tv