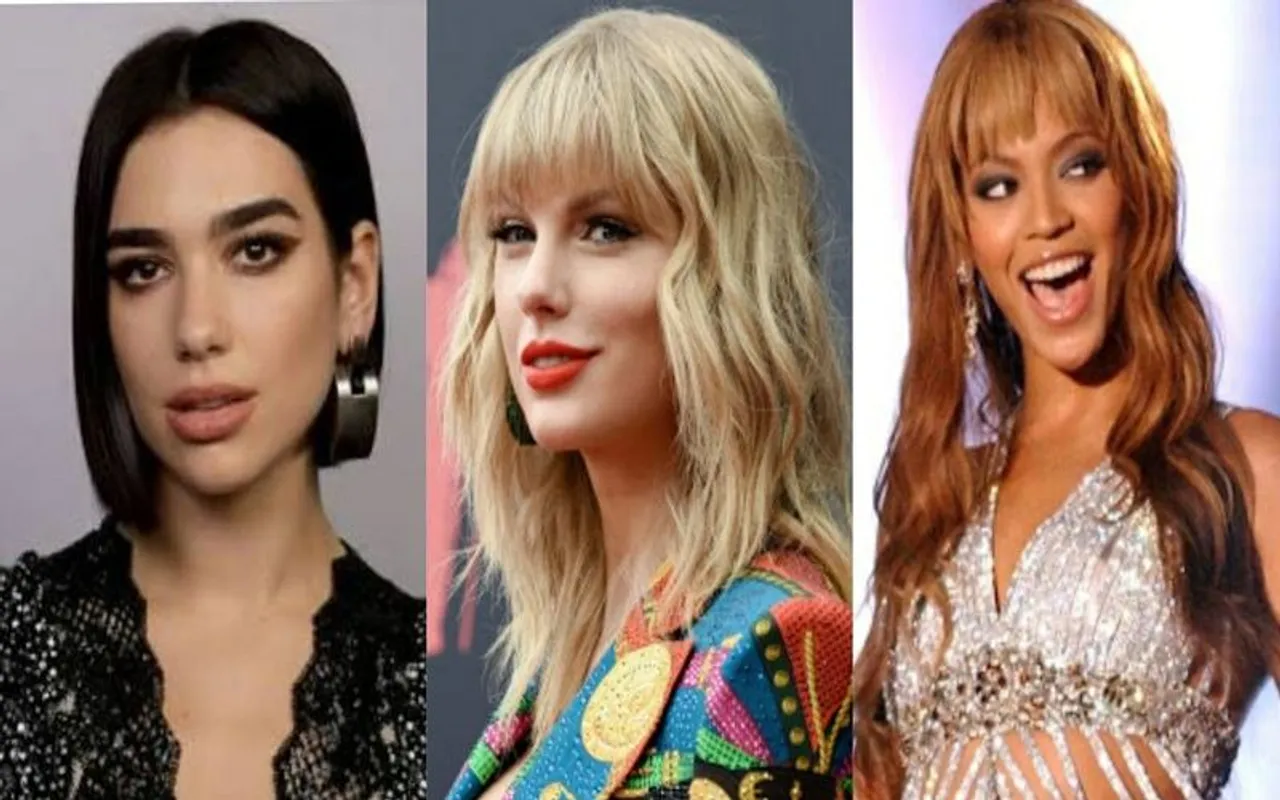 The 63rd Grammy Awards are set to air on January 31, 2021. The awards, presented each year by the Recording Academy, recognise achievements and milestones in the music industry. The nominations for Grammys 2021 was announced on November 24, 2020. Female artists have proved it large this time. We have Beyoncé with nine nominations, followed by Taylor Swift and Dua Lipa with six each. Billie Eilish has also quite some nominations to her name.
It is the first time that every nominee for Best Rock Performance and Best Country Album is a woman or a group fronted by a woman.
We present you the prominent female artists who have been nominated for Grammys 2021.
Record Of The Year
This category is awarded for singles or one track of an album as recorded. BLACK PARADE of Beyoncé, EVERYTHING I WANTED of Billie Eilish, DON'T START NOW of Dua Lipa, SAY SO of Doja Cat and SAVAGE of Megan Thee Stallion, which features Beyonce are nominees for this category.
Album Of The Year
The nominees for this category are Jhené Aiko for CHILOMBO, the three sisters' band Haim for WOMEN IN MUSIC PT. III, Dua Lipa for FUTURE NOSTALGIA, and Taylor Swift for FOLKLORE.
Also Read: Taylor Swift's Folklore Is A Blessing Amidst This Pandemic: Swifties Give Their Verdict
Song Of The Year
This is the category awarded for a single track as composed. BLACK PARADE by Beyoncé, CARDIGAN by Taylor Swift, DON'T START NOW by Dua Lipa, EVERYTHING I WANTED by Billie Eilish I CAN'T BREATHE by H.E.R, and IF THE WORLD WAS ENDING featuring Julia Michaels.
Best New Artist
Interestingly, this category is dominated by female artists this year. Out of the eight nominees, just two are male artists. The nominees are Ingrid Andress, Phoebe Bridgers, Chika, Noah Cyrus, Doja Cat, and Megan Thee Stallion.
Best Music Video
The nominee for the most appealing music video of 2020 is Beyoncé for BROWN SKIN GIRL.
Also Read: Michelle Obama Presents Beyoncé With BET Humanitarian of Year Award
Best Pop Vocal Album
The nominees for this category is again dominated by ladies, as we have Lady Gaga for CHROMATICA, Dua Lipa for FUTURE NOSTALGIA and Taylor Swift for FOLKLORE.
Best Rock Song
Phoebe Bridgers for KYOTO, Adrianne Lenker for NOT, Fiona Apple for SHAMEIKA and Brittany Howard for STAY HIGH are the nominees for this category.
Best Global Music Album
Bebel Gilberto for AGORA and British Indian Anoushka Shankar for LOVE LETTERS are nominated in the category this year.
Best New Age Album
SONGS FROM THE BARDO by Laurie Anderson and Jesse Paris Smith and PERIPHERY by Indian singer Priya Darshini are among the female nominees in the category.
Check out the full list for the 63rd Grammy awards here.
Shikha Chandra is an intern with SheThePeople.TV