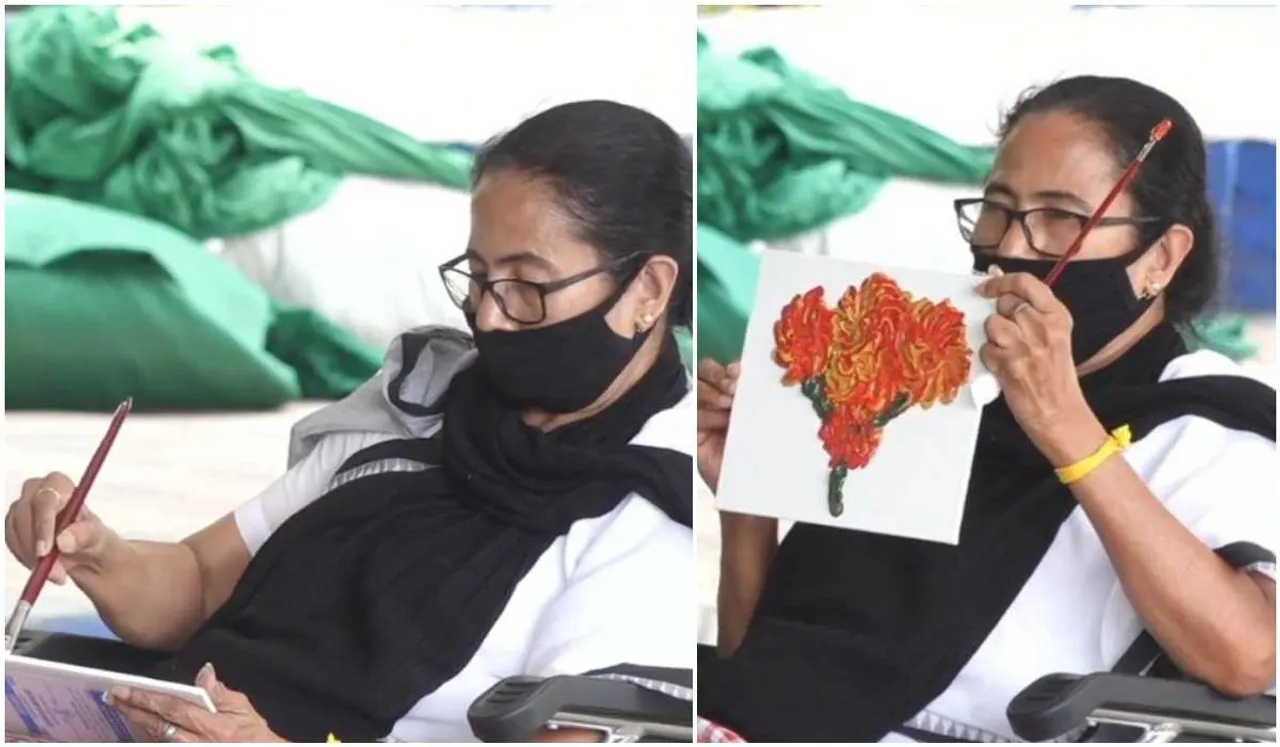 Mamata Banerjee paints at dharna after the Election Commission (EC) banned her from all election campaigns for 24 hours.
On Tuesday, West Bengal Chief Minister Mamata Banerjee turned to paints and canvases at Gandhi Murti maidan in Kolkata, where she is staging a dharna against the EC's ban on her poll campaigns for 24 hours. The ban, commenced April 12, comes following remarks Banerjee made of alleged communal and provocative nature during election rallies.
The EC ban, deemed "unconstitutional" by Banerjee and her Trinamool Congress (TMC) party, prevents her from campaigns of any sort between 8 pm on April 12 to 8 pm on April 13. TMC leaders are calling it a 'black day for democracy.'
The TMC supremo - who is engaged in tough battle with opposition Bharatiya Janata Party (BJP) for the turf that has been hers since 2011 - is known to be a skilled painter. Her artwork has often been on display at exhibitions, with proceeds previously directed towards charity.
Mamata Banerjee paints at dharna: See below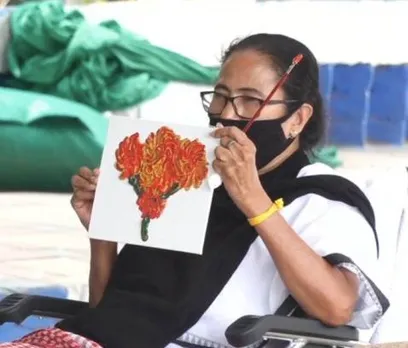 Source: AITC, Facebook Live
Mamata Banerjee Paints At Protest: Here's Why She Has Been Banned From Campaigning
The election season in Bengal this year has been rife with allegations of the EC's favouritism for the saffron party by the TMC. Banerjee has previously alleged a "conspiracy" between governing and security forces to deter polls from being conducted fairly in the state.
The 66-year-old was served two showcause notices by the top election body last week, in view of statements she made about central security forces and an alleged call for votes on "communal" grounds.
In speeches made on March 28 and April 7, Banerjee had lashed out at the Central Reserve Police Force (CRPF) deployed at polling stations, alleging bias and intimidation on their part. "I tell you ladies, a group of you go and restrain them while another group will go to cast their votes. Don't waste your vote," she had said, allegedly urging a call to action from women voters.
On April 3 at a rally in Tarakeshwar, Banerjee had allegedly asked "minority voters" to not let their votes be divided between parties. "I am requesting my minority brothers and sisters with folded hands, don't divide the minority votes after listening to the devil (Shaitaan) person who had taken money from the BJP. He passes many communal statements."
The EC, in its order issued April 12, noted that the ban was being imposed following a "highly insinuating and provocative remark laden with a serious potential of the breakdown of law and order and thereby adversely affecting the election process."
Banerjee had

To protest against the undemocratic and unconstitutional decision of the Election Commission of India, I will sit on dharna tomorrow at Gandhi Murti, Kolkata from 12 noon.

— Mamata Banerjee (@MamataOfficial) April 12, 2021 her decision for a dharna on April 12 soon after the EC's order.
To protest against the undemocratic and unconstitutional decision of the Election Commission of India, I will sit on dharna tomorrow at Gandhi Murti, Kolkata from 12 noon.

— Mamata Banerjee (@MamataOfficial) April 12, 2021