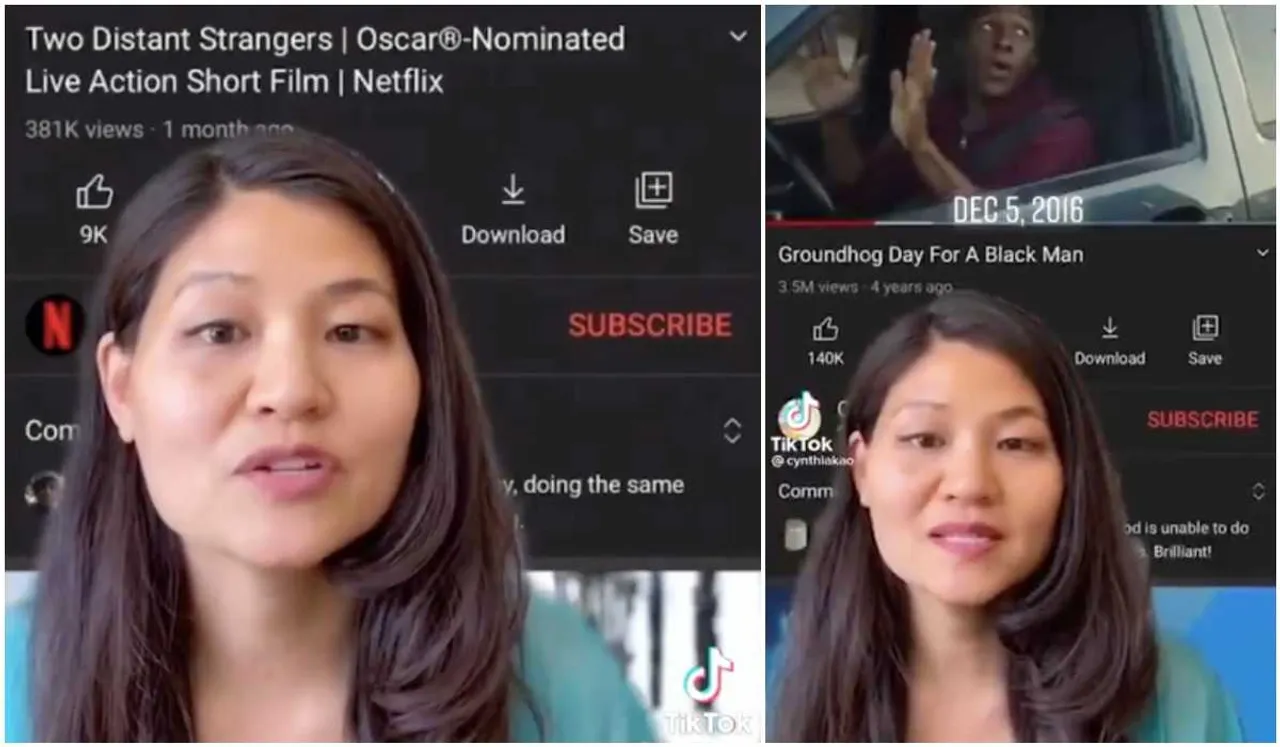 Cynthia Kao, producer, filmmaker and comedian, in a TikTok video going viral has pointed out the similarities between a short film she made in 2016 and a short film that recently won an Academy Award.
Without making any direct allegations, Kao notes how her film Groundhog Day For A Black Man and Two Distant Strangers, Oscar winner for Best Live Action Short Film, share plot themes while giving her audience an insight into the backstory.
In the aftermath of George Floyd's killing and the resultant protests, Kao says she was contacted by publication NowThis News in 2020 for permission to amplify her short film on their platform, owing to its topicality.
'When a black man lives the same day over and over again, he tries changing his behavior to survive a police interaction,' reads the ">description for Kao's short film Groundhog Day For A Black Man on YouTube.
The permission email, which Kao shows on screen, mentions the channel would give her credit when sharing her film. "They ended up posting it to their Facebook and Twitter page," Kao says in her TikTok.
Who Is Cynthia Kao? Watch The Similarities She Claims Between The Two Films
Come 2021, Cynthia Kao's suspicions were raised.
"One year after NowThis posts my short, Netflix puts out a short called Two Distant Strangers on April 9, 2021... it's about a Black man who lives the same day over and over again and tries to survive a police interaction," she says in her TikTok.
Two Distant Strangers has been directed by Travon Free and Martin Desmond Roe, distributed by Netflix and produced in association with companies Dirty Robber, NowThis and Six Feet Over. The film had received critical acclaim upon its release last year November and in April 2021, won an Oscar.
"I don't know what happened, I'm not making any assumptions," Kao ends her TikTok video saying.
Watch what Cynthia Kao says here: 
Omg. I'm mad for sis. 😡pic.twitter.com/0iSMPvyl6q

— chris evans (@chris_notcapn) May 1, 2021
Kao is a prominent award-winning short film director also known for other titles like If Men Had Periods It Wouldn't Be Gross and Relationship Status. She currently works for Walt Disney TV Directing Program, as per her website bio.
Ever since her claims went viral, netizens have been outraging against NowThis for allegedly "ripping off" her work and passing it off as an original production. Comments under Two Distant Strangers on YouTube too have amassed multiple allegations against the short's makers of "stealing" Kao's idea.