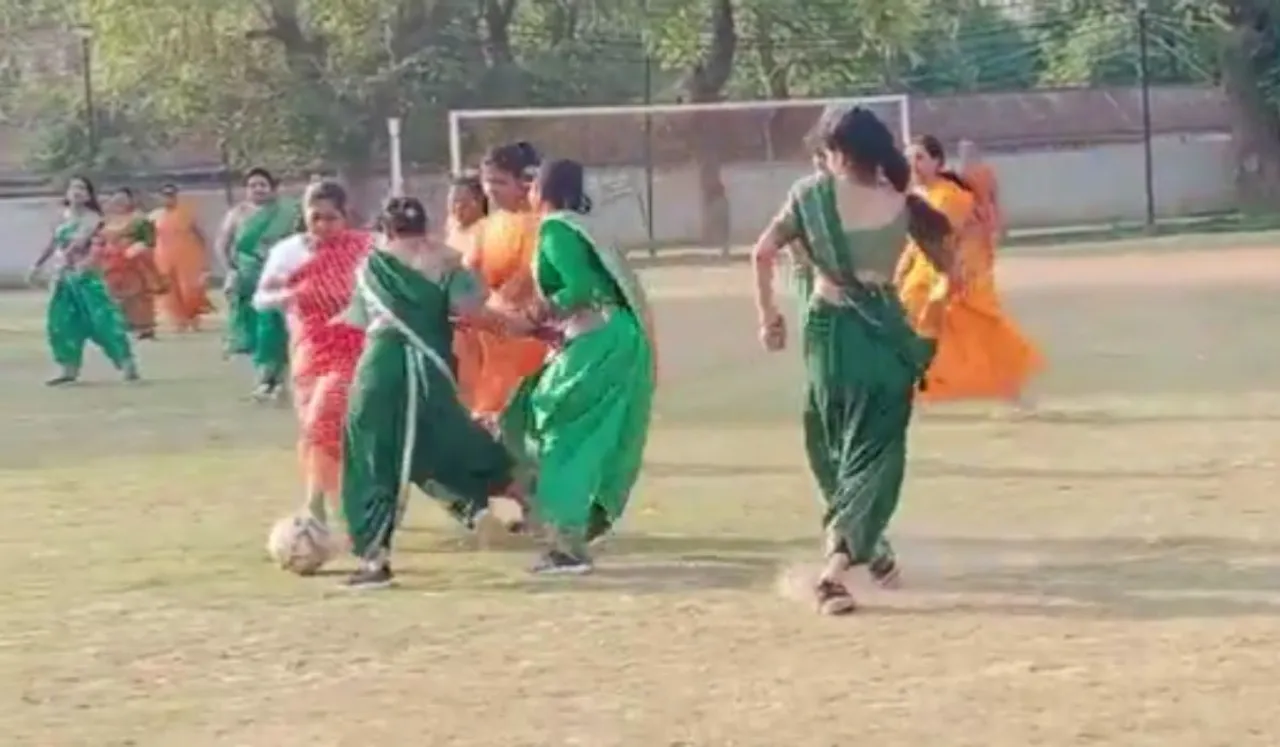 A viral video of women playing football while wearing saree has won hearts on the internet. The video shows women wearing colourful saree and displaying their football skills. The football tournament, called "Goal in Saree," was held in Gwalior, Madhya Pradesh.
The event was sponsored by the Gwalior Municipal Corporation and the Senior Member Association of Junior Chamber International. The video has received over 6K views so far.
The video was posted on Twitter by Brajesh Rajput of ABP News. He wrote, "Are our women less than Messi? Gwalior women play football in their traditional outfit, saree." The video shows the women enthusiastically playing the sport while clad in a saree—a completely empowering sight.
Gwalior Women Play Football In Saree
The players included women ranging in age from 20 to 72; the oldest being 72-year-old Daljit Singh Mann. The Gwalior women formed eight different teams. This was the first time these women were participating in a competitive sport. The event was organised during the ongoing Chaitra Navratri festival with the aim of promoting a fitness culture among women wearing sarees.
The players consisted of over 96 women from different walks of life, including homemakers, school and college teachers, and small-business entrepreneurs. The women tried their luck at football in the event organised on Saturday and Sunday after practising for just three days.
The Orange (or Tulip) team won the title on Sunday by a solitary goal. They played against the Red or Sherni team. The top three teams were given trophies, and each member of the eight teams was given a gift.
The video has been compared to the film Bend it like Beckham, which narrates the story of a young girl who aspires to become a football player despite her family's disapproval. While both the video and the plot of the film challenge traditional gender roles, they are said to have some differences.
For instance, the women in the video are not facing any opposition to playing football. They look confident and seem to be enjoying the sport. They have the backing of government institutions. Also, community members are supporting and encouraging these women. However, in the film, the protagonist receives no support from her family or community to pursue her passion for football.
---
Suggested Reading: Elderly Woman Wearing Saree Dive Into Thamirabarani River, Netizen Shocked