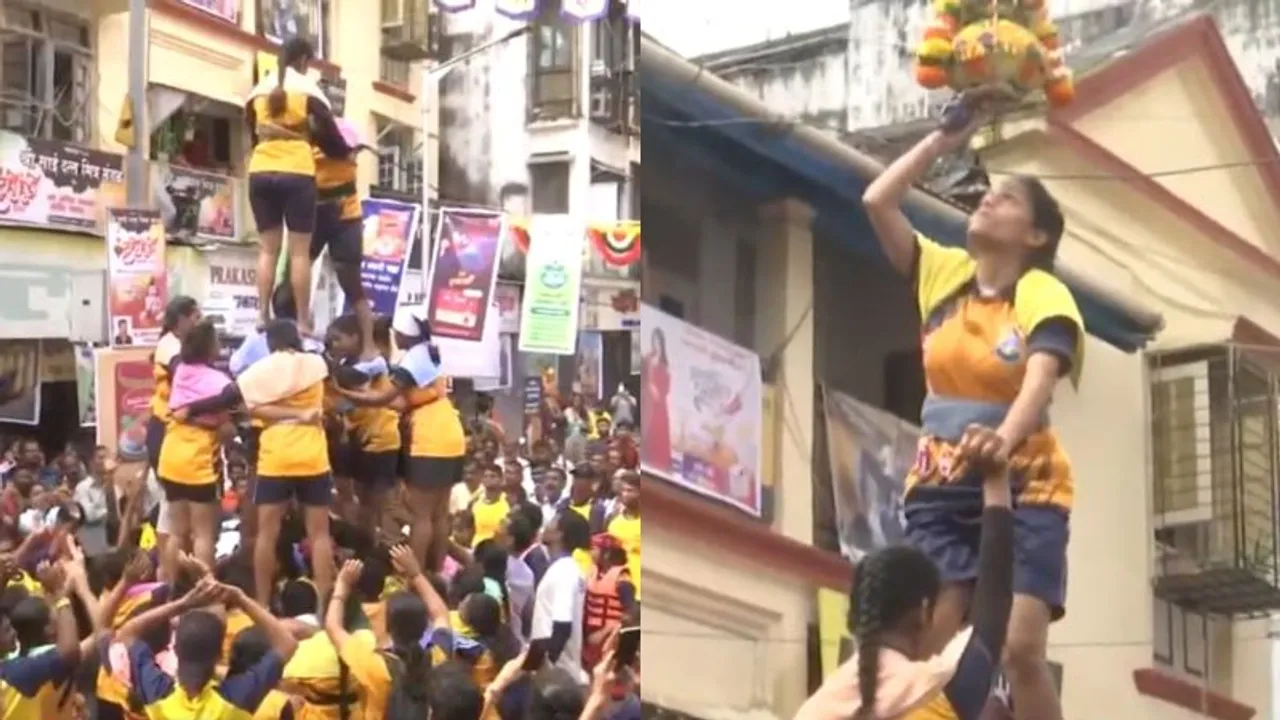 Girls participated in the Dahi Handi competition held in Mumbai on the occasion of Janmashtami and formed a human pyramid to recreate the "Maakhan Chori". The all-girl team formed a pyramid tall enough to reach the clay pot hung at a considerable height and used a stone to break the pot.
The Dahi Handi competition took place in Dadar Nakshatra Lane in Mumbai and the ritual is often associated with male participants. In the viral video, the competition featured girls creating the human pyramid rather than men. The participants in the Dahi Handi team are known as Govindas.
Girls Dahi Handi Competition
In the video, the girls wore matching yellow T-shirts and made a three-tier tall pyramid that one girl climbed atop to break the Dahi Handi. A large crowd gathered around the Govindas and applauded after the girl managed to break the pot.
The Dahi Handi competitions take place annually on Janmashtami to celebrate the birth of Lord Krishna. The Govindas recreate "Maakhan Chori (Butter Stealing)" and form a human pyramid to reach the high-hanging clay pot. They form a wide base and the most light-weight Govinda climbs up the pyramid and balances on the shoulders of another Govinda and attempts to break the pot with a stone.
The ritual is based on legends of Lord Krishna as a child attempting to steal butter kept in a pot at a height.
The Maharashtra Chief Minister Eknath Shinde recently said that Dahi Handi would be officially recognised under the state's sports category. He said the state would introduce the discipline "Pro Dahi Handi" and the Govindas who took part in the tournament would receive jobs under the state's sports quota.
He added that the Maharashtra government would provide the Govindas with an insurance cover of 10 lakh rupees.
Reportedly, a Mumbai-based Dahi Handi Utsav Samanvay Samiti (DHUSS) wrote a letter to Shinde and requested that Dahi Handi be given the status of an adventure sport.
Following several accidents, the Supreme Court has restricted the height of the handi to 20 feet. The Bombay High Court also barred the participation of children below 14 years of age.
---
Suggested Reading: CWG 2022: Victories For Indian Sportswomen Puts Forth Positive Narrative on Inclusivity