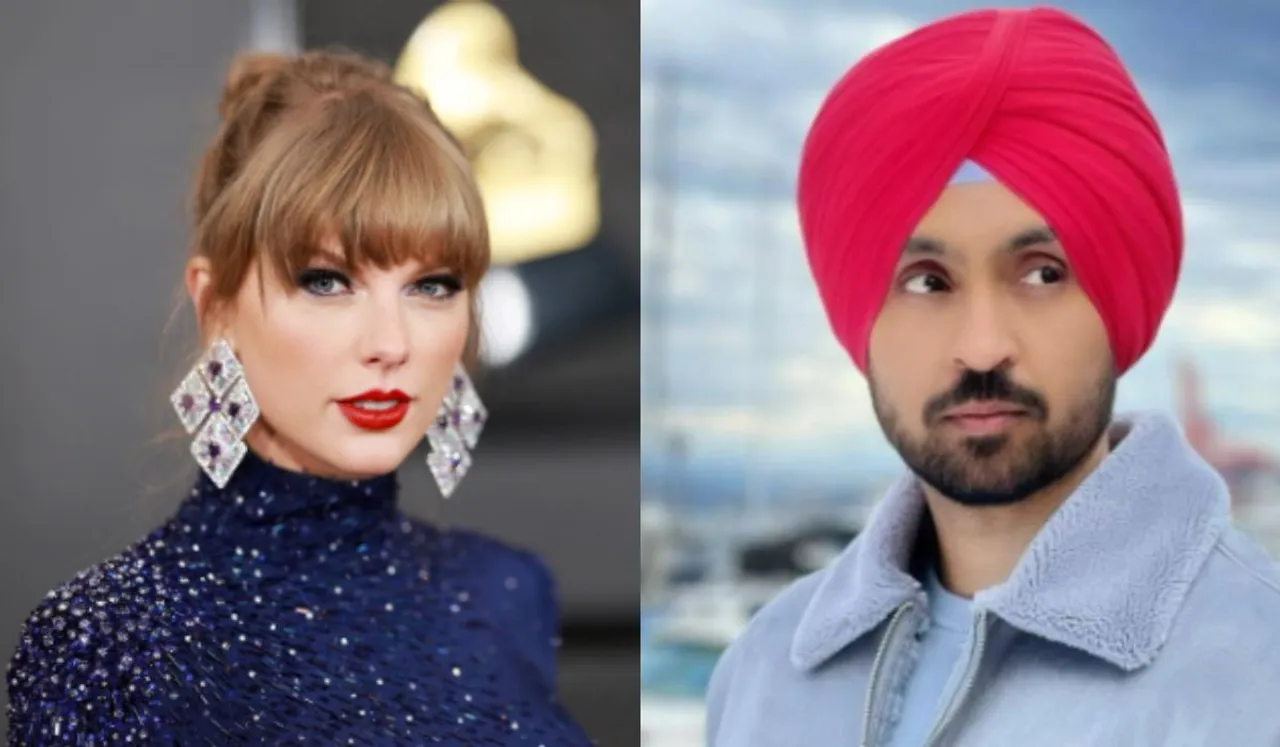 Singer and actor Diljit Dosanjh was recently spotted together with sensational American popstar Taylor Swift. According to reports, the duo had gone to a restaurant in Vancouver, and Dosanjh allegedly got "touchy" with the American singer-songwriter.
Addressing the viral reports, Diljit Doshan reminded people about the concept of privacy via a tweet: "Yaar privacy naam di v koi cheez hundi aa" (There's something called privacy), wrote the Punjabi singer.
According to news outlets, Duljit Dosanjh and Taylor Swift spent quality time together at Cactus Club Café Coal Harbour in Vancouver. The duo was seen laughing and being "touchy."
Diljit Dosanjh Taylor Swift
Netizens have begun a meme fest soon after and let's have a look at some. One netizen tweeted an imaginary song that they could hear Diljit sing - "Taylor da main Taylor da main lover, akhaan da dangiya, hona nayi main, hona nayi main recover." Another user compared Taylor Swift and Diljit Dosanjh alleged dating rumours with Bipasha Basu dating Ronaldo back in the days. A third user comically asked when people would see Taylor Swift in one of Diljit's cooking videos on Instagram.
What's with the hype, though? Does the paparazzi have to peek out of every nook and corner and ruin a private moment for celebrities? After all, they too are human beings like us, and they deserve the same right to privacy as any of us do. While fame comes with a lack of privacy, expecting to be left alone at least once in a while so that they can have normal lives isn't a big ask, is it?
It's okay for fans to be curious about what their favourite stars are up to, as we all love filmy gossip. But shouldn't we grow up a little so that famous personalities can have a little bit of privacy in their lives?
Recently, Bollywood's Vijay Varma and Tamannaah Bhati have also been repeatedly dubbed the industry's newest love birds, although neither of them has commented on it or officially announced their relationship. The couple has regularly snapped whenever they step out together. Yaar, let them have a little bit of private fun! If there is good news at bay, let's give them the time to open up at their own pace.
Just imagine you're in the initial phase of dating and you find scrutinising eyes fixated on you from all corners. Won't that feel weird and unsettling? Would you be able to have a nice time in peace? Doesn't the same apply to celebrities as well? Why does fame have to come at the price of sacrificing their basic right to privacy?
Paparazzi are obsessed with covering private moments because such news stories have a massive fan base. If the audience tries to reduce their eagerness to gossip, eventually a line of privacy could be drawn by celebrities. Because this just doesn't stop with adults. The craze extends to star kids as well, and that could be harassing and suffocating for them. So, can we get over our crazy obsession with celebrity gossip?
Views expressed by the author are their own
---
Suggested Reading: Who Is Matty Healy? The 1975 Frontman Rumoured To Be Dating Taylor Swift
---
Image Credits: Variety and The Indian Express