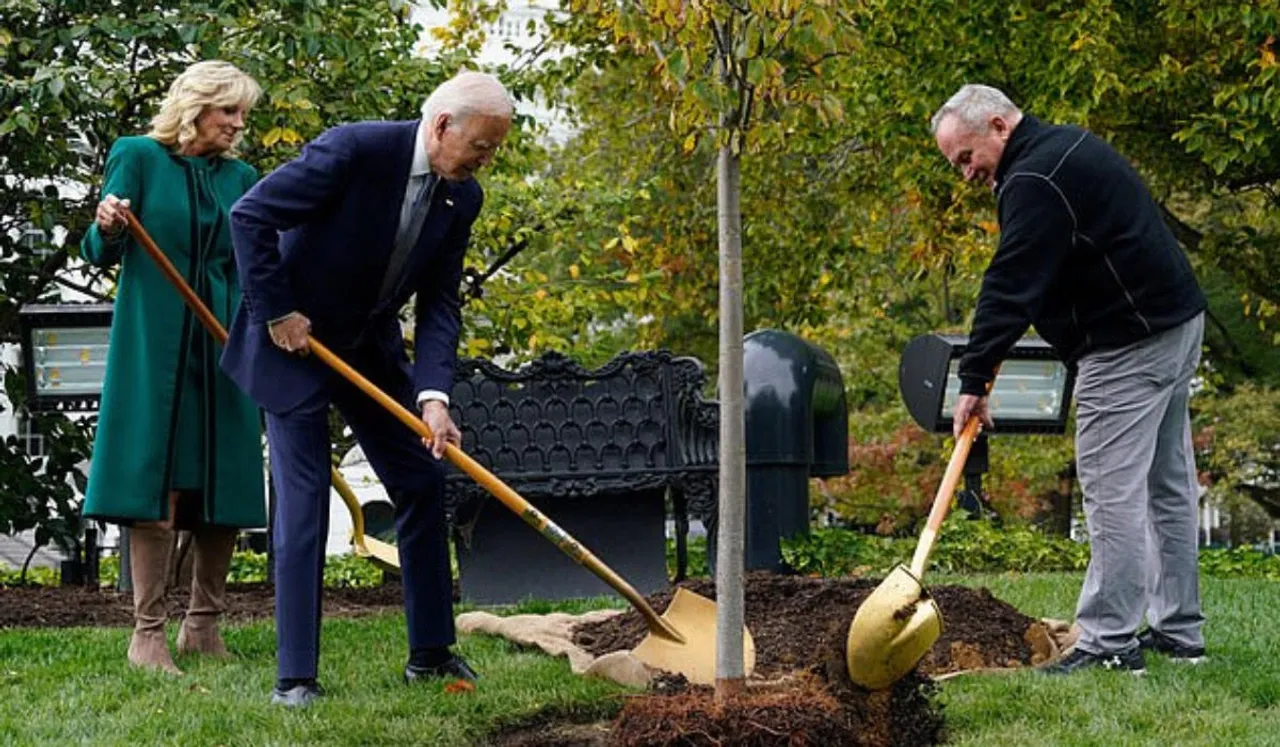 Recently, in a heartwarming event, President Joe Biden and First Lady Jill Biden honoured one of the longest-serving staff members of the White House. The groundskeeper Dan Haney found himself in an emotional and proud moment, when he discovered that his name will now be carried forward at the White House after a tree was named after him.
Longtime groundskeeper Dale Haney, who has been working at the White House for 50 years now, has his name forever attached to an Elm tree planted at the premises. First Lady Jill Biden called Haney one of the most beloved members of the staff.
---
Suggested reading: "Honoured": Joe Biden Hosts White House's Biggest-Ever Diwali Celebration
---
Biden Honour White House Groundskeeper
Presidents come and go but some people stay, silently performing their duties, and moving forward with their commitments. 70-year-old Dan Haney is one such hard-working staff member at the White House. Haney has seen ten Presidents in office during his working timeline at the White House. He is not only regarded highly at the premises but also recognised.
The Biden couple were seen coming together on the ground and planting the Elm tree for the Chief White House Groundskeeper. They showered him with praise and thanked him for his fifty years of service. In the video, Haney can be seen overwhelmed with all the respect and accolades shown to him. 
Haney has cared not only for several families who resided at the Presidential residence over decades but also for their pets. One of the oldest working members at the White House, Haney also frequently walks Bidens' German Shepherd.
It's a rare known fact that Laney was the one who evacuated the Bush's pets on the tragic September 11 event. He also helped train Clinton's labrador puppy, Buddy. He was also often seen walking Obama's dog, Bo, on the South Lawn during Barack Obama's tenure as President of the United States. Haney also assisted Michelle Obama to start her kitchen garden, which is operational even today.
Haney, who picks out the White House's official Christmas tree every year, has chosen this year's Christmas tree from a farm in Pennsylvania.
Interestingly, Haney's initial plan 50 years ago was to just work at the White House for two years in 1972 during President Nixon's tenure as he held a bachelor's degree in horticulture and planned to return to studies. However, as fate would have it, he was interviewed further and was given the responsibility of a gardener with the National Park Service. This agency cares for the White House grounds. He then got promoted from time to time, becoming the foreman, the chief horticulturist, and finally the grounds superintendent - a position which made him the permanent member of the White House staff residence.
Haney's primary responsibility has been to care for the overall vast lawns, hundreds of trees, extensive colourful flowery gardens, shrubs, and vegetable gardens on the widespread 18-acre property of the White House. 
Dale Haney is not retiring, he is completing 50 years at the job he immensely loves and continues to serve.