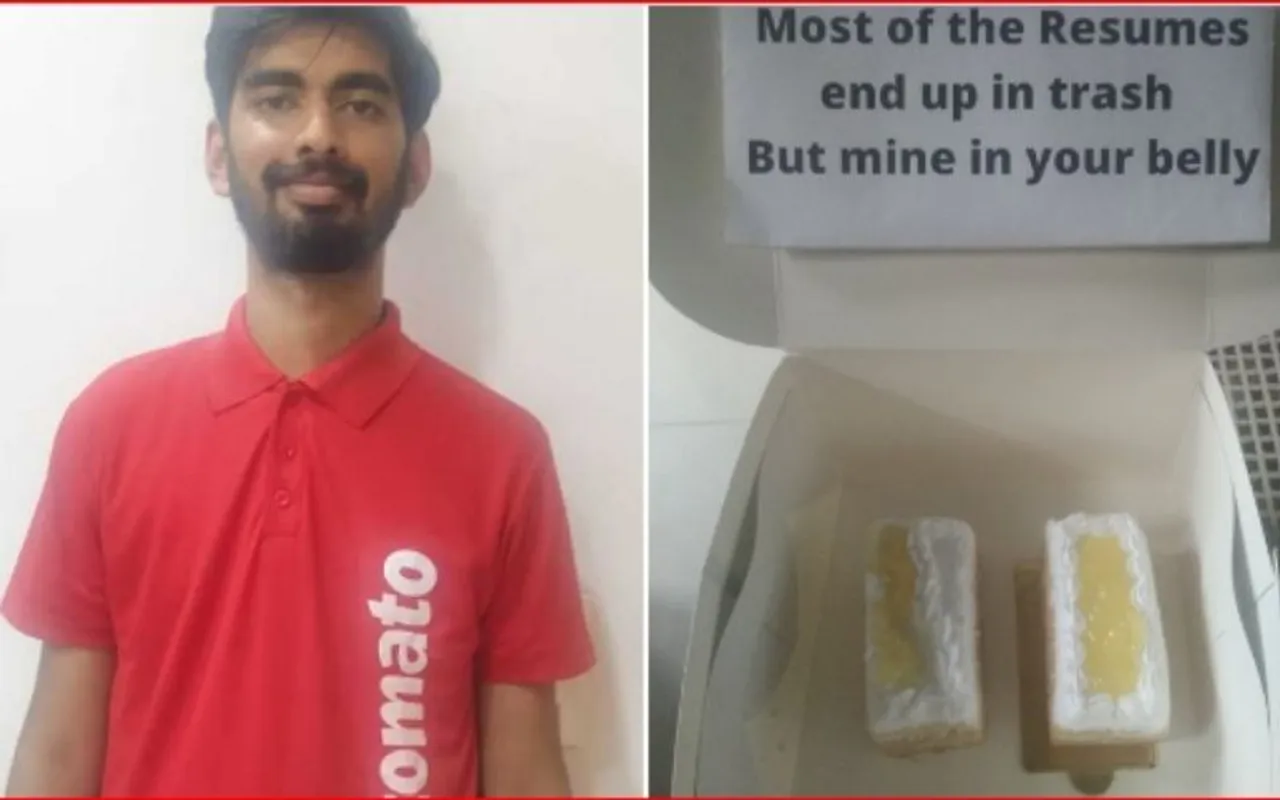 Man dresses as a Zomato delivery boy in Bengaluru to deliver his resume to companies in a box of pastries. The interesting way of getting resumes delivered to companies gained the attention of the people when the man shared his pictures and the incident on Twitter.
When it comes to finding a job, there is a lot of competition in the market and everybody is trying to do something new to make a lasting first impression on recruiters. Among the many innovative ways of making your presence known, a man in Bengaluru decided to ditch the normal, boring ways of filing resumes in companies of his choice.
Instead of putting on his suit and tie, he put on a Zomato delivery boy shirt and trousers, grabbed a bunch of pastry boxes and delivered them to companies along with his resume.
Man Dresses As Zomato Delivery Boy To Deliver Resume
Amit Khandelwal from Bengaluru shared his story with a picture of himself dressed like a delivery boy and another of the box of pastry on Twitter and wrote, "Dressed as a @zomato delivery boy I delivered my resume in a box of pastry. Delivered it to a bunch of startups in Bengaluru. Is this a @peakbengaluru moment. @zomato#resume".  The box had a note stuck on the inner side of the lid on which was written, "Most of the resumes end up in the trash, but mine in your belly"
The interesting way Amit took while looking for a job garnered the attention of many users on Twitter with many weighing their opinions. For some the idea was interesting, others found it cringe and some dropped in genuine advice like this user that wrote, "Bhai kuch bhi kar lena startup join mat karna. Sala dream unka hota hai le tumhari lete hain apne dream ko pura karne ke liye aur jaise hi kuch bana firr aapko tata bye bye"
However, one user found a similarity between this incident and another incident on social media. Apparently, this method was first implemented by a San Francisco job seeker in 2016 with a box of doughnuts and the exact message on its lid. While others mocked him for copying it, the start-ups where he filed his resume would definitely have been startled and the man succeeded in making his presence felt to an extent.
---
Suggested Reading: Composer Atif Afzal's Song Made For Salman Khan Features In MCU's 'Ms Marvel'