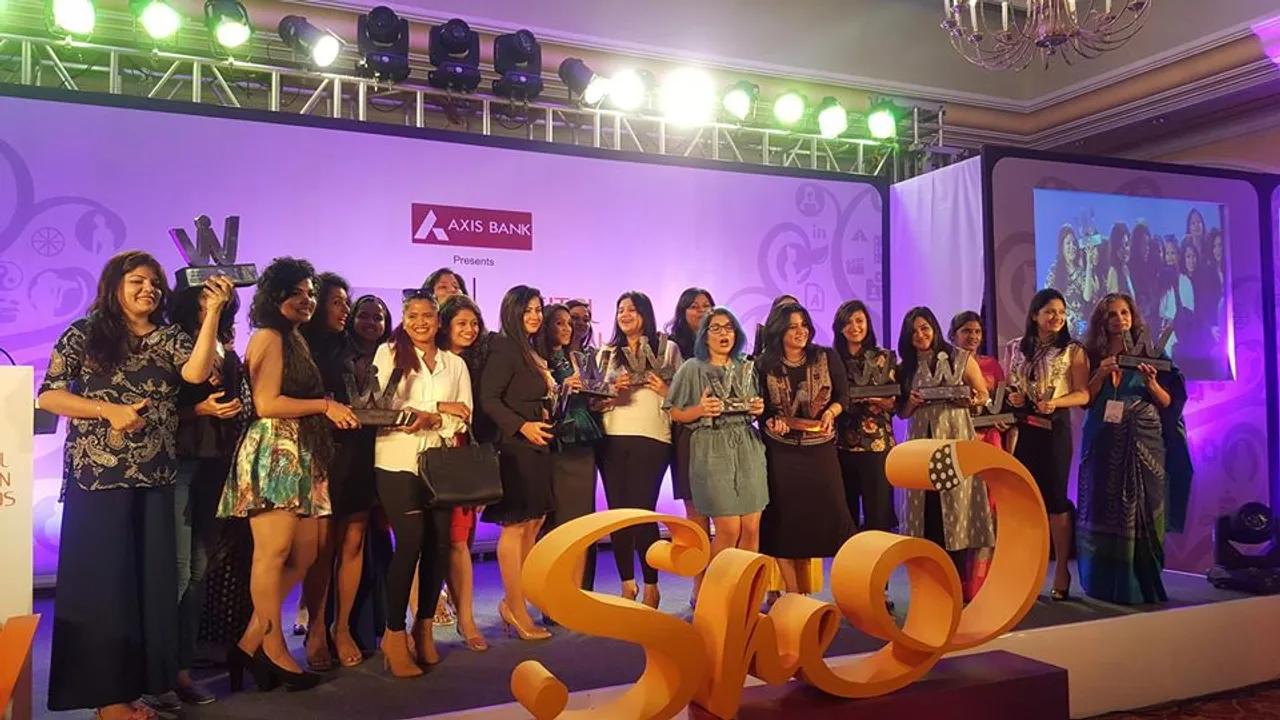 SheThePeople.TV hosted its annual Digital Women Awards on November 13. The Awards aim to put a spotlight on women who leverage the online world to create businesses with impact.
Jury members included Manipal Chairman Mohandas Pai, Managing Director of TPG Growth, Anjali Bansal, Akila Urankar from Business Standard, and Facebook India's Director of Public Policy, Ankhi Das, Lara Balsara of Madison Media and Shaili Chopra of SheThePeople.
Here are the ladies who won awards for using the digital medium to create meaningful impact in their communities: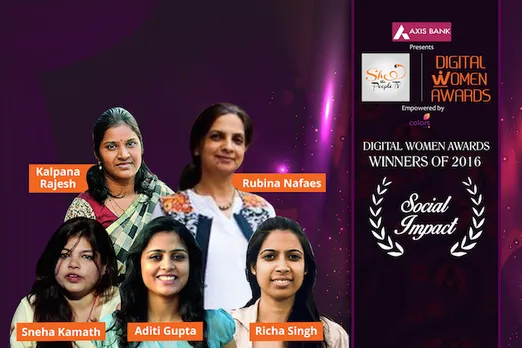 Source: SheThePeople.
1. Rubina Nafees- Rubina won the Facebook Social Impact Community award. She is the CEO of SAFA, an NGO which aims to empower women in urban slums by providing them with skills training.
On winning the award, she said, "Being an NGO, any award has the weight of extra responsibility. Awards do help us to leverage ourselves to the next level and add more validation to our work."
2. Richa Singh- Singh is the co-founder of YourDost, an online counselling platform. She won the award for her use of Data and Technology to create social impact. More than 200 experts are registered on YourDost, and users can chat with an expert in real time. The platform aims to be a one-stop shop for users' personal wellness.
3.Kalpana Rajesh- The entrepreneur who started Pelli Pooja Jada, a business which provides floral hair accessories for women, won the Social Impact Award.
"No recommendations, No Page-3 or political networks, No huge investment! Nothing can stop Digital woman from achieving her dream," she said on the power of the digital medium.
4. Sneha Kamat- She won the Social Impact award for her venture SheCanDrive, India's first car driving training centre for women. She started the venture in order to address some of the problems women face while learning under male teachers. Teachers often do not take them seriously, and stereotype women drivers as not being as competent as men. With her venture, Kamat makes sure that women drivers are imbued with a sense of confidence which ultimately leads to them becoming better drivers.
5. Aditi Gupta- The founder of website Menstrupedia won the award for most Innovative venture in the Social Impact category. Her website tries to educate women about periods and tries to eliminate the stigma around menstruation. Her team develops friendly and entertaining content, such as comic books and blogs, to help girls learn about how to stay active and healthy during their period.
Also Read: Winners of Digital Women Awards 2016