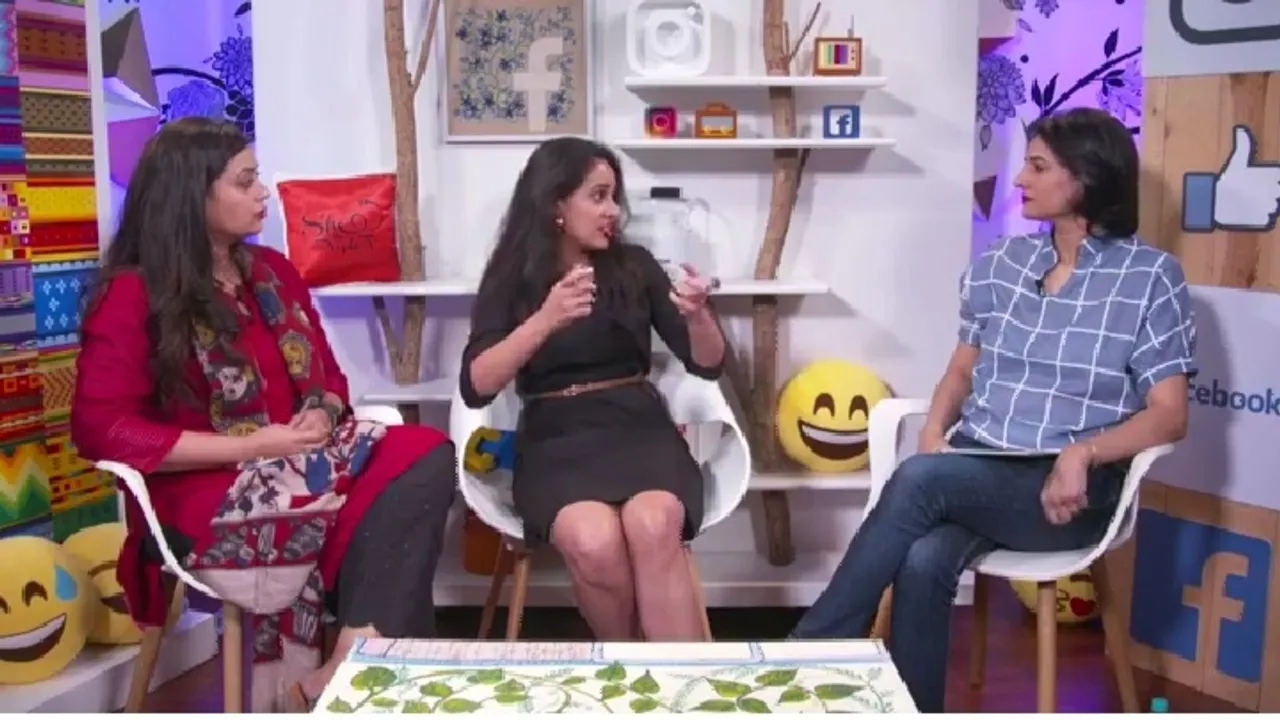 In the run-up to the #digitalwomenawards, SheThePeople.TV organised a Facebook Live session on the entrepreneurship ecosystem with Reema Sathe, founder of Happy Roots, and Shuchi Pandya, CEO and co-founder of PipaBella. The session, moderated by Shaili Chopra, gave an interesting insight into problems women entrepreneurs face.
Start of their businesses
PipaBella, an online personalized jewellery company, had a very organic start -- offline. Shuchi recounts her journey with PipaBella, saying she started by recruiting a few fashion stylists who were both social and fashionable and who helped spread the word. In 2015, PipaBella went online, and in 2016, an in-house tech team was appointed that gave the final momentum to the business. Shuchi recalls how digital platform were so new to her at that time and "it was all a learning process".
Reema calls herself an 'accidental entrepreneur'. Leaving a multinational company job to live her dream of working on the ground with communities was how Happy Roots, an ethical food chain, started. Working with various organization like the UN helped Reema understand the realities and that gave birth to Happy Roots. The beginnings of Happy Roots was spread by Whatsapp groups. Slowly, fitness enthusiasts from Pune and Mumbai enquired about the organization and now it has grown and is present at various platforms like Amazon.
Connections with Communities
Shuchi's community philosophy with PipaBella is "how do we take the idea of self-expression and allow women to essentially talk about it". She cites an example of PipaBella's Karma Bangles with personalized quotes and how women who purchase it talk and post about how the product makes them feel. "We really rely on these communities."
Reema talks about building connections with farmers, explaining how the starting journey on ground kicked off from the hailstorm that destroyed various farms. Taking an instant step, Reema went to Akola, worked with an NGO to address the situation. Going to 500 tribal farmer families and assessing the situation placed that building block of trust. "Not just inspiring people about how it's ought to be done, but being there, working along with them and showing them that we are there and that's how the community was eventually built."
On building better ecosystem in terms of investors in a man's world
Shuchi believes that women entrepreneurs have a come a long way, but there is still lot to be done in this field. She states the need for an equal initiative by women to approach investors. "What I found in the investor journey is that the more I speak to people, the better I get at understanding my own business and also understanding what I am good at." Slowly, one gets better at gauging the situation and understanding the cues to see if the investor is well suited or not.
Reema talks about how rural women face difficulty in getting employment. She says there is lack of infrastructure and training to skill them and how the women themselves don't want to go out of their own ecosystem where their community and kids are.
Family Support and Challenges as women
For Shuchi, business comes more naturally to her due to her family business. According to her, there are three main challenges faced by women entrepreneurs. Firstly, attracting talent for hiring gets difficult sometimes due to male ego of not working under a female boss. Second, investors sometimes fail to understand female audience. Lastly, many government compliances show lack of seriousness towards female enterprisers by both men and female employees.
Reema points out how there is this prevalent view that if a woman is running a business, it is because she is very rich and the business is a "timepass" for her
Reema, however, reveals she is happy with the government support she got when Happy Roots received a national prize, and that Maneka Gandhi helped her with contacts. The importance of this tag benefited Happy Roots.
The underlying thought that emerged was how validation is important and how role models play a very significant role in building the right ecosystem.
On future trends and suggestions for women in this field
Shuchi talks about three important trends for women entrepreneurs. First is respect and how current movements are making it a must at the managerial level. Second is authenticity, which is somewhat inherent in women and somewhat the right environment, at least in urban areas. Third, the role of community is going to be very strong replacing jealousy of each other's success.
Reema believes that women breaking barriers is creating a momentum. As a future trend, she sees both urban and rural women taking up roles generally performed by men. She also states how this is not a war between genders but a common movement towards sensitization and awareness towards women's issues.
Also Read: Agenda for Digital Women Awards
Rachna Chandira is an intern with SheThePoeple.tv