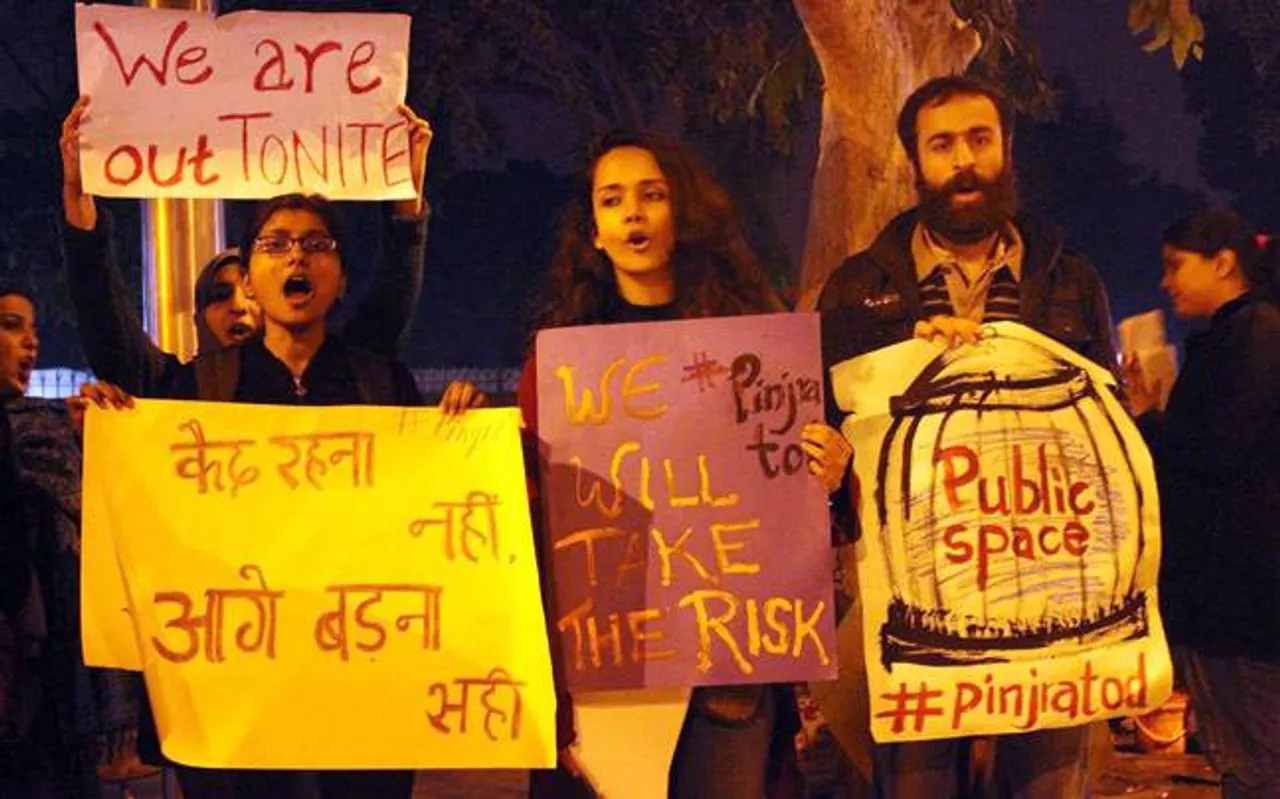 The Pinjra Tod movement had started about three years back at the Jamia Millia Islamia University against the unjust norms to confine women. What makes Pinjra Tod different is that unlike other feminist movements, it includes fight against gender-based discrimination along with caste and class discrimination. Bringing a broader perspective and context to issues it brings depth to the movement.
Pinjra Tod: Tomorrow at North Campus
On 8th October, while Delhi shuts its eyes as usual from the problems and goes to sleep, a group of young activists will push for the legacy of Pinjra Tod at Delhi University(DU) North Campus.  In an all-night curfew against DU, the Pinjra Tod movement is seeking taking down of unjust norms by the University that confines women. Women want to break free from these unnecessary shackles that institutions impose on them.
Colleges and Universities across India have imposed restrictions on women's mobility in name of security. As Uma Chakravarti, a feminist historian who has serves 40 years as DU professor, says "rather than solving the main issue of security, the government imposes further restrictions on women, putting them under further subjugation."Curfew time for women in the hostels are kept at 7. This restricts them from their freedom to go around freely and do their work.
Girls hostel fees are high and there is no reservation for allocation of Hostel to students from SC,ST or PwD category. The merit allocation, does not do justice to the need of the students. Long and tedious processes at hostel gates in name of security restricts mobility of girl students.
After 3 years of Pinjratod protests & many years of women's struggles, DU still continues to cage women in the name of 'security.' Come join us for an all night protest on 8 Oct, till the gates are finally forced open. We have had enough! #PinjraTod

See our charter of demands: pic.twitter.com/scGSNfySaC

— Pinjra Tod (@PinjraTod) October 2, 2018
Demands
With this movement, the students of Delhi University attempt to demand and achieve provisions that make the institutions more just to live in. Few of them are -:
Remove curfew timings for women in all hostels of DU and other private institutions.

Allow 24 hour entry into women's hostel.

Abolish the concept of local guardian, but keep a local emergency concept.

Construction of affordable hostels for PwD students.

Students should be given fee concession circular along with break up of hostel charges.

Set up Internal Complaints Committee against sexual harassment in all colleges and institutions

Ensure that libraries and toilets remain open 24/7 in DU colleges and institutions.

The merit based allocation of hostels should not be there. Start implementation of reservations in all women's colleges.

Moreover, students should not be asked to vacate the hostel at any point of time till their course get completed.
Maitreyi Jha, a second year student from St. Stephens, says, "It's high time that Delhi University stops this infantilisation of adult women and doesn't hinder their access to public spaces. How is it that colleges within a 2km radius have such different curfews for women? What's the point of having 24*7 libraries if half the students can't access it? It's ridiculous and needs to go. Saare Pinjre todne ka samay aa gaya hai."
Pinjra Tod movement has spread across various colleges in our county. It is based more on issue driven strategies than leadership based style. Every year one batch of students graduate and this affects the leadership of this movement. However, teachers and former students pass on the message and keep the legacy alive by keeping issues at the center
Also Read :Pinjra Tod Stands With AMU Women Students As They Break Hostel Locks
Rachna Chandira is an intern with SheThePeople.TV