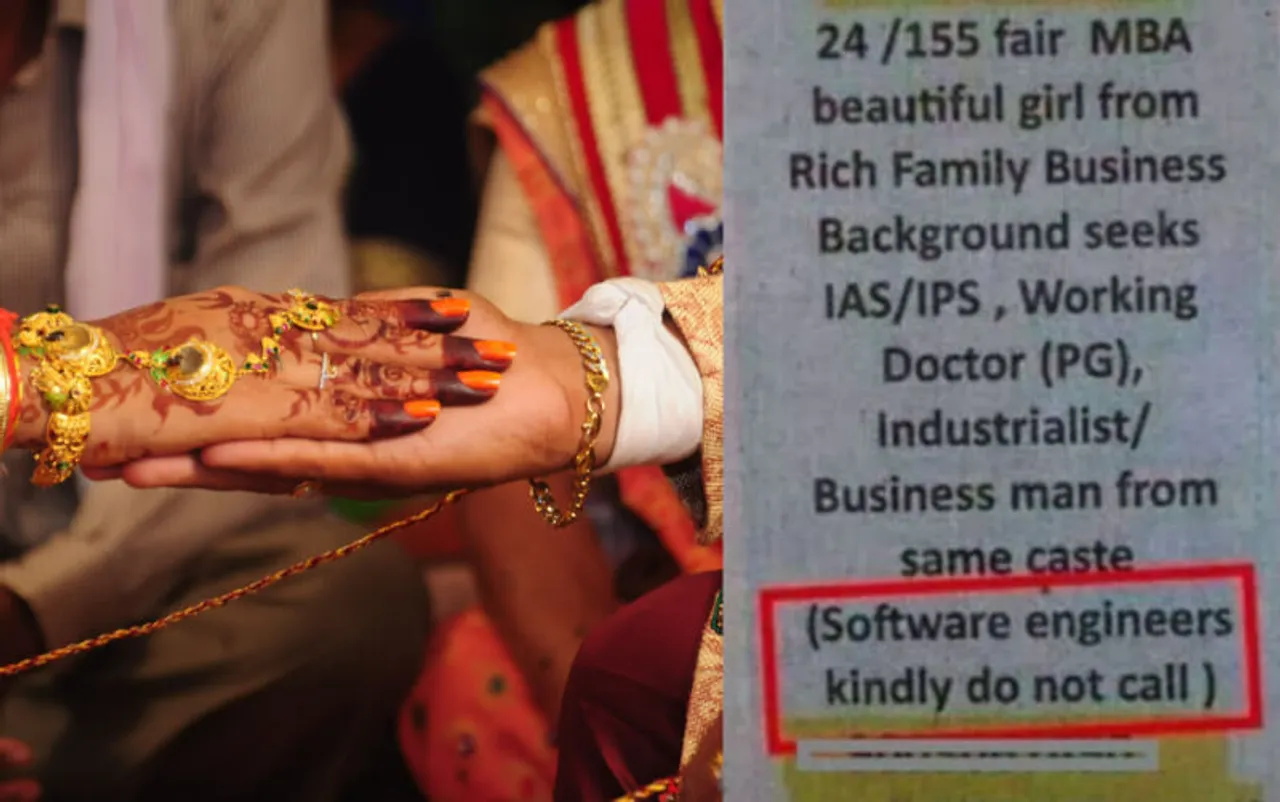 These days, a lot of matrimonial ads end up being a topic of discussion on social media, often because of the seekers' absurd or ridiculous expectations and demands. From misogynistic descriptions to conditions that almost feel like a prank, matrimonial ads also offer a unique insight into the arranged marriage scene of India.
Recently a picture of a matrimonial ad went viral which left engineers in the country wondering about their future. The picture shared by user Samir Arora on Twitter was of a matrimonial ad seeking a groom and read, " Groom wanted, Hindu Pillai NV 24/155 fair MBA beautiful girl from Rich Family Business Background seeks IAS/IPS, Working Doctor (PG), Industrialist/Business man from same caste". Apart from the description of the educational qualification required in the groom, there was a section in the end that said, (Software engineers kindly do not call)" which makes one wonder, what possible grudges could this family hold against software engineers?
The engineer bit is, however, not the only problematic part of this ad as the preference given to the same caste sticks out like a sore thumb. 75 years of independence, and caste continues to matter in India. When will this discrimination end?
Here are some other matrimonial ads which left us feeling baffled about people's choices and requirements, when it comes to marriages in India.
---
Suggested Readings: Leading Daily Says No To Matrimonial Ads Mentioning Skin Colour Of Women, Applause!
---
5 Viral Matrimonial Ads That Were Never Needed
Non-Feminist Bride Needed
There was a matrimonial ad of a young industrialist seeking a bride who wasn't a feminist. The ad read, "A Mysore-based bachelor industrialist having own international export businesses, with Rig and Atharva Vedic background of warrior caste (Kshatriya), presently earning in eight figures, 37 years of age, looking for an attractive bride with high aspirations and below 26 years of age strictly. She should be a non-smoker, non-feminist, good cook and never been married before or having any kid." Feels like he's still a bachelor.
Non-Facebook User
Another matrimonial ad specified requirement of a bride who wasn't a Facebook user. "Hindu Nadar, Age 32, MBA, 10 Lakh pm, 178 cm, own house + Business, Seeks a bubbly Tamil girl (Non facebook user)." Does it mean she can have a Twitter, Snapchat or Instagram account? What's this obsession with controlling women's digital lives in India? What on earth does being a "bubbly" girl even mean?
Patriarchal and Patriotic
Then there was this matrimonial ad that had a long list of "qualities" required in a bride, including "an extremist but compassionate, an expert in child raising and an excellent cook, Indian Hindu Brahmin working girl from Jharkhand or Bihar." The bride here is expected to manage a job along with raising children like an expert and cooking for the family after work. While the girl will be putting so much effort into her marriage, what will the man do? Where is the list of his 'capabilities'?
The Coveted Virgin Bride
If you thought creepy matrimonial ads were just part and parcel of matrimonial circuit in India, you are wrong. Our neighbouring country Pakistan is no better. Here's an ad from the country, "I am well reputed Landlord and rich person. I have a son and a wife. I need a Pious, Beautiful, Gorgeous, Good Height, 20-25 years old, at least Matric and a Virgin girl required for marriage." The irony is too much to handle as the guy himself is not virgin. He has a wife and a child already and is seeking a second wife who, unlike him, is a virgin. It's infuriating that in this so called 'modern age', people are still obsessed with a girl's virginity.
The Everlasting Demand For Slim, Fair, Beautiful Brides
An example of a sexist and patriarchal matrimonial ad read, 'We are looking for a very fair, slim, exceptionally Beautiful Convented girl'. A saddening aspect of the society is its obsession with fair skin and weight which has grave affect on the minds of young girls. Honestly, if you want thin, slim and beautiful, marry a laptop.
These ads are a proof of how a person's character and behaviour is low on the list of preferences in the matrimony markets. Brides must be beautiful virgins and men must be smart, earning a hefty paycheck. Do we ever look at how marriages forged on such preferences pan out? Are people happy when they marry for money or beauty? Unless we seek answers to these questions matrimonial advertisements will continue to throw at us sexism, castesim and whatnot from black and white pages.
Views expressed are the author's own.