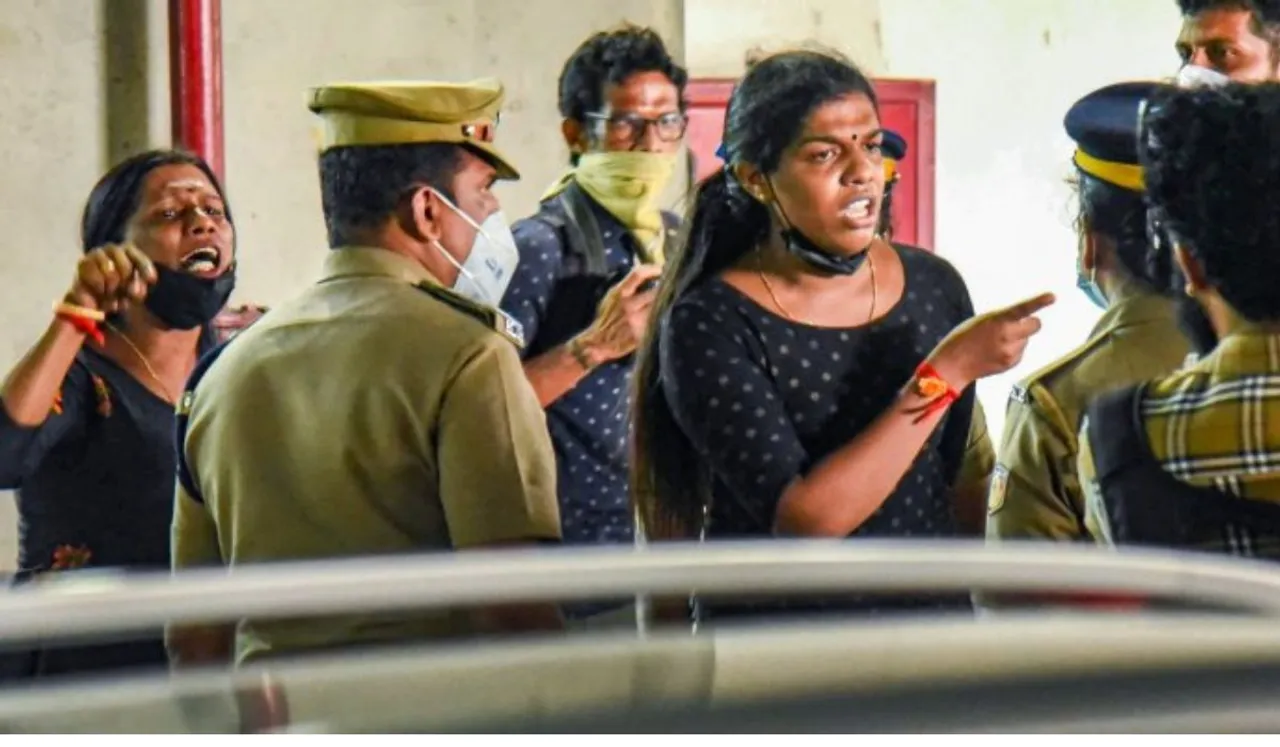 Recently in Kochi, police took two transgender women into preventive detention near Kaloor Metro Station amid a protest against the Chief Minister of Kerala. It is alleged that police stopped them and took them into custody for wearing a black dress and a black mask.
"The police officers stopped us when we were heading Kaloor to the metro station. They questioned us and told us they would escort us," said one of the transgender women. The chief minister of Kerala, Pinarayi Vijayan was nearby to inaugurate a private lab. Protests have been going on against Vijayan and that's why CM's security was beefed up. People are protesting against the CM for his alleged involvement in the UAE consulate smuggling case. Apart from these two transgender women several others were also detained including senior citizens for wearing black masks.
Transgender Women Detained
Black has a long history of rebellion but that doesn't give the police authority to book people. The two transgender women were seen as protestors and their wearing black was seen as a symbol of protest. Earlier people were stopped from wearing black masks in rallies and those who waved black flags were arrested. This incident was criticised by many as the discrimination faced by LGBTQ+ community people on a daily basis is beyond our thinking. 
A ">protest march was taken out on 13th June to the Palarivattom police station led by the Kerala Pradesh Transgender Congress in solidarity with its district president Anna Raju who was one of the transwomen to be detained.
Arunima, State president of the Transgender Congress, alleged that policemen had taken Anna and her friend into custody and had manhandled them in the police vehicle. 
BJP spokesperson Ms Sindhumol in a press conference said the transwomen were detained till the Chief Minister returned, and that thereafter they had to undergo treatment at the Ernakulam General Hospital after developing discomfort.
It has been witnessed that authorities display unfair treatment towards the trans community. The Cis-het narrative is still dominant in the society leading to trans people's exclusion and discrimination. Regressive attitudes, exclusion, ignorance, humiliation, fewer opportunities, oppression, and violence all fall in their bucket. 
Kerala as a state has made efforts to mainstream the people from the community, hence this incident comes as a shock. In 2016, Kerala became one of the first states in India to establish a welfare policy for the transgender community. They even introduced free sex reassignment surgery through government hospitals. A transgender couple Manu Karthika and Syama S Prabha got hitched in Thiruvananthapuram on Valentine's Day (14th February) this year. The state often is in news for hosting various LGBTQIA+ events.
SheThePeople spoke to people from the trans community about the Kochi incident and here's what they said:
"The way two Transgender persons were arrested in Kerala for wearing black is just terrifying. They were not protesting but moving towards their destination. The way the police handled the matter is regrettable. In place of booking them and taking them to the police station, the Police officers should have first ascertained whether they were protesting or not. This action of the police shows the bias and discriminative mindset of the law enforcement agencies. Still, the community is discriminated against, and people suspect the community," says Ritushree, India's first transgender woman stand-up comedian.
"This made me worrisome. Anyone telling anyone else what they can and cannot wear always triggers me. It reeks of misogyny to me," says, Rayyan, a transfeminine writer.
"A colour is a colour. You can't rule over a person wearing a certain colour. Trans people have all the right to decide what they want to wear and not anyone else. I'm enraged. Let us wear what we want to. I hope the government tries to better their treatment of transgender people," says Paras Dogra, a transman, and a trans language teacher.
---
Suggested Reading: JK Rowling Faces Backlash For Transphobic Comments On Twitter
---
The views expressed are the author's own.