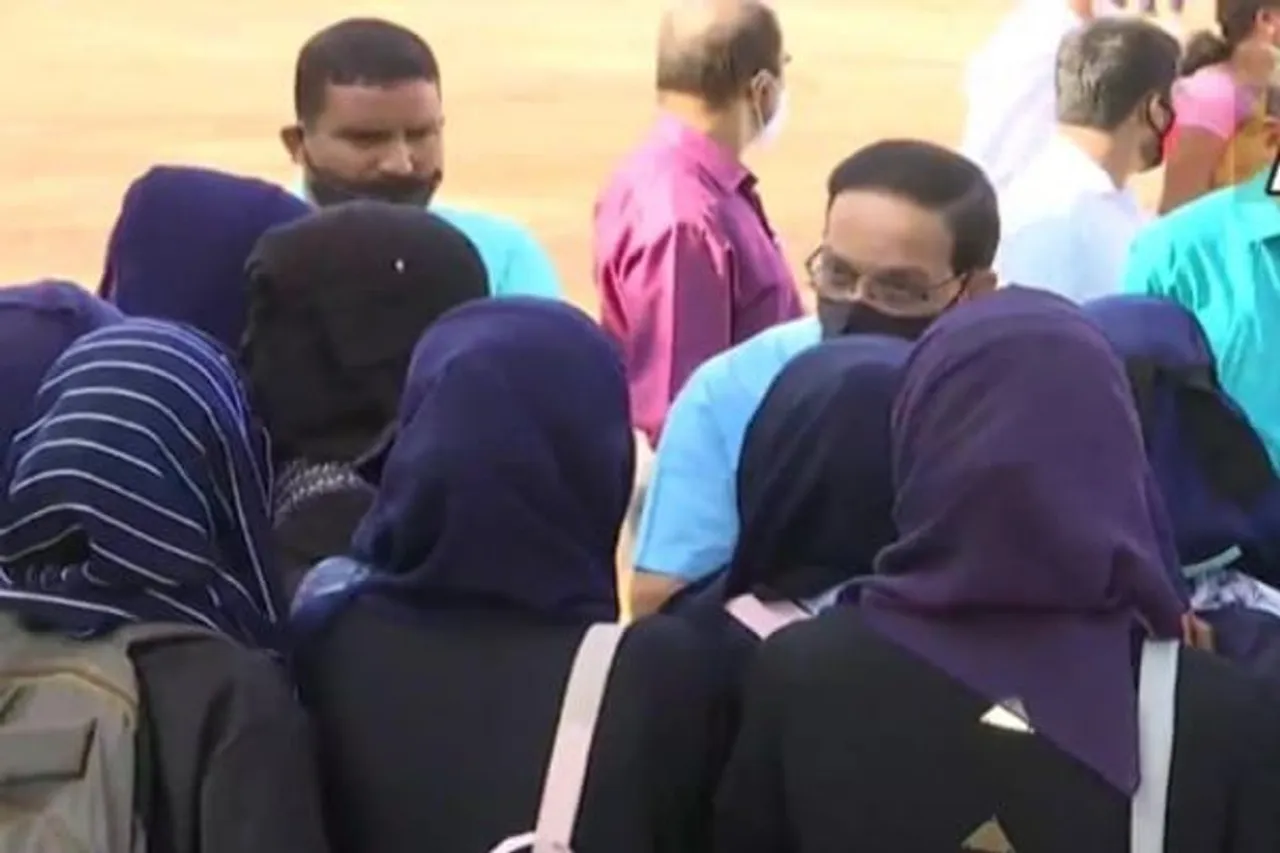 This last month two separate incidences have yet again proved that religious animosity is far from being a thing of the past in India. While actor Shah Rukh Khan was accused of spitting on the mortal remains of legendary singer Lata Mangeshkar by a leader of the ruling party, numerous college-going Muslim girls were told to ditch hijab if they wanted to attend classes. Indian Muslims have had to prove their alliance to the nation for a long, but the otherisation has never been so obvious.
No attempts are being made to even mask the agenda-driven politics that has drowned the alarm bells over other critical issues plaguing the nation. Who cares if India has 53 million unemployed people as of December last year? So what if over 31,000 complaints of crimes against women were received in last year, of which half came from the single state of Uttar Pradesh, which is on its way to electing a new government?  What the nation is busy discussing right now is whether or not Khan had any right to pray as per Muslim rituals at the funeral of a Hindu woman and whether banning hijab from college campuses liberate women or not.
---
Suggested Reading: Shah Rukh Khan Offered A Dua And Got Hate In Return
---
Muslim women in India and the freedom to choose
Agreed that the second debate is a more complex one than we might want it to be. No woman needs to be told what liberates her and what doesn't, it is something that she can and should decide for herself. However, we have to keep in mind that women are conditioned to see garments like ghoonghat, hijab, abaya or burkha as a part of their identity, thus making it difficult for them to question the deep misogyny rooted in the act of veiling their face.
But the debates that prime time television and social media are subjecting the Indian Muslim population to are shamelessly reeking of bigotry. It is as if they can choose either to choose to display their patriotism by mellowing down or cutting back on their religious identity or be branded as "anti-national" for being staunchly devoted to their faith. So by this logic, does being a Hindu make you a patriot by default? No. Unless you buy into a very specific idea of the Hindu religion, you too will be told to go to Pakistan.
---
Suggested Reading: Why Must Muslim Women Wearing Hijab Always Justify How Independent They Are?
---
Coming back to the controversy around Khan, it was disheartening to see a person's devotion and admiration for a legend reduced to his religious identity. The actor was policed for praying for the deceased a certain way. Would Muslims have approved if we went and sprayed gangajal at a funeral held as per Islamic rituals, many asked? But what we should actually be wondering is, how has it come to this? How did we let the final journey of one of India's most loved icons be marred by a controversy? Why could we only see the display of faith, but not love and respect?
What the extremists do not understand is that questioning a person's beliefs, policing them for displaying their religious identity only makes them hold on to them more tightly. And this holds true for every religion and every sort of religious extremism being bred around the world. Or maybe, these people know perfectly well what they are doing. For them, the agenda isn't nationalism, but using that very sentiment to polarise the country, create an unnecessary din are distracts us.
Who benefits from discourse? what consequences will it have for our nation in long term? We need to be asking these questions and we need to be asking them now.
 The views are the author's own.