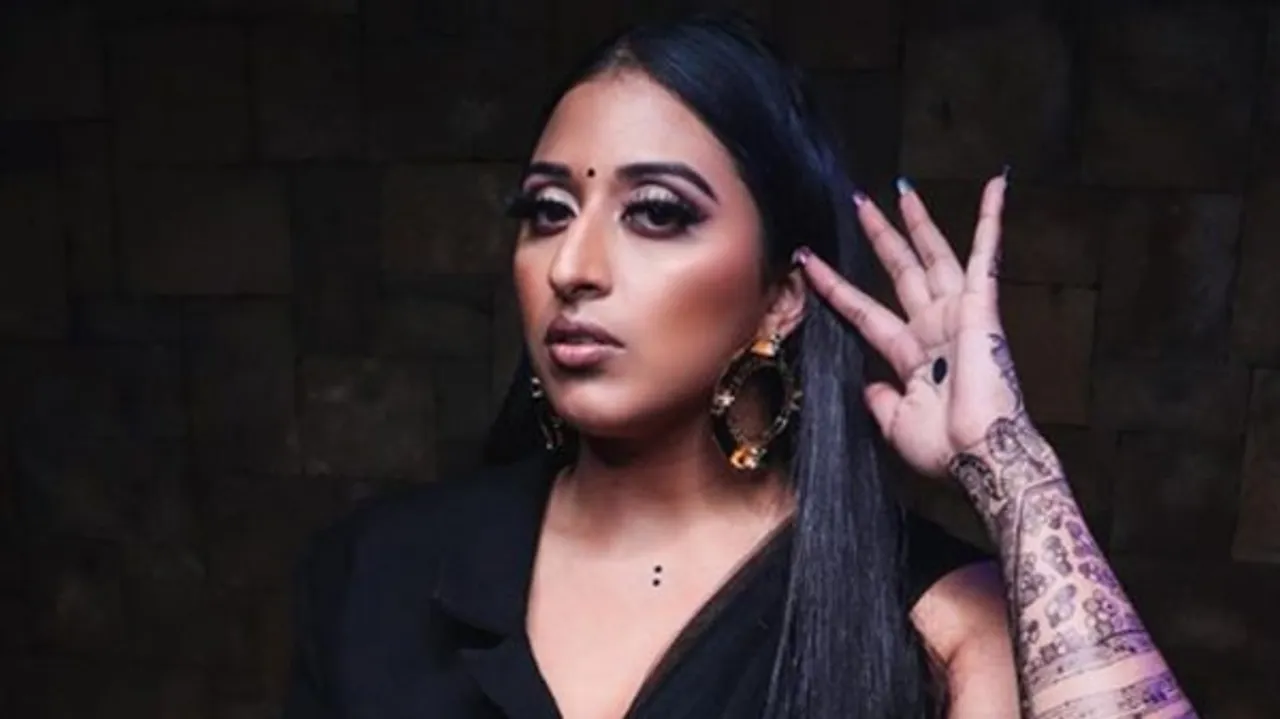 The indie music movement in India has attracted a following unlike any other in recent years. Male voices still predominate in the music industry's mainstream, but female indie voices are reclaiming the story with their daring, experimental, avant-garde, and introspective songs. Many women artists also published their first singles, EPs, and albums.
In their latest collaboration, ">Out of Love, vocalist-composer Raashi Sood and singer-songwriter Raja Kumari mixed synth with Punjabi pop and fervent hip-hop. The Punjabi and English song, which was written and produced by Hiten, was made available through Big Bang Music, and its gleaming music video shows both performers showing resiliency in the wake of a shattered romance.
Raja Kumari Rashi Sood
They have worked hard to come up with novel ways to engage their audience and have used music as a form of self-expression during challenging times. The up-and-coming and creative female voices in the independent music scene have the ability to unite disparate voices. Sood, who has previously entered the male-dominated realm of contemporary Punjabi music with songs like Sorry Sorry and Mil Mahiya through Big Bang Music, advances farther with Out of Love. Sood, an educator and musician, has previously worked with the producers Iconyk from Los Angeles and Mumbai and The PropheC from Canada, whose real name is Nealveer Chatha.
Women continue to be drastically underrepresented in the music industry as performers, producers, and songwriters, according to the second "Inclusion in the Recording Studio?" report from the latter, which examined gender and racial disparities in the sector from 2012 to 2018. A negligible gain from 2017's 16.8 per cent, only 17.1 per cent of artists with songs on the Hot 100 charts last year were female. Women made up just 21.7% of artists during the course of the seven years.
"I think a majority of parents would advise a girl child, especially, against doing anything related to the entertainment industry, thinking it's probably unsafe or because they are scared. As a child, many a time I have been told that this is not the right thing to do," recalls Rashi in an interview with SheThePeople.
From 2012 to 2018, women made up 12.3% of songwriters, while 43.3 per cent of those women were people of colour. More than half of the 633 tracks taken into consideration lacked even a single female songwriter. Particularly deplorable is the exclusion of women from the production workforce. Just 2% of producers in 2018 were female, a percentage that hasn't changed across the four years studied: 2012, 2015, 2017, and 2018. That amounts to 47 male producers for every female producer. Only four women of colour contributed to the 400 songs that were analysed at the time.
Raja Kumari, a singer-rapper, believes that the music industry is discriminatory against women, which is why she feels the need to push. She continues by saying that the men who work there aren't doing enough to create an inclusive environment. For Raja, who is now enjoying a career-high thanks to the success of her most recent hit with Sood, it is clear that female musicians must not only advocate for gender equality but also act on it.
"Male artists cannot imagine female musicians be number one," Raja tells us, adding, "I'm here to show them what it looks like." In her opinion, as more women come up in the industry to support each other, men can learn that there is not only one seat at the table. "We can literally make our own table," she asserts.
---
Suggested Reading: Meet the Women Disruptors in Mainstream Music in India
---
What women's experiences show is that the largest obstacle they encounter is how the music industry perceives women. Women are viewed as being skill-less, sexualised, and subject to extreme stereotyping. Women's career advancement will continue to be hampered unless those fundamental assumptions are changed.
The views expressed are the author's own.