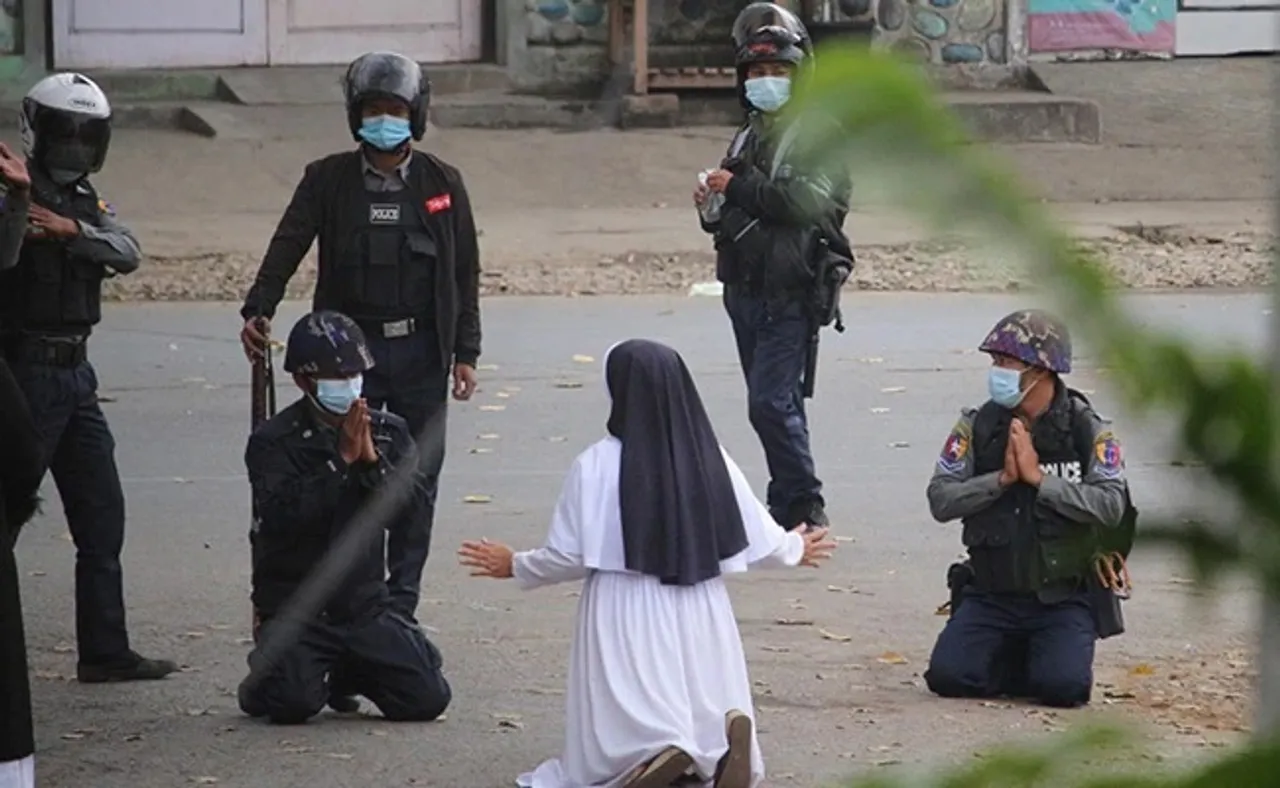 A photo of a Myanmar Nun pleading with military officers, to spare the children from violence during a protest, has gone viral on the internet. In the photograph, we can see Sister Ann Rose Nu Tawng kneeling on the ground before men in uniform, her arms raised and her back to the camera. You don't see Sister Tawng's face in the photograph, but you do see two military men kneeling in front of her. Violence brought down to its knees by compassion.
Myanmar has been undergoing severe political unrest. On February 1 this year, Myanmar's military detained its de facto leader Aung San Suu Kyi, President Win Myint and other political leaders, staging a military coup. This coup came after a landslide second term win for Suu Kyi's party National League for Democracy in the November 2020 elections. What has followed is a political protest led by the citizens of Myanmar and a violent crackdown in retaliation by the country's military.
It was during one such crackdown on a civil protest, that Sister Tawng knelt before the officers, asking them to spare the children and kill her instead. "I knelt down... begging them not to shoot and torture the children, but to shoot me and kill me instead," Sister Tawng said later.
The photograph that captures this encounter has since caught the attention of media and the Internet in general. While the turmoil in Myanmar is far from over, this specific image speaks of hope and compassion, that almost all the countries and citizens of this world desperately need. The world is not only dealing with a pandemic but a plague of hostility and animosity as well. We are angrier, bigoted and more unbending than we have ever been in our lifetimes. And it is not just about the general negativity that roams shamelessly on social media. It is about how we feel, in our bodies, as we live and breathe.
On those days when rage fills your heart, photographs like these keep you rooted and urge you to be compassionate. How many of us would put strangers before our own well-being? How many of us have grown numb to images of violent clashes and heartbreaking news? How many of us feel that this world doesn't deserve compassion, but a storm of hatred that will raze everything to the ground, once and for all. There comes a point when you, I or anyone around us may feel that way.
At that moment, look away from the image of a man pointing a gun at the protestors face, or that of an old person being trashed with a baton, or that capturing wounds from lathi charges, rubber bullets, etc., for a few seconds. Look at this picture instead. Or that of a Black Lives Matter protestor hugging a crying police officer. Your conscience needs the jolt that images capturing violence and depravity will bring, but your heart needs the warmth these images radiate, to help you carry on questioning bias in politics, regressive cultural norms and bigotry. To help you believe that you have the potential to change and to motivate you to invest more in compassion than hatred.
The views expressed are the author's own.