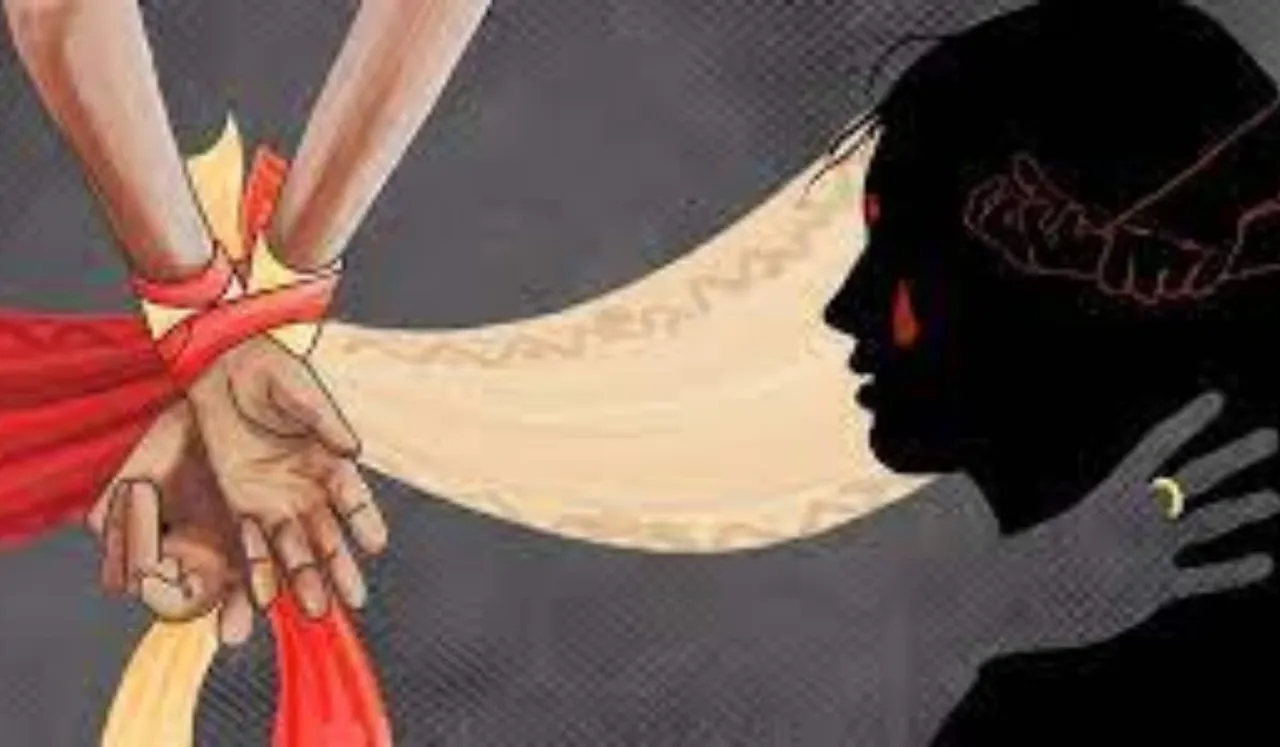 A Hyderabad man killed his wife, who had just given birth to their second child a month ago, for refusing his sexual advances. The accused, who is in his mid-20s, confessed to the crime after a case was lodged and some nail marks were found on the woman's neck.
The incident apparently happened on May 20 but was revealed 10 days later after the accused confessed to the crime. He revealed that he was angered when his wife turned down his sexual advances and strangled her to death in a fit of rage.
Man Kills Wife For Refusing Sex
After killing her, the accused informed their relatives, and the woman was taken to the hospital, where she was declared dead on arrival. Meanwhile, the woman's father lodged a complaint with the police regarding suspicion surrounding her death.
The police discovered some nail marks on the woman's throat during preliminary investigations, following which the accused confessed to the crime at Saidabad Police Station.
The post-mortem report confirmed the cause of death was strangling, after which the accused was taken into custody.
Men have a feeling of entitlement and superiority in patriarchal societies. They are raised to believe that their wife is bound to tend to their sexual desires, whether they feel like it or not. Ensuring that the husband is satisfied in bed is seen as one of the foremost responsibilities of a wife. Society comfortably says that men have a higher sexual drive and expect their wives to satiate their sexual needs.
But what about the woman's needs? What if she doesn't feel like having sex at that moment? Why is she trivialised as a sex toy that can be used according to a man's comfort and needs? Why doesn't her consent matter? After all, isn't she also a human being with bodily autonomy and agency over her life?
This is not the first time a woman has been attacked or killed for turning down her husband's sexual advances. In April 2023, a Kerala-based man named Rafiq killed his wife by suffocating her with a cloth for refusing to have sex with him. The incident happened while the couple's four-year-old daughter slept right beside the mother.
An Uttar Pradesh-based man, Mohd Anwar, confessed to killing his wife, Rukshar, after she refused to have sex with him twice in the same night. Angered by her refusal, he strangled her to death with a piece of rope. The accused was later arrested by the cops.
Where do men get the audacity to go to the extent of killing their wives when they are denied sex? Do these men lack knowledge of consent, or are they willfully ignorant of it because of the patriarchal beliefs ingrained in them? News of men's entitlement to sex from their wives gets out only when terrifying crimes like this are committed. However, there are several women out there silently enduring sexual abuse from their partner, either because they don't know that they can say "no" or because their "no isn't respected.
A woman remains a woman regardless of her marital status. Being married does not and should not take away her right to say no to sexual advances, even from her husband! This is why sexual education is the need of the hour for both children and adults. Unfortunately, despite being the cycle-breaker generation, not all of us have access to sex education because of the stigma attached to the three-letter word. Can we normalise discussing sex education before more lives fall prey to these crimes?
---
Suggested Reading: A Woman Staying With A Man Does Not Equal Consent For Sex
---
Views expressed by the author are their own