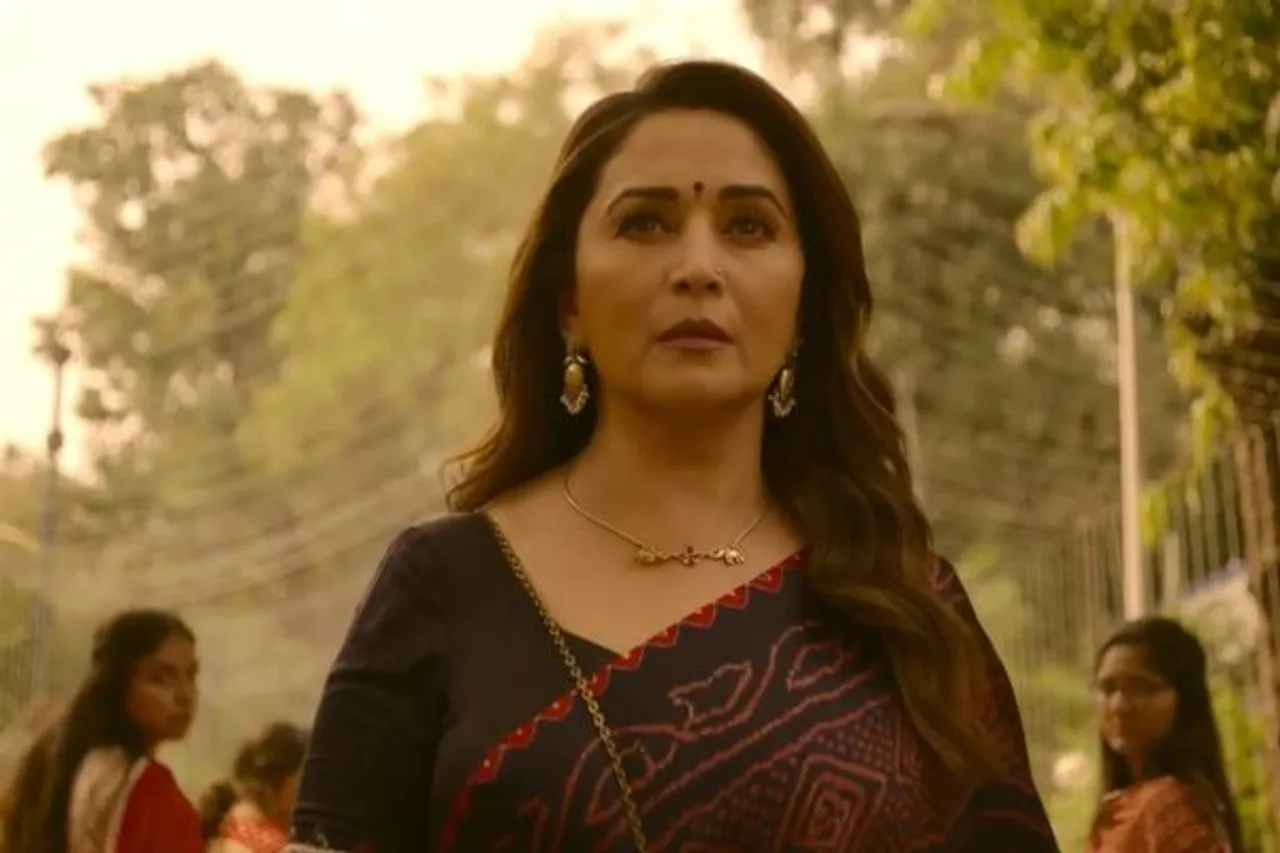 Madhuri Dixit starrer 
Maja Ma
 was released yesterday and has been receiving mixed reactions from viewers. The film provides a twist in the plot, which no one could gauge from the trailer.
Spoilers ahead
Indian audience is not watching Hindi films with mainstream actors talking about LGBTQIA+ for the first time with Maja Ma. Films like Ek Ladki Ko Dekha Toh Aisa Laga, Shubh Mangal Zyada Saavdhan or Kapoor & Sons have spoken about kids coming out to their parents and family members. But roles are reversed for the first time. Talking about gender identities or sexual orientation is not normalised in Indian households, even for the younger generation, let alone a parent.
In a heated argument with her daughter about her hypothetical sexual orientation, Madhuri Dixit's Pallavi Patel reveals that Pallavi herself is a lesbian. This news is a shock to her daughter, and the word spreads out fast among their family and neighbours through a viral video of their conversation. The reaction of her kids and spouse, and acquaintances make her life even more complicated. A mid-aged woman with kids in a seemingly happy marriage coming out as a lesbian is not something we have seen before.
Maja Ma Reminds Us Of Grace And Frankie
The situation reminds us of the famous series Grace and Frankie where the plot is based upon two men coming out as gay to their wives after 40 years of marriage and having an affair with each other for 20 years. Accepting your parents' truth can be difficult in a situation like this, no matter how woke a person is. Emotions of anger, resentment, curiosity and even affection concoct chaos. Even though the younger generation is aware of the different gender identities and sexual orientations and might be having an open conversation about it among their friends, no one prepared them to deal with it.
Both Maja Ma and Grace and Frankie show how the two lovers did not lose touch despite not having a chance to be together due to social stigma. In Maja Ma Pallavi and Kanchan stay as friends, and on the other hand, Robert and Sol in Grace and Frankie continue their affair behind the eyes of their families. In Grace and Frankie, the part of the characters preparing to come out wasn't shown but Pallavi's outing was the major part of the film here in Maja Ma.
Maja Ma Review
Pallavi's daughter might be an activist who speaks for the queer community. She tried to force her mother to out herself several times and got angry with her disobedience. Her son is not able to accept her reality. Maja Ma speaks about the uncomfortable situation that arises amidst happy occasions in the family. The sensitisation of treating the queer narrative wasn't the best. Still, it started a conversation about looking at parents as human beings rather than godly figures.
Maja Ma also demands the proper way of " target="_blank" rel="noopener">queer activism where allies shouldn't be taking up spaces of people from the community, and there is no right time to come out. It can't be forced upon someone to talk about until they are ready for it. The best thing an ally can do is be there for their loved ones and anyone they want to support.
The views expressed are the author's own.
---
Suggested Reading: Ahead Of Velma Dinkley, Here Are 5 Openly Queer Animated Characters That You Must Know About
---