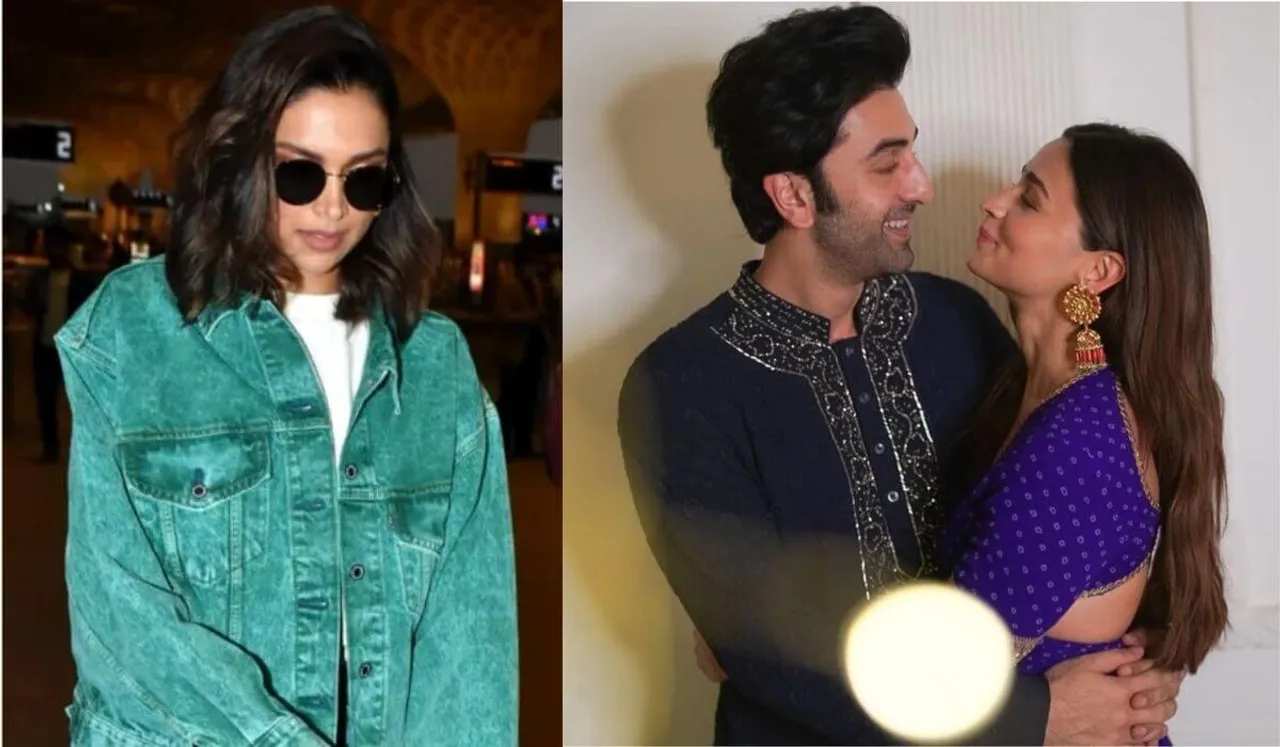 The morning of June 27 began on a happy note for the fans of actors Alia Bhatt and Ranbir Kapoor. Through her Instagram post, Bhatt announced that she and Kapoor are expecting their first child together. The couple, since the announcement, has been inundated with congratulatory messages from friends, family and fans from across the world. However, two female actors are being bombarded by their fans with questions on the lines of "Tum baccha kab kar rahi ho?"
Bhatt shared two photos in her post on Instagram. One saw her undergoing sonography with Kapoor by her side. Another was a photo of a lion and lioness with a cub. A heart emoji hid the ultrasound photo of the baby. She captioned the post as, "Our baby ….. coming soon."
Deepika Padukone trolled: Pregnancy is not a competition
The post has now gone viral and many fans have taken to social media platforms like Twitter to congratulate the couple. While many noted their hearts were full of joy and that they are anticipating "Junior Kapoor's" arrival. Some people even made memes, taking a dig at the paparazzi's obsession with photographing celebrity kids and how Taimur might lose his pap-favourite tag soon.
However, it did not take long before things became unpleasant as people started raising questions about the couple having a baby "too soon". Some could not exercise control over their juvenile sense of humour and dragged former partners of Ranbir Kapoor into the picture unnecessarily.
A user on Twitter shared a meme which was a screengrab from musician Gajendra Verma's hit song Tera Ghata. " Deepika Padukone to Ranveer Singh," the user captioned the photo which had lyrics of the song. The lyric read, "Thodi si bhi koshish na ki tune ." This was clearly aimed to make fun of the couple who have been married for four years but don't have any kids.
---
Suggested Reading: Bride Gifted Baby Feeding Bottle As A "Joke", Is Having Children A Necessity For Women?
---
Well, some even made memes of a dialogue from Gangs of Wasseypur which sees Richa Chadda say, "Kab khoon khaulega re tera ," and wrote offensive captions about Singh and Padukone. But it was not just limited to them; the users dragged Katrina Kaif and Vicky Kaushal into the mix as well, who got married in December last year.
What was the need to drag the two celebrity couples into the soup? Why can't we accept the fact they have all parted ways and are happy with the partners they have chosen for themselves? Why do we think couples are not happily married if they don't have kids?
---
Suggested Reading: Why Are Women Still Blamed And Shamed For Childlessness?
---
For every individual, the timeline of how their family expands is different, and should based on their priorities, not social norms. Just because someone's former partner is expecting a child does not mean they should also feel the urge to do the same. Besides, pregnancy is not a competition, it is -r should be a well-thought choice that every woman should get to make for herself.
Be it Padukone or Kaif, both are wonderful actors who have busy schedules with multiple projects in the works. Maybe they want to focus on their careers right now and have a family later. Maybe they, or any couple in their position doesn't want to have kids at all. All these choices need to be equally respected and celebrated.
Views expressed are the author's own