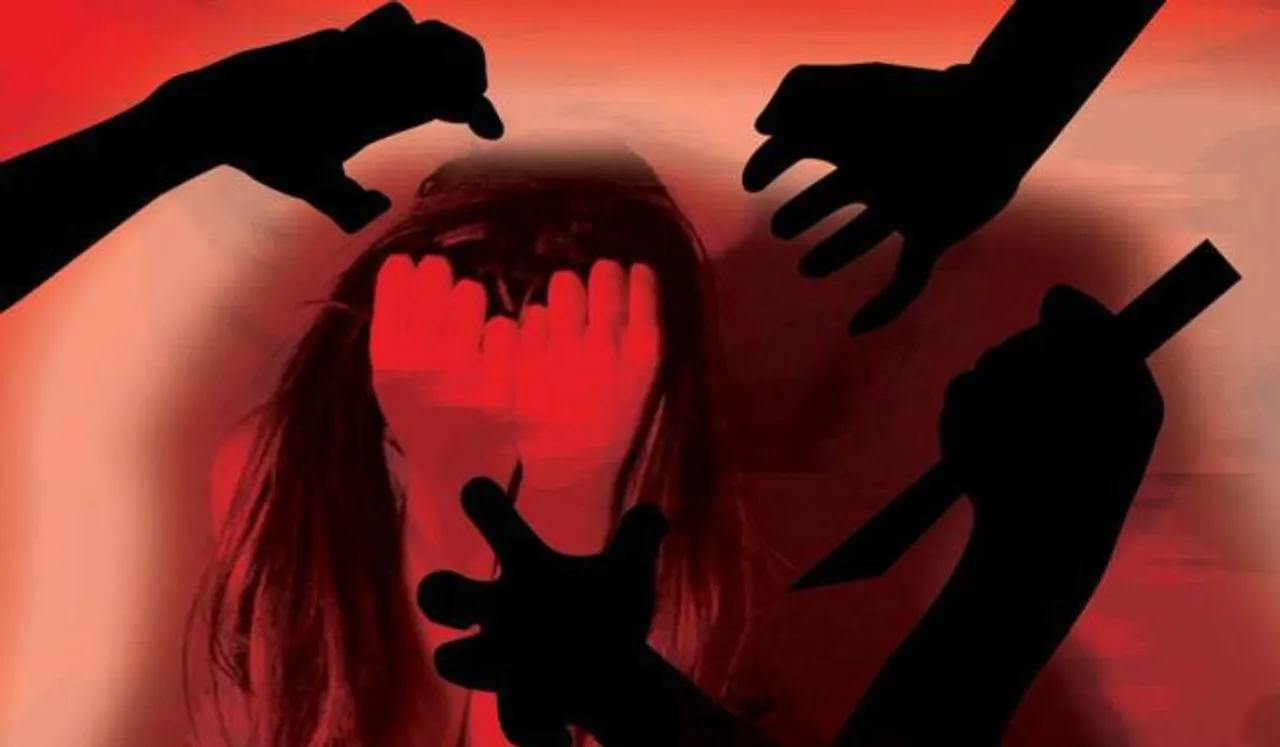 A Gujarat woman was stripped, abused, and thrashed in full public view by a group of men, including her estranged husband, in the Dahod district of the state. The incident happened on May 28, and following a video of the same that went viral, the police arrested four men who were involved on Wednesday.
The woman's estranged husband was apparently angry that she had been living separately from him and their four children with another man for the past one and a half years. So he, along with three other men, kidnapped her from Rampura village in the district where she was residing. They took her to Margala village and assaulted her.
Gujarat Woman Stripped Beaten
According to police officials, the woman belonged to a tribal community and had been living separately from her husband and four children. She had been residing with another man at Chanasma in Mehsana district, where they both worked as daily labourers. The man's mother had invited them and the woman's estranged husband to attend a wedding at Rampura village. The accused reached the spot in a four-wheeler along with a group of men, kidnapped the woman and her partner, and took them to Margala village, where they stripped the woman and thrashed her in public view.
The incident was videographed by a villager and posted on social media, where it went viral, following which the police took action. The video showed the woman being assaulted by a group of men, while her estranged husband was seen dancing during the incident. The villagers chose to watch instead of helping the woman. The police officials stated that further investigation into the incident is underway.
While not much about the past of the woman and her relationship with her estranged husband has come to public knowledge yet, where do men get the entitlement to resort to violence against women? According to the video, it's clear that these men, especially the woman's estranged husband, enjoyed inflicting violence on the woman. Does a woman's not choosing to live with her husband for whatever reason entitle him to attack her?
Isn't it a woman's choice to decide with whom she should live? When it's clear that the woman doesn't want to be with her estranged husband, couldn't they have amicably parted ways and separated legally? Probably, the woman had been living with another man before legally separating from her husband.
Extramarital affairs are wrong, but they don't entitle men to assault women. If a person doesn't want to live with someone for whatever reason, the relationship is broken beyond repair. Clearly, the partner who has moved out has made a choice. Why is rejection, especially from a woman, enraging men to unleash their demonic side?
And yet again, the video shows bystanders choosing to silently witness the incident rather than prevent it. Why is violence against women, especially inside marriage, so normalised that people don't feel the need to intervene? Is humanity dead?
---
Suggested Reading: Delhi Man Assaults Fiance, Calls It Lover's Quarrel: How Long Will Abuse Remain 'Internal Matter'?
---
Views expressed by the author are their own