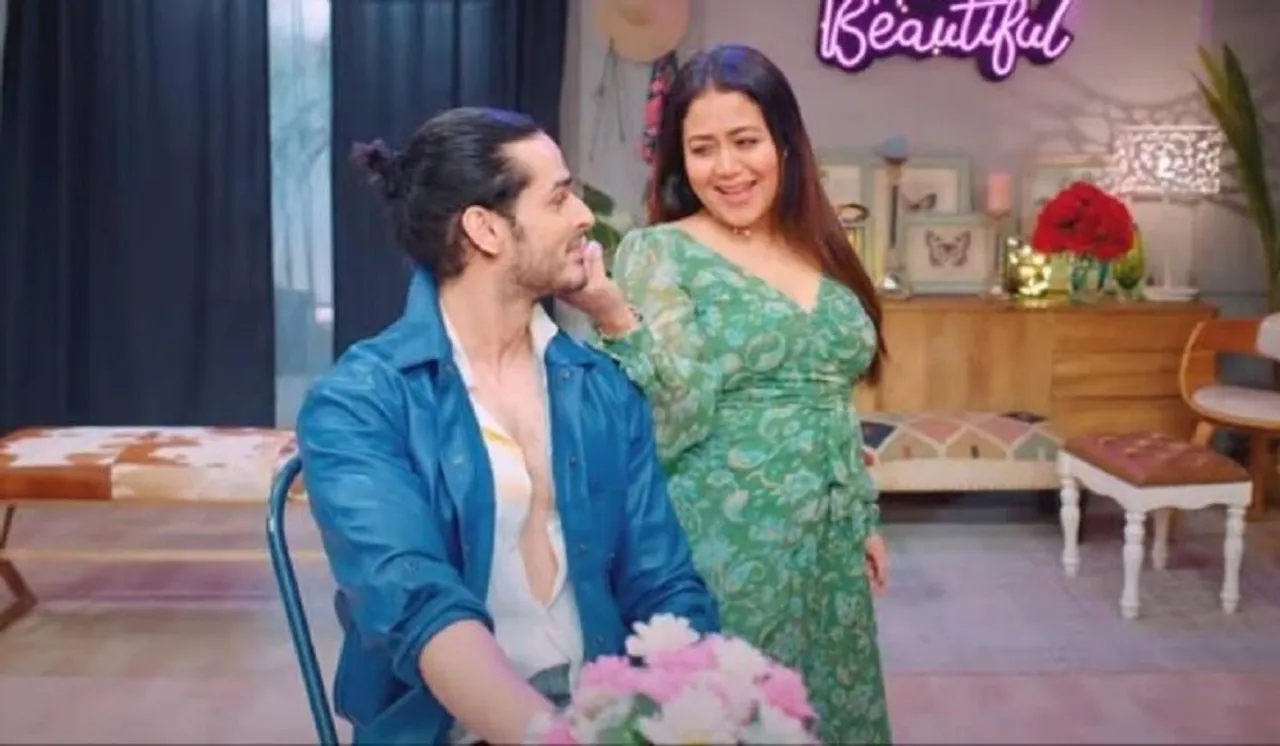 Neha Kakkar has been at the receiving end of a lot of trolling lately. The singer is being criticised for the release of her new track O Sajna, a remake of Falguni Pathak's 1999 hit song Maine Payal Hai Chhankai. Pathak, who seems unhappy with the version, had earlier shared screenshots of her fans criticising Kakkar's track on her Instagram stories. Words were exchanged at both ends, and huge drama unfolded, however, the controversy has now taken a new route.
A morphed video clip circulating on social media blatantly fat-shames Kakkar. The clip is from the 'O Sajana' music video wherein you can see Kakkar grooving to the song in a green slit dress with Priyank Sharma. However, the morphed version has replaced the song with a nursery rhyme about an elephant, thus fat-shaming Kakkar.
Resharing the tweet, a Twitter user called out the people who are partaking in this merciless trolling. The user wrote, "Against the remake but this is plain fat-shaming in the name of criticism". And I, for one, completely agree with him.
Why Fat-Shaming Neha Kakkar is wrong
Celebrities have always been easy targets for body shamers. In fact, it seems to be an intrinsic part of the price they pay to exist in the public eye. But does that make it right? Well, no.
Pregnancy rumours, comments about weight gain, and bullying for clothing choices all fall under the tasteless domain of all that encompasses body-shaming — and it happens even more often than you may think. However, despite the fact that this should be a universal rule of decorum, people are still prone to criticising the appearances of others.
It is one thing to criticise the song, but the audience resorting to body-shaming when they have nothing constructive to say is just plain brutal. It not only downplays her talent but also overlooks the efforts taken by many who worked along with her. We get it you don't like the remix, hate that she attempted to replicate a popular 90s song, but why criticise her appearance for it? In what world, is that fair?
As someone who is battling Polycystic ovary syndrome and has been gaining weight despite 'eating right and healthy,' the morphed video is a huge trigger for me. It reminds me of the constant policing that I face at home, by my 'well-wishing' relatives and long-last friends who slyly slide into my DMs to leave a 'you have changed a lot.' Yes, I did. And so do all our bodies. To pretend otherwise would be foolish. Everyone has a different body type and different health issues that we know nothing about. It's rather presumptuous to think that you are the flag-bearers of fitness who has the expertise or right to say things to strangers online. It is a humble request to stop posting nasty comments that would impact someone's mental well-being.
Not just Kakkar, many female celebrities across the world have encountered body-shaming. Mommy to two sons, Kareena Kapoor Khan recently shot down the buzz around her third pregnancy after a picture of hers went viral, with many claiming that she was showing a "baby bump". She quashed the gossip and wittingly replied, "It's the pasta and wine guys… calm down… I am not pregnant… Saif says he has already contributed way too much to the population of our country."
Nevertheless, it doesn't take away from the fact that people are quick to assume a bulging tummy for a baby bump!
We need to understand that a nasty comment will not manifest into any higher purpose, but in fact will only lead to comparison and shame, and perpetuate the idea that people should be judged mainly for their physical features. With the trending behaviours of celebrity fat shaming on social media, it is important to understand the potential consequences that may arise, which are usually damaging.
---
Suggested Reading: When Will Hindi Music Industry's Obsession With Remixes End?
---