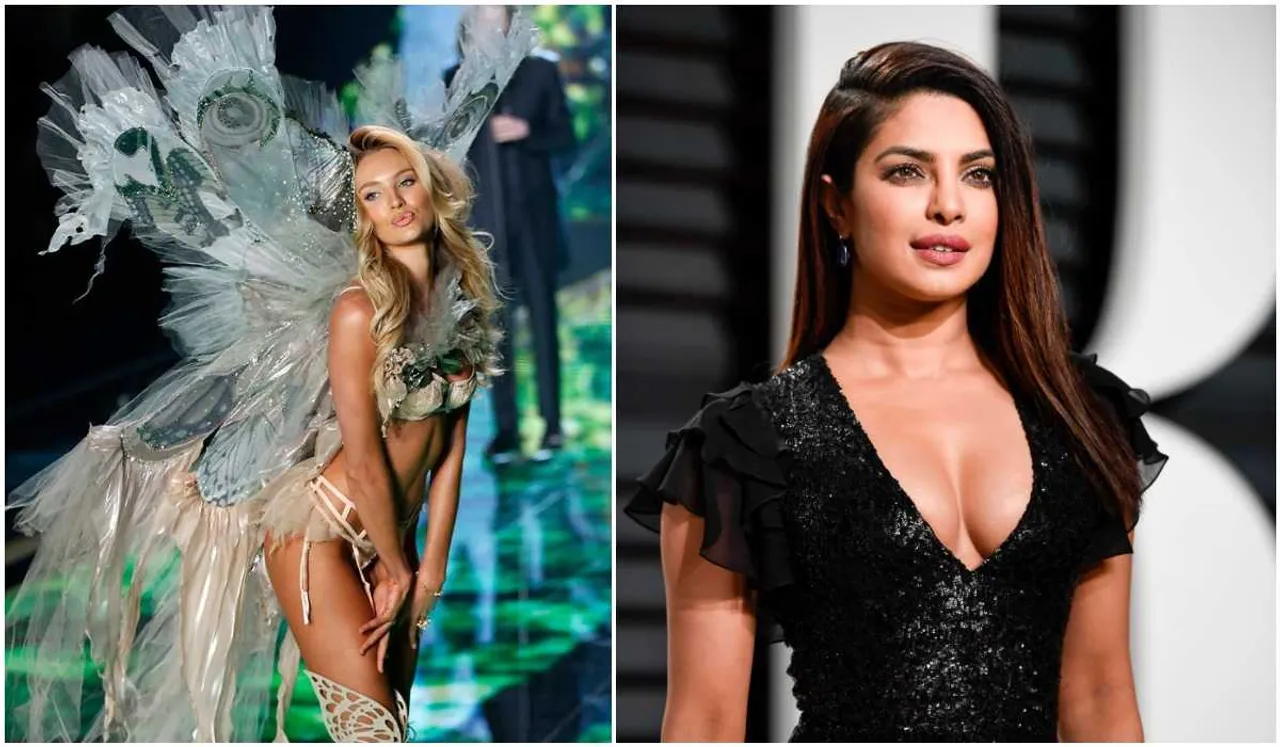 Curtains drop on a crackling era as the legacy of Victoria's Secret Angels comes to a close. The American lingerie brand in an explosive announcement earlier this week said it would replace its winged icons with figures known for achievements over proportions in an eye-popping rebranding overhaul.
"When the world was changing, we were too slow to respond. We needed to stop being about what men want and to be about what women want," Martin Waters, VS chief executive, was quoted saying by The New York Times. And with that, the company's Fantasy Bra series - its crowning jewel, so to speak - is also being flung.
New VS faces will include a colourful mix of widely known names from across professions (but also closely related to the fashion and entertainment industry). Megan Rapinoe, Eileen Gu, Paloma Elsesser, Priyanka Chopra Jonas, Amanda de Cadenet, Valentina Sampaio, Adut Akech are some of the most famous names on the collective.
A switch to such wide-ranging ethnicities, genders and especially sizes for representation is a welcome bombshell from VS, which has, since its inception in the 1970s, aggressively pushed the male-gaze narrative of thin, toned, sleek, sexualised women through its lingerie pieces.
All these people bitching about Victoria Secret's branding change are like "MEN WANT THE ANGELS" ok but no one gives a flying fuck what men want. It's a women's brand.

— Nicole (@excuseyounicole) June 17, 2021
Including the ab-fit Rapinoe to the curvy Chopra is an attempt to redefine the 'angelic' beauty standards the brand has been peddling for years.
But how far will this rebranding exercise impact real-time inclusion and sensibilities? Is it even trying to? By replacing one league of supermodels with another string of starry fashion names, will such rebranding strike the right chord with audiences? Is it solely to impact sales? Will it be able to push positive body image?
Victoria's Secret Angels Dumped For Inclusion: Internet Debates Validity
Victoria's Secret has been an industry topgun since the 90s when it began capturing the global imagination with its runway shows that exhibited, full-throttle, its decadent indulgence in male-directed femininity. The three dozens of bare-bellied, leggy Angels flaunting magnificent wings who walked the ramp over the years were made out to be ornate visions of attractive fantasies.
This illusion was bolstered by supermodels of the time - Tyra Banks, Helena Christensen, and Gisele Bündchen - leading the room.
Even as the model culture and its steady feed into toxic, one-sized beauty standards became suspect with increased discourse on feminism with the rise of the internet, VS kept its fantasy myth up. Memorably (not positively), in 2014, VS ran a campaign called The Perfect Body to promote a new line of lingerie. No surprises, stock VS Angel figures were marketed as the brand's perfect ideal. They later changed their posters to read A Body for Every Body.
The brand now admits its story has long been outdated.
Victoria's Secret Angels: Spinning a new story of 'beauty' perceptions, how far will it create impact?
Simultaneously, it is no secret that their market share does not enjoy the command it once did at the peak of its popularity. Last year, their parent company L Brands announced 200 stores across the US would be shuttered. It has led people on the internet to debate the authenticity of the inclusive rebranding:
Stop taking the bait on this Victoria's Secret shit

It's not some grand referendum on beauty standards, it's a company in the death throes of a multi-decades retail decline trying to regain some semblance of cultural relevance (and revenue…)

— pjeffa (@jeff82874662) June 18, 2021
While the whole concept of Angels is being done away with, on the basis that it fans toxic beauty standards and sexism, some are doubting the motivation behind the move. Are these new models not worthy of being called 'angels'? Is only the (formerly) prototypical VS body worthy of angelic status?
And Victoria Secret doesn't have to get rid of the angels concept. People just wanted them to be more inclusive. By taking that away, they are again saying only a certain type of body is worthy of that status

— ...0102 (@toldbylea) June 16, 2021
A lot of the criticism being hurled at the brand is also coming from terribly transphobic, homophobic, sexist spaces, with devotees of Victoria's Secret Angels angered over the shelving of their favourite part of the brand. Expectedly, much of this kind of criticism is coming from men.
This is wokeness. It destroys beauty and trades in orderly systems of society for chaotic messes.

Victoria's Secret gave into the woke mob. This is the before and after. What are your thoughts? pic.twitter.com/wy8BBo7do9

— Christian Walker (@ChristianWalk1r) June 18, 2021
One standout point is the likes of Chopra (Miss World 2000), Elsesser (plus-size beauty queen) and Sampaio (international transgender model) are all notable icons in the world of fashion. How much then will looking at women who - if not exact in physical proportions - but possessing similar hallmark beauty features bring change?
The rebranding thus seems to be more focused on inclusion and opportunity than an overhaul of the beauty standards culture VS has single-handedly contributed to in large part over the years.
It becomes impossible to argue against the inclusion of diversity in the brand, especially considering the deeply misogynistic attacks it has prompted, which prove the need for urgent change. Inclusion is a long-awaited reformation that thousands of brands, small and big, are yet to bring into their folds.
But what kind of story will be spun with these fresh faces? Will women of different sizes and colours and features and figures feel visible across the world? Or will this become a breeding ground anew for fetishisation and sexualisation of women's bodies? The Angels' feathers have been cropped. Whether empowerment takes flight now remains to be seen.
Views expressed are the author's own.