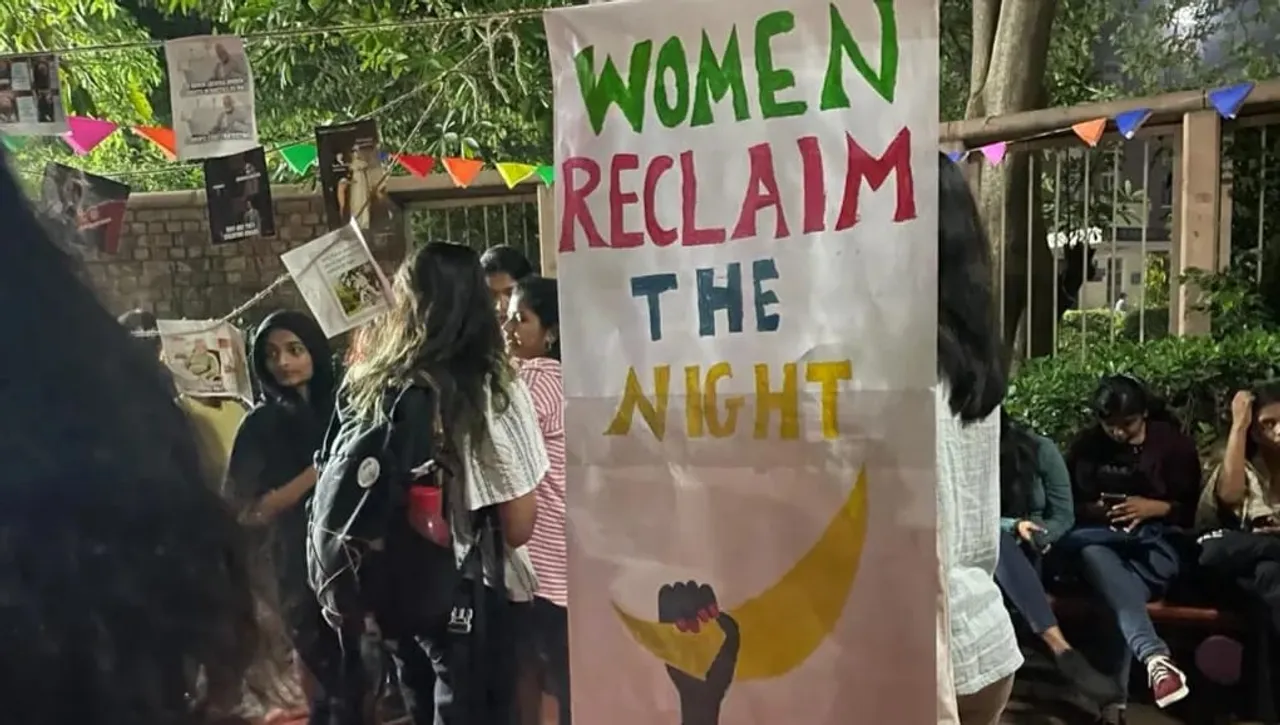 This week, over 130 women students of Delhi University broke the curfew of their respective hostels and PGs to join the Women's Night march conducted by the Students Federation of India at the Arts Faculty. The march aimed for the stakeholder of society to take a hard look at how the country deals with women's safety. Does confining women to their spaces and not letting them roam freely solve issues concerning their safety? Certainly not.  
Whenever women's safety is considered, it always streams in with innumerable constraints on them. However, is it really women that need to be protected in order to safeguard them, aren't men supposed to be taught better?
DU Women Night March
Whether it was the Chandigarh University incident or the recent Delhi one, the burden has, more often than not, fallen on women. The systemic patriarchal institutes have long restored victim-blaming and victim-shaming whenever a woman has suffered across any space in this country. The question remains - Does confining women under the pretext of protecting them solve anything?
The SFI (Students Federation of India) at Delhi University decided to address this, and more, through their impactful march. The women's night reclamation resolved to quash the long-driven obstacles that hinder girls and women from numerous opportunities out there.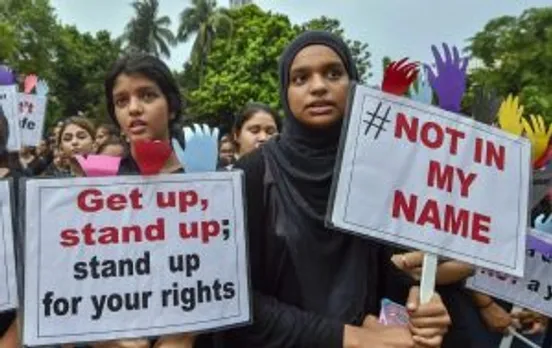 Protest for Women's Safety
Enabling venture by SFI DU
On the night of April 1st, 2023, as over 130 women students of Delhi University broke the curfew and walked out from their hostels and PGs to join the Women's Night March, they walked with hope. A hope to bring a revolution in a country that still fails to give them their rights.
The prominent motto was to impart girls a podium to voice their apprehensions and to delegate them to grab their freedom to haul around at night. The march began with a rally at the Arts Faculty at midnight. Participants were repleted with zeal and ecstasy to be emancipated from the grievances. They hymned songs to celebrate the strength and resilience of women.
Sharanya, Secretary of SFI Hansraj cites, "Girls who try to step out at night are threatened. We dwell in a patriarchal society and that's the major reason that suppresses women and girls from walking freely at night. We blazed the trail and over 130 girls joined up which is the testimony of our upcoming triumph over the hegemony of patriarchs. Following up on the pathetic incidents at IPCW where some men allegedly trespassed the walls and molested women, there is an apparent rage among women. We will collaboratively stand up to reclaim our rights to walk over streets, to assert our rights to move freely and speak up against every oppression."
Gopi from Zakir Hussain College says, "Women coming together and reclaiming our nights and streets felt like living the dream. Amidst all the hooliganism and chaos made by some men in certain women's colleges of DU and the administration restricting women to ensure "women's safety", women coming out to claim back campus is a revolutionary step in the history of DU.
We had a safe space to voice our concerns, and people to understand and heal together. Yes, it was our space, our streets, and our night. And we let out our heartfelt frustration. We felt like we were all a part of the experience because it was heartwarming. Although it wasn't a long journey for each of us, our walk and struggle will be long till equality for all genders."
Will walk under the open sky, says a girl from Hindu College
Many girls mentioned they had to get into a tussle with the PG owner and the hostel warden but denied their basic rights by saying, "It's unsafe outside". Despite this, we are here to promote unity and solidarity among women to make the event a triumphant success and acquire widespread support from the Delhi University community. The Women's night march is being perceived as a testament to the resilience and strength of women at DU.
 

View this post on Instagram

 
---
Suggested Reading: Indraprastha College Students Harassed: Can Delhi Ever Be Safe For Women?