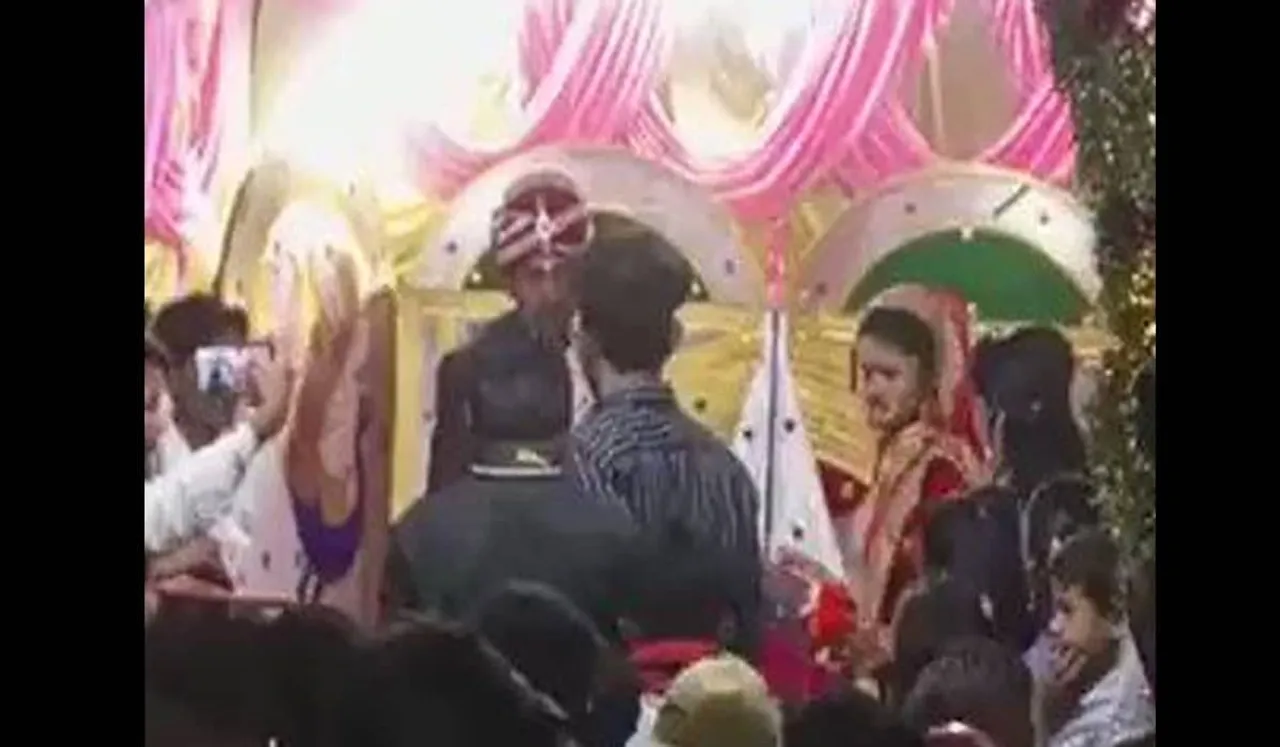 It is no news that unsuspecting videos of Indian weddings are an internet sensation. Be it for the brides' entries or some special performances: the videos once uploaded online go viral within moments and gain massive popularity. A video from a supposed wedding in Uttar Pradesh gained popularity last week because a groom was slapped by his bride in the video.
A bride walked off the stage after slapping her groom across his face twice. Why did she slap him? No one knows. Did the video incite laughter from people? It sure did. Internet dubbed the Will Smith-Chris Rock slap gate funny too and a barrage of memes were doing rounds on the internet within minutes of the incident unfolding on live television.
Have we ever wondered why seeing someone, especially men, being hit, harassed or "roughed up" is so funny to us? Why is it that when women are hit, it makes us uncomfortable but not with men?
Undoubtedly, we women have suffered and continually undergo systematic violence including gendered violence and domestic violence because of the deep-rooted patriarchal make-up of our society. It is indeed a grave issue and women need our support. But we should not assume that men are not affected by gendered violence or domestic violence.
---
Suggested Reading: When Will We Acknowledge That Emotional Violence Is Abuse?
---
The ongoing court proceedings and the public feud between actors Amber Heard and Johnny Depp have been drawing attention because of the revelations from either party. As the internet continues to debate over who the aggressor was, the case has brought up a larger issue that not many seem to be talking about: Men being survivors of domestic violence.
Domestic Violence Against Men
The National Coalition Against Domestic Violence in their report had mentioned while one in four women can be victims of domestic violence; one in seven men also face domestic abuse. Moreover, there were reports from other countries that suggested that during the pandemic and subsequent lockdowns, calls from male survivors of domestic violence increased.
Is it astounding to learn that men are also abused? If one in seven men gets abused, why don't we hear stories about them? What discourages the men from being abused from speaking up?
The first factor that discourages any survivor of abuse from speaking up is believability. Male survivors of abuse also feel the shame and more so because men are supposed to be "strong" and should be providers. There's a fear looming large over them about being mocked and not being taken seriously because we never imagine men being on the receiving end of abuse, rather we see them as aggressors primarily. At times they don't even view themselves as survivors of abuse, especially queer men who are in abusive relationships, a study suggested.
An inadequate legal framework that will also safeguard men who are being abused is another deterrent that prevents men from speaking up about them being abused. In Indian society, crimes perpetrated against women still go unreported because of various reasons in spite of having a legal framework that does safeguard them. For men, who don't even have that support, it is much more difficult to address these issues.
Dr Elizabeth Bates of the University of Cumbria has extensively researched about and works with male survivors of female perpetrated intimate partner violence, a branch of larger domestic violence and abuse. Bates' work encompasses accounts of domestic violence faced by men.
Her research had detailed accounts of physical, sexual and emotional violence and coercive control where friends, family, children and finances were brought into the fray with threats of false allegations and manipulative techniques.
The follow up of her study inferred that the violence and control continued despite separation. "Ex-partners use legal and administrative systems to manipulate men, resulting in parental alienation, harassment and false allegations," she had said. Like Bates' study, many others have inferred the need to examine the prevalence of domestic abuse against men.
We need to understand that domestic violence is a grave issue regardless of who's at the receiving end. Help to the survivors should be equally available and we need to take stock of how we can help the survivors regardless of their gender.
Views expressed are the author's own