As we work to advance gender equity globally, it is very important to celebrate the many contributions and achievements of women in all aspects of society. The gains that women have made over the generations are undeniable. Yet, we must also acknowledge that significant work remains to be done to fully achieve gender equity.
Importantly, this was the theme of the March 8, 2023, International Women's Day -- #EmbraceEquity to celebrate the global achievements of women and fully collaborate to eliminate the unequal playing field experienced by women.
Development of STEM education and women: Where we stand
As an Indian-born woman and a career mechanical engineer, university educator, early employee of a successful software startup – and now president of Oregon State University in the United States – I have witnessed both gender inequity and progress for decades.
To address gaps that still separate women and men across the world, a potent equaliser is to dramatically increase science, technology, engineering and mathematics (STEM) education, research and career opportunities for women. We can no longer accept what many other women engineers of all ages and I have experienced during their early schooling and university education; their work as university faculty and researchers; and their private sector roles as employees and leaders.
My own journey as an engineer began in India decades ago. As a young woman, my parents provided me with rare access to engineering education and many opportunities to grow and achieve. With their encouragement, I attended the Indian Institute of Technology, Kanpur. Many times, I was the only woman in the room. Again, with their encouragement, I came to America for graduate school.
Throughout this time, I achieved many firsts: I was the first woman to obtain a PhD from my department at the University of Minnesota; the first woman full professor in my department at Purdue University; the first woman department chair at the University of Texas at Austin; the first woman dean of UCLA's Samueli School of Engineering – and now at Oregon State University, I serve the institution as its second woman and first person of colour to serve as president. But these are the firsts that I wish were no longer considered remarkable.
Today, there are many women in STEM fields, who while not the first, remain part of an unacceptably small minority. And yet, it has never been more important to expand the presence of women in STEM.
Women deserve the opportunity to access creative, rewarding and lucrative STEM careers. At least as importantly, society needs the creativity, talent and unique viewpoint that women bring to the STEM workplace. No country – nor society as a whole – can afford to throw away half of its human capital.
Yet, a recent federal U.S. labour study found only 16.5 percent of employed engineers and architects were women, compared with women being 40 percent of all chemists, 46 percent of biological scientists and 80 percent of health care professionals. In high-tech firms, even fewer women than 16.5 percent hold executive leadership positions or serve on company boards of directors.
Globally, UNESCO reported that in 2017 in Central Asian countries, women in STEM-related fields totalled 48.5 percent of the R&D engineering workforce, but were only 25 percent of those employed in East Asia and Pacific nations and 23.1 percent in South and West Asian countries. In India, according to World Bank data from 2019, women made up nearly 43 percent of the total graduates in science, technology, engineering and mathematics – one of the highest percentages in the world – but comprised just 14 percent of scientists, engineers and technologists actually employed in research and development.  This picture needs to change and the work starts at home with parents; continues through high school and in colleges and universities; and must progress in the workplace as well.
Such a goal is a priority in Oregon State University's College of Engineering, where women enrolled in engineering have increased from 14.8 percent to 22 percent over the past decade. Oregon State University's engineering college was recently named one of the nation's top three public research-intensive colleges of engineering for the percentage of engineering faculty who are women. These changes took place because the college disrupted how it hires faculty and supports its students to minimise gender and other forms of bias.
Much more remains to be done. Here are some strategies that I believe will help advance gender equity in STEM:
Starting early in grade and high school, we must portray STEM fields as the exciting, creative and rewarding fields they are; promote STEM careers as socially acceptable careers for women; and celebrate and teach the history of women inventors and entrepreneurs, scientists and engineers.
In colleges and universities, we must deliberately build pipelines of women students in STEM fields; retain them through undergraduate and graduate educational pathways; create a supportive campus climate for women; connect women students to STEM internship and employment opportunities; and develop their leadership and entrepreneurial skills. It is especially important to develop a gender-equitable professoriate in STEM fields.
In the workplace, we must ensure equity in the hiring, retention and promotion of women in STEM fields; develop a supportive workplace climate for women, including family-friendly policies; and ensure equity in pay and professional advancement opportunities.
In the home, we must work toward having an equitable distribution of household and child-care duties to support women professionals.
As a woman and university president, I am committed to expanding the representation and success of women in STEM fields. I am inspired to do this work at Oregon State University, across the United States and globally. I ask that you join me in making a difference.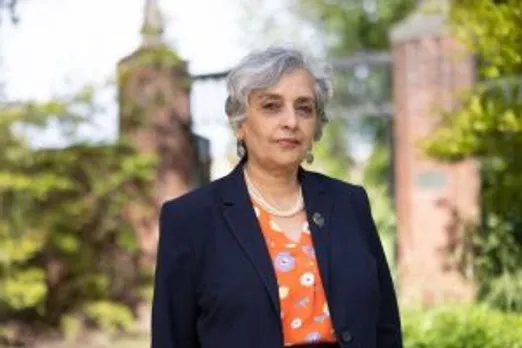 Jayathi Murthy, President, Oregon State University
---
Suggested reading: How Jayathi Murthy, First Woman Of Colour President At Oregon State University, Strives For Inclusivity