A colleague of mine is the only daughter of her parents. She moved out of her city of birth once she completed her studies and got a job in a different city. Then she married a person of her choice who was from a different state, thus shifting to his city. Life was normal, she had a daughter, and everything was fine. But suddenly without her realising she discovered that her parents have grown old and could hardly take care of their daily chores.
Initially, she took long holidays to be with her parents as they were reluctant to move in with her (how can they move into a daughter's home). But when it became impossible for my colleague to manage things long distance, she emotionally blackmailed her parents to shift in with her. They did so reluctantly.
While we applaud such daughters, we do not know or understand the inside struggle, the shift in dynamics with their husbands and in-laws that they have to endure. My colleague had confided in me that she had regular fights with her husband when she went to look after her parents initially. And when her parents shifted in with them there were adjustment challenges. Belonging to different states, the two sets of parents were as different as chalk and cheese. Her in-laws live separately in a nearby apartment while her parents live with her. She often told me that no matter what she did or how much she did, it was never good enough for her in-laws. She kept asking me if being a good daughter made her a bad daughter-in-law.
In India and in other societies too, marriage as an institution is shaped such a way that it favours the man and his family. Look at any belief or tradition- it aims towards separating a woman from her birth family. I remember one of my friends told me that once she was married off, her parents were reluctant to eat or drink in her new home; even if they had to, they left behind some cash in return.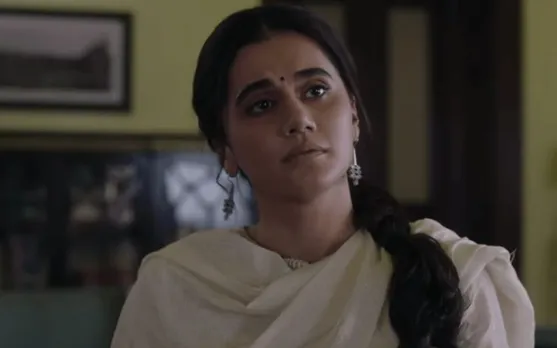 A still from the film Thappad.
Why do you think "ladkiyan paraya dhan hoti hain" is drilled from the very beginning into girls conscience in their maternal homes? "Shaadi ke baad pati hi sab kuch hai", "Agar tumhara naya pariwar tumhe kaam karne de toh hi karna, zidd mat karna", "Becoming a mother is the biggest blessing for a woman", or "Looking after your in-laws, husband and kids is bigger than running after a job". The worst I have heard is that, "whenever there is interference from the mayka side the marital family life of the woman is in jeopardy so the myka side should be kept at an arm's length".
---
Suggested Reading: Why do women stay in sexless marriages?
---
Though women in India have the support of the highest court of the land, who, in a landmark judgement have said that women are equally responsible as sons for the caregiving and maintenance of their parents and also that women have equal right to ancestral property, but how many married women can and do take up the responsibility of their parents? Look around, hardly any. Why is that so? Because once married, a woman has to obey the diktats and follow the traditions of her marital family.
Even if a woman goes visiting to her parents place she is treated like a guest and is not involved in any family decision.
So, when women like my colleague break this mould, automatically they will become a bad wife and daughter-in-law even an irresponsible mother.
I remember another instance when one of my cousin sister's father-in-law went into coma after an accident his daughter, my cousin's nanad, was taking care of her father as she was in the same city. This was the arrangement because her husband was in the Army and was posted at the border and so could not take leave and she herself had just had delivered a baby and so was with her mother. Things were fine for a couple of months, but then her nanad's husband told his wife, why are you so involved in caregiving of your father, isn't it the responsibility of your brother and his wife? So, my cousin at the insistence of her ">husband had to shift and start looking after her FIL. This went on till two years till he passed away in his comatose state. What I am trying to point out here is the fact that woman are discouraged from becoming responsible daughters as its seen as being negligent towards her in-laws side.
Fighting this perception is a task no doubt for women but women like my colleague are doing it. That's the only way women can break stereotypes and biases. Women have to fight their own battles nobody will fight for them.
Views expressed are the author's own.