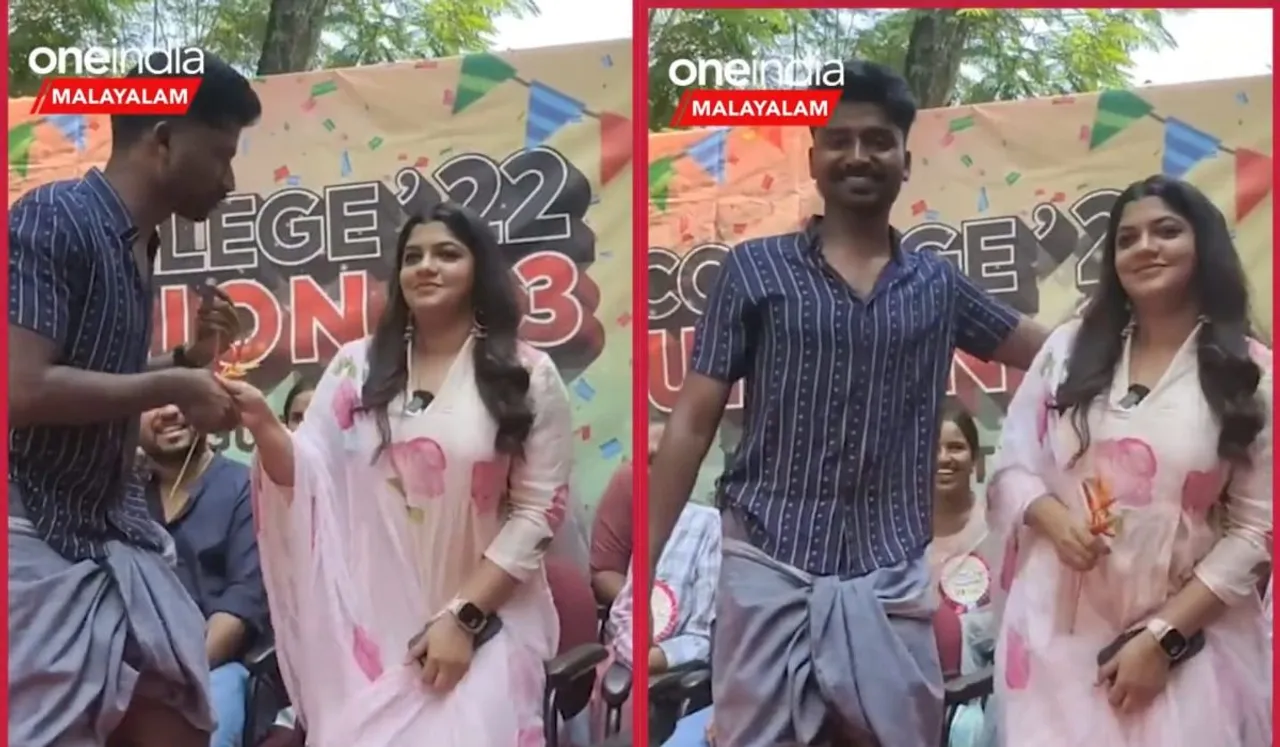 Actor Aparna Balamurali recently graced a college event at Ernakulam Law College in Kerala for the promotion of her upcoming film, Thankam. A video from the event surfaced on the internet on Thursday.
The video shows a fan coming on stage to take a photo with the actor and being touched inappropriately, making her feel uncomfortable. The video was shared on Twitter by OneIndia Malayalam.
According to a latest update, the student, identified as Vishnu, a second-year LLB student has been suspended. After the video went viral, several people demanded for action to be taken against the student. "What, isn't it a law college?" wrote the Soorarai Pottru actor on Facebook.
Aparna Balamurali Touched Inappropriately By Student
Despite his inappropriate behaviour the student was allowed to get on the stage for the second time. Why wasn't he removed from that place immediately and instructed about boundaries and respect by the authorities? or by anyone at all? Why were people laughing and cheering? Has harassment become funny now? Oh, I guess it's heroism for students like these!
Despite being shocked and sickened by the student's inappropriate behaviour, Aparna Balamurali seemed to have handled the situation so gracefully. This made me wonder if this was due to a lack of knowledge about personal boundaries, a conscious violation of personal boundaries because she is a celebrity or male entitlement. Looking at the video a second time, I realised it was a collective failure of society.
An Act Of Boundary Violation
Why is everyone just laughing as if something funny just happened? Of course, no one is expecting a male saviour to jump in and save the damsel in distress. But these students should have been instructed by the authorities to behave. The actors have come to grace the event, not to entertain the students' inappropriate behaviour. What is more disheartening is that, this is a law college and this student is studying to be a lawyer.
Male entitlement is a concerning issue in patriarchal societies. Whatever men do, society dismisses it by saying 'boys will be boys'. So when and how will men really learn about boundaries and respect? Right from childhood, boys are raised with a sense of superiority at home, and they grow up to become adult men who expect the same entitled treatment everywhere because they believe they deserve it. Internalized patriarchy has led men to believe that male entitlement is their right.
Moreover, celebrities, especially women, getting harassed, groped, or inappropriately touched by the public is quite common. Some people believe that it's okay to take advantage of them because they are celebrities. Stars like Deepika Padukone, Sonakshi Sinha, Katrina Kaif, Sonam Kapoor, Janhvi Kapoor, and Jacqueline Fernandez are among the female actors who have been mobbed by the public. They work in the film industry, and adjustments are part of their work. Why is a small touch going to bother them? Unfortunately, this is the culture that has been fed to many.
Furthermore, how many of us are really aware of personal boundaries? How many of us have imposed them in our lives? For the uninformed, personal boundaries are a basic set of guidelines that people set for how they want to be treated. A stranger standing too close to us or touching us is a violation of our physical boundaries. A relative nagging us with questions regarding our personal lives is a violation of emotional boundaries. Being bullied at school or work is a violation of psychological boundaries.
Boundary violators are sometimes unaware of the concept of boundaries. In that case, it is essential that educational institutions and parents take it upon themselves to teach children about boundaries from a young age. Setting boundaries takes practice, so the sooner the better.
The aforementioned incident is just one example of a boundary violation that happened to a celebrity. However, many of us have our boundaries violated on a daily basis, both by family and strangers. A lot of times, we barely realise it until it's too late. It is vital that all of us have an established personal boundary and make others aware of it for our own well-being.
---
Suggested Reading: Who Is Aparna Balamurali? Actor Wins National Film Award For Best Actress
---