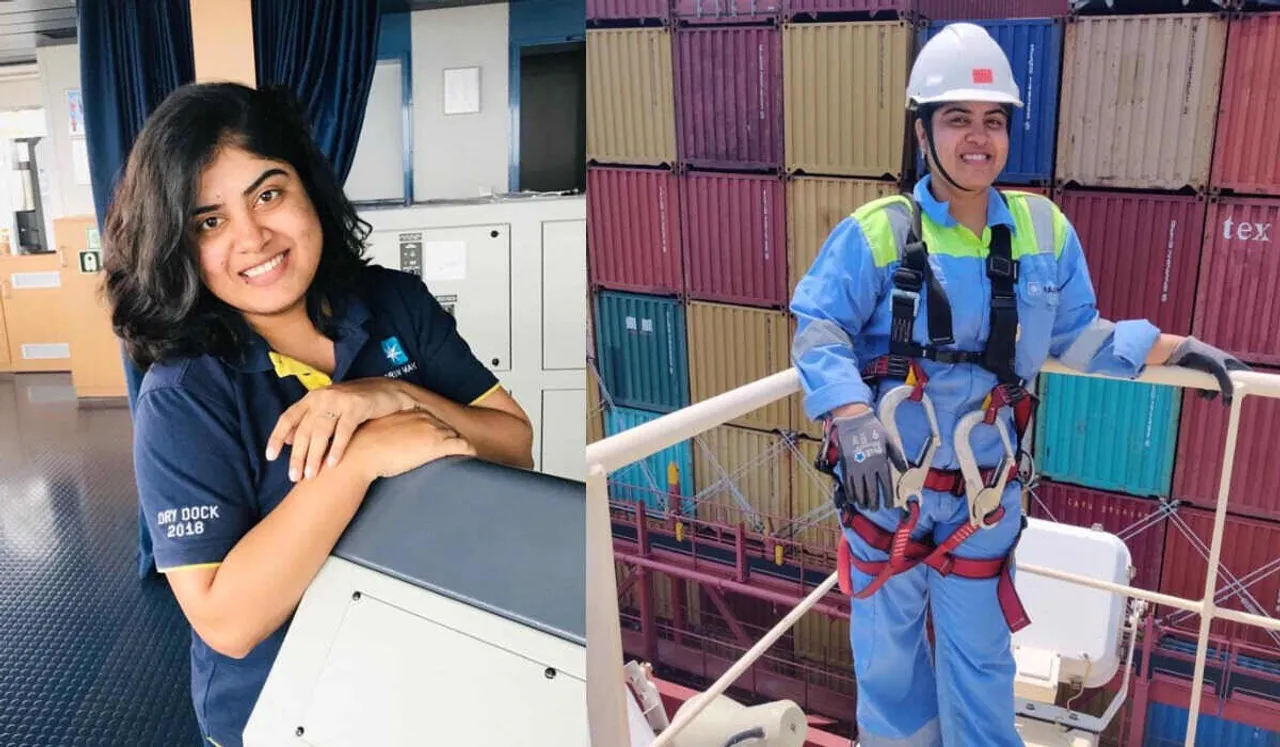 Yuvarajalakshmi Bharathi's mother always told her either soar through the sky or navigate the vast seas. This is something that stayed with her literally, and Bharathi grew up to become one of India's remarkable seafarers.
Second Officer (Observer) at Maersk, Bharathi's journey is inspirational in more ways than one. She not only fought societal stereotypes but also stayed put at sea, in a working environment that was largely male-dominated. Bharathi, who also embraced motherhood, decided to continue pursuing her passion at sea after her son's birth; her commitment and family's support helped her strike a balance on her terms.
In an interview with SheThePeople, Yuvarajalakshmi Bharathi talks about her journey as a seafarer, the challenges she faced in the maritime industry, choosing her happiness without giving in to social limitations, and what it must take to bring equality at sea.
Excerpts from the interview
What inspired you to become a seafarer?
The inspiration behind my choice to become a seafarer was a unique combination of conscious decision-making and organic influence. Despite not having any seafaring background in my family, there was a moment from my childhood that left a lasting impression on me. I vividly recall my mother's words, encouraging me to either soar through the sky or navigate the vast seas. Those words stuck with me, and I felt drawn to the maritime world. So, it was a mix of a conscious decision and a natural inclination that inspired me to become a seafarer.
When did you join and how different was it being away from land for the first time?
I embarked on my seafaring journey as a cadet aboard the Svendborg Maersk in 2013. It was a significant milestone for me, as it was my first time being away from land and venturing into the ocean. The view of the ocean was breathtaking, and it was an exciting and eye-opening experience for me.
What were the initial challenges you faced as a woman when you entered the industry?
When I first entered the industry, I didn't personally face any immediate challenges as a woman. However, as time went on, I noticed that people's reactions towards women, especially those in higher positions, were sometimes different. Over the years, I have observed certain prejudices and biases that can arise based on gender within the industry.
The maritime industry, for the major part, has been male-dominated. What kept you going?
While the maritime industry has traditionally been male-dominated, I have been fortunate to be part of Maersk where I don't feel that gender plays a significant role. Women are given equal opportunities and treated with the same respect. I have had the privilege of sailing with incredibly kind and professional men who have supported me throughout my journey. Their encouragement and professionalism have been the driving force that kept me going in this industry.
Mothers, for a major part, are often told that motherhood takes sacrifice and that their life and goals are secondary. However, women are proving that everything else they choose can be equally important too. How did you navigate this?
In the face of societal expectations that often prioritise motherhood and downplay women's personal goals, I have navigated by staying true to my own happiness. I firmly believe that every individual should pursue what brings them joy, whether it's a full-time career, being a homemaker, or a combination of both. It is crucial to prioritise personal choices and follow one's own path. I consider myself fortunate to have been able to follow my own choices and find fulfilment in doing so.
In the face of societal expectations that often prioritise motherhood and downplay women's personal goals, I have navigated by staying true to my own happiness.
What impacted your growth most as a seafarer? How integral was your family's support?
As a seafarer, the biggest factor that influenced my growth was not just my personal efforts, but the unwavering support of my family. They have been absolutely essential to my journey in the maritime industry. Balancing my responsibilities as a seafarer and a mother would not have been possible without their tremendous strength and encouragement. Their support has played a critical role in shaping my path and enabling me to thrive in this field. I am truly grateful for their presence and their belief in me.
As someone from the inside, what more do you suggest can be done to bridge the inequality gap in this sector and make the industry more diverse?
When I started in this field, there were few women seafarers, and people didn't realise women could have careers at sea. But things have changed positively in recent years, with the industry becoming more inclusive and diverse. To bridge the inequality gap and promote diversity in maritime, we need to raise awareness about seafaring as a viable option for women. We should also address gender biases, establish mentorship programs and support networks, and implement policies that prioritise ">gender equality. By taking these steps, we can build a more inclusive and balanced workforce in the maritime industry.
What is your advice to women aspiring to join the maritime industry?
My one golden piece of advice to women aspiring to join the maritime industry is this: If you have a genuine love and passion for what you do, nothing will be too challenging. If you are truly interested in this field, don't hesitate to pursue it. Follow your heart and join this industry with enthusiasm and determination.
---
Suggested reading: To Be Different And To Dare: Women Navy Officers Onboard Naval Tanker INS Shakti