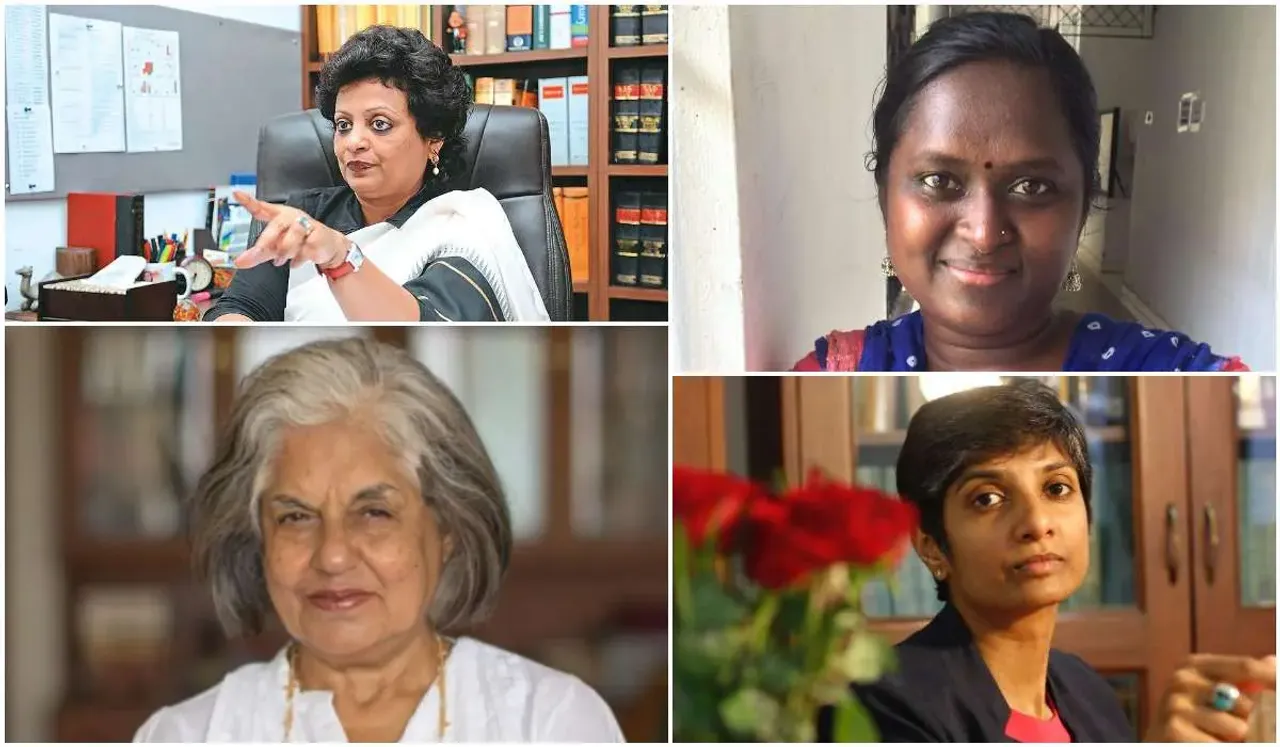 Indian women lawyers at the forefront of our judiciary system are far and few between, given how law in India is largely still a men's club with not many women seen donning the black robe.
The data is telling. Though women have been batting for greater representation in legal arenas, only a paltry 7.2 percent top seats are occupied by women judges. In the Supreme Court, with its total of 27 judges currently, only one is a woman. And never has a woman been titled the Chief Justice of India.
What does that say about gender diversity in lawmaking positions that directly impact, direct and route a country's progress and future? While the fight for representation in courts persists, the multiple women lawyers who do practice are showing the way for justice and equality on several fronts. Here's recognising the Indian women lawyers arguing with spunk and spirit today.
These Indian Women Lawyers Are Leading The Fight For Gender Justice:
1. Seema Samridhi 
Seema Samridhi's place as a forefront figure in India's watershed moment of legal reform for sexual assault victims after the 2012 Nirbhaya gangrape case is pronounced. Since she is best known as the advocate who relentlessly pursued justice for Jyoti Singh for years until the convicts were executed in 2020, it comes as a surprise to many to know this was her very first case.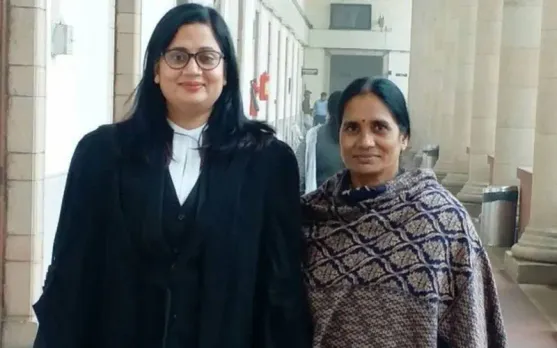 Image: Seema Samridhi with Jyoti Singh's mother
She joined the case as a legal trainee at the time and took charge of it in 2014 when she became a Supreme Court lawyer. "It's a fight for all the women in the world," Samridhi tells SheThePeople in an interview. "Anyone can be Nirbhaya. This is the reality. Even after the convicts were hanged then, similar cases continue coming to me."
2. Menaka Guruswamy
Senior SC advocate Menaka Guruswamy is notable for leading several landmark cases in India, among the most recently prominent of which was the decriminalisation of Section 377 in 2018. Along with her partner and lawyer Arundhati Katju, Guruswamy brought down a colonial-era law that forbade consensual same-sex intercourse.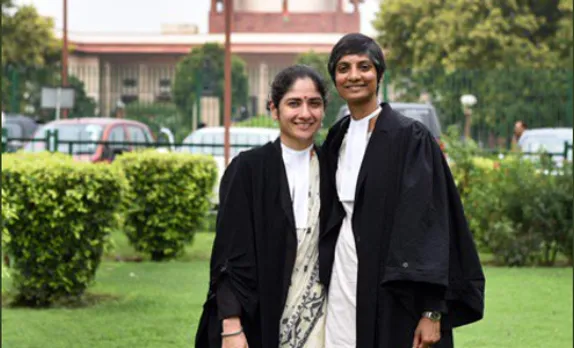 Menaka Guruswamy and Arundhati Katju, Image by Katju
In what was a big win not just personally for Guruswamy but nationally too, the couple ushered in reform that would give the LGBTQIA+ community the right to a life of greater dignity than before. Catch Guruswamy in conversation with us here.
Guruswamy is the first Indian ever and the second woman whose portrait is at the University of Oxford's prestigious Milner Hall.
3. Kiruba Munusamy
Kiruba Munusamy, an SC advocate and Dalit rights activist, is a powerful voice across spaces of law, gender and equality, speaking against discrimination in society. Her pursuit of justice and matters she represents lie at the intersection of gender and caste violence, and other human rights violations. Munusamy is the founder of Legal Initiative for Equality.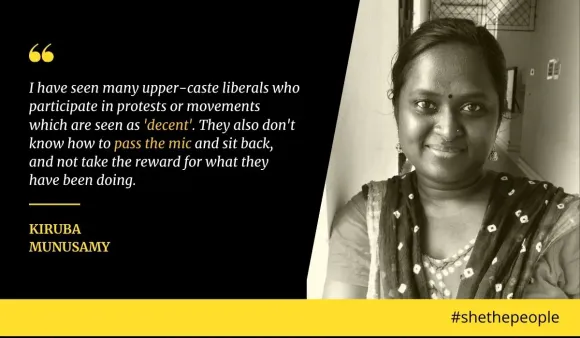 In an interview earlier with SheThePeople (">watch here), Munusamy emphasised on the work that needs to be done: "I have seen many upper-caste liberals who participate in protests or movements which are seen as 'decent'. They also don't know how to pass the mic... I, as a Dalit woman, am not invited to Dalit collectives, but Brahmin women are sitting there. How?"
4. Rebecca John
Though known for handling a slew of high-profile cases in her career, senior advocate Rebecca John's recent case where she led journalist ">Priya Ramani to victory in the defamation case by politician MJ Akbar, shines through as a beacon of hope for India's #MeToo movement. John was also the legal representative for Aarushi Talwar's parents in the 2008 double murder case.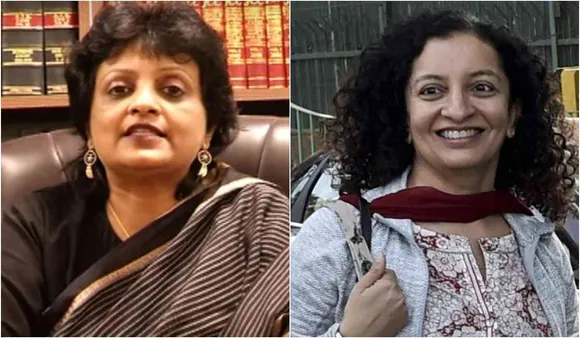 Rebecca John and Priya Ramani
She appeared as legal counsel for one of the Nirbhaya gangrape convicts, challenging execution orders passed by the court. A strong proponent of humanising rape trials and reforming the experience for survivors (or victims' families), John has previously said, "It is not so much as the jargon that affects the survivors but the noise of the courtroom. If we can reduce the noise. Show a human side of the court by treating the witness as a human being then a lot can change."
5. Abha Singh 
Abha Singh, a practicing lawyer at the High Court of Judicature at Bombay, has been a defender of justice for women for years as an inspiring figure across causes spanning the #MeToo movement, menstrual rights, LGBTQIA+ community and cyber-harassment of women. Her widely acclaimed book Stree – Dasha aur Disha consolidates these issues into a written legal key on empowering women in India.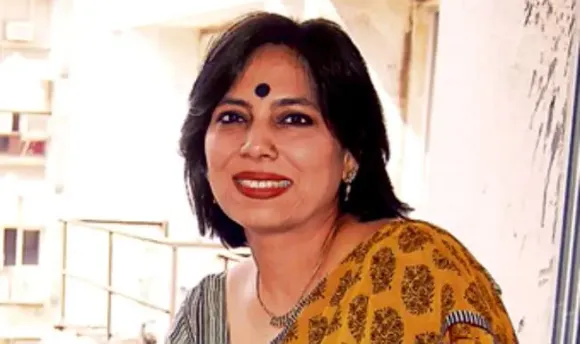 "It is never too late for you to feel within you that, yes, I want to do different, I want to be different, and I want to do something for the society. And all of us in our little ways can make a change. We all are change-makers..." Singh had said at a 2019 event hosted by SheThePeople.
6. Indira Jaising 
Among the most iconic names in Indian law circles, Indira Jaising is a trailblazing pioneer in her field so much so that any list of change-making lawyers in the country would be amiss without her name. A champion of human rights and feminism, Jaising became the first woman Additional Solicitor General of India in 2009 and through her career has represented cases of the oppressed. Her NGO Lawyers Collective is devoted to those causes.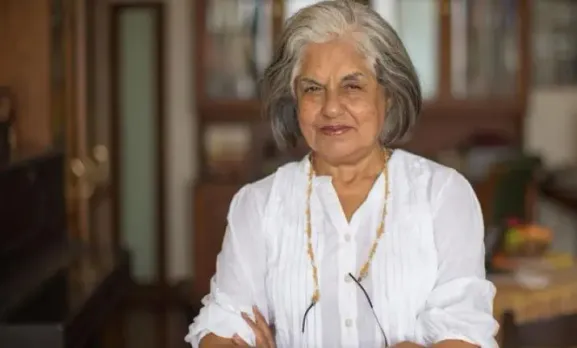 Picture credits: indiatvnews.com
One of her most famous gender rights cases was the one where she represented author Githa Hariharan in 1999, arguing for a mother's right as a "natural guardian" to her children who should be allowed to take her name, leading to a breakthrough Supreme Court judgment in favour of women's guardianship.
Now in her 80s, Jaising is an active legal voice on Twitter, weighing in with experience and eminence on current events and human rights violations in the country.
---
&t=1s